Mixed Vegetables Recipe | Food Diaries | Chef Zarnak Sidhwa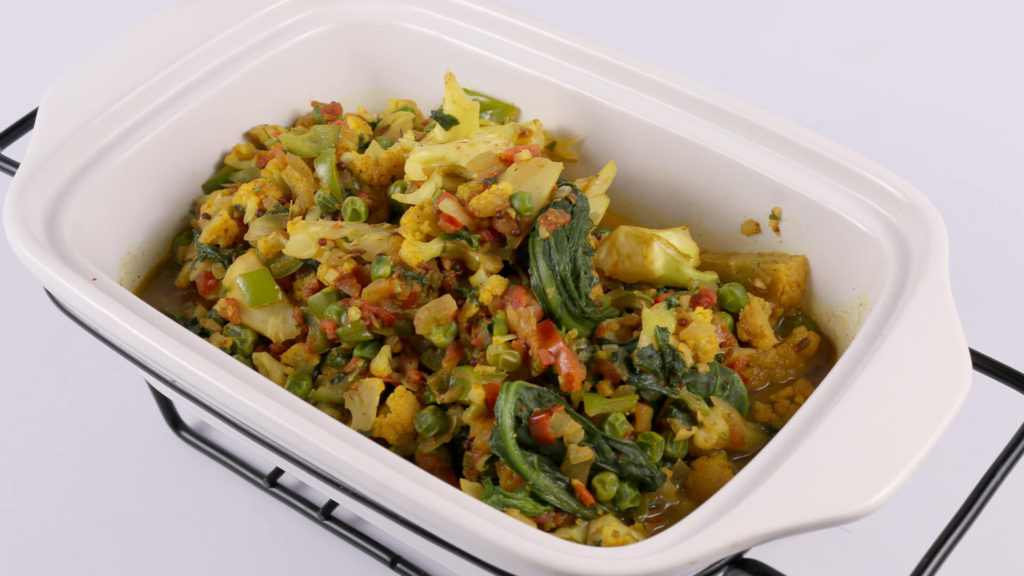 Nov 28, 2023 at 09:14 AM (GMT -05:00)

Check out the Mixed Vegetables Recipe in Urdu. Learn how to make best Mixed Vegetables Recipe, cooking at its finest by chef Zarnak Sidhwa at Masala TV show Food Diaries. Check all the Pakistan Cooking recipes in Urdu of Masala TV. Also Check Mixed Vegetables Recipe, ingredients and complete Method.
This delicious and easy to make recipe of Mixed Vegetables will have you licking your fingers. Give it a try and enjoy your meal!
Watch this Masala TV video to learn how to make Mixed Vegetables and Spanish Cream-Filled Pastry Recipes. This show of Food Diaries with Chef Zarnak Sidhwa aired on 16 December 2019.
Ingredients:
Oil 3 tbsp
Mustard seeds 1 tbsp
Cumin seeds 1 tbsp
Onions (chopped) 1 tbsp
Ginger (minced) 1 tbsp
Green chilies (minced) 1 tbsp
Turmeric 1 tbsp
Coriander 2 tsp
All spice powder 1 tsp
Fenugreek leaves 1 tbsp
Chopped cauliflower 1
Green peas 1 cup
Chopped tomatoes 2
Chopped capsicum 1
Spinach 2 cups
Salt to taste
Method:
Heat oil and sauté mustard and cumin seeds until they begin to crackle. Add onions ginger, and chilies and turmeric, coriander, all spice powder, then add cauliflower, green peas, tomatoes and capsicum. Let the vegetables cook. Add spinach and heat just until wilted. Season lightly with salt to taste.
Ingredients for Pastry:
Puff pastry 1 kg
Egg 1
Flour 2-3 tbsp
Icing sugar ¼ cup (for dusting)
For Filling:
Milk 2-1/2 cup
Caster sugar 8 tbsp
Vanilla essence ¼ tsp
Egg yolks 3
Corn flour 3 tbsp
Cinnamon 1 stick
Lemon zest of 1lemon
Method:
Thaw the puff pastry for few minutes, if frozen. Do not allow the pastry to warm up or it will be too difficult to work with. It should still be cold. Roll it on a floured surface. Cut the pastry into squares about 2 inches wide. Place pastry squares on a cookie sheet. Beat the egg and brush each square using a pastry brush. Bake at 200 degrees C for 10 to 12 minutes or until pastry is browned on top and crispy. Remove and allow to cool.
For the filling, pour half of the milk into a saucepan and add the cinnamon stick, vanilla essence and lemon zest. Let the milk boil, then reduce it to low. Beat the egg yolks and caster sugar. Pour in the rest of the milk, as well as the cornflour and whisk. Remove the cinnamon stick and lemon zest from the warm milk. Add the cold milk mixture from the bowl, and stir until it thickens. Remove from stove. Loosen the pastry squares from the cookie sheet using a spatula. Carefully open up each square like a sandwich. Spoon in the cream filling, and replace the top. Dust with icing sugar, using a sifter.

Mixed Vegetables Recipe in Urdu and English
At Masala TV you can check complete Mixed Vegetables Recipe in Urdu and English. This is one of the best recipes by chef Zarnak Sidhwa at Masala TV show Food Diaries. Check out the other best recipes of chefs Zarnak Sidhwa.
Top relevant recipes of Mixed Vegetables Recipe in Urdu