Mongolian Beef Recipe | Lazzat | Samina Jalil | Chinese Food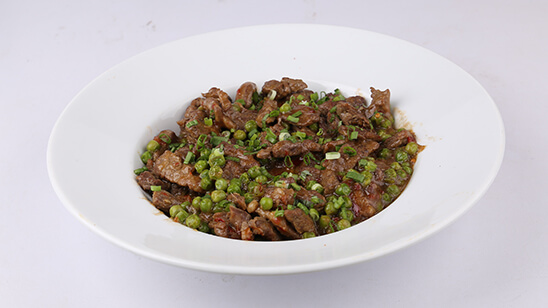 Sep 28, 2023 at 03:04 AM (GMT -04:00)

Check out the Mongolian Beef Recipe in Urdu. Learn how to make best Mongolian Beef Recipe , cooking at its finest by chef Samina Jalil at Masala TV show Lazzat. Check all the Pakistan Cooking recipes in Urdu of Masala TV. Also Check Mongolian Beef Recipe , ingredients and complete Method.
Who doesn't love Mongolian Beef? It is saucy, flavorful and has a rich savory taste to it. If you haven't tried this recipe, you are missing out on some amazing flavors in life.
Watch this Masala TV video to learn how to make Mongolian Beef , Honey Garlic Chicken Wings and Spicy Sea Food Fried Rice Recipes. This show of Lazzat with Chef Samina Jalil aired on 24 November 2020.
Ingredients:
Beef steak (cut lengthwise) 500g
Ginger garlic (chopped) 1-1/2tbsp
Chicken stock 1/2cup
Sambal oelek 1tbsp
Soy sauce 4tbsp
Baking powder 1/2 tsp
Salt 1/2tsp
Brown sugar 2tbsp
Corn flour 1tbsp
Oil 2tbsp
Sesame oil 1tsp
Spring onion as required
Peas 1-1/2cup
Rice (steamed) as required
Method:
Firstly marinate the steak with baking powder and salt. Now heat oil in a pan then shallow fry chopped ginger garlic. Then add beef and cook till it tenders and then fry peas with it. Now in the chicken yeast add sambal oelek, soy sauce, brown sugar and refined flour to mix and cook till the sauce thickens. Lastly add sesame oil and spring onion to serve it hot steamed rice.
Ingredients:
Chicken wings 1/2kg
Garlic (chopped) 1tbsp
Honey 3tbsp
Soy sauce 2tbsp
Black pepper (powder) 1tsp
Garlic (powder) 1-1/2tsp
Oil 2tbsp
Salt 1-1/2tsp
Eggs 2
Refined flour 1cup
Red chili powder 1tsp
Baking powder 1/4tsp
Black pepper (chopped) 1tsp
Oil for frying
Spring onion as required
Method:
Fry chopped garlic in a pan and then add honey, soy sauce and baking powder to cook and then switch off the flame. then marinate chicken wings in salt, red chili powder and baking powder. After that in refined flour add salt, garlic powder and black pepper powder to mix them. Now beat egg and spread it over the wings and roll them in refined flour to fry them. When they are crispy so toss them in the sauce and serve them hot.
Ingredients:
Boiled rice 1 cup
Small prawns ¾ cup
Fish small pieces 200 grams
Green onion 3-4
Finely cut capsicum 1
Sesame oil 1 tsp
Chili sauce 4 tbsp
Chili garlic sauce 2 tbsp
Crushed garlic 1 tbsp
Crushed black pepper 1 tsp
White pepper ½ tsp
Oil 4 tbsp
Soy sauce 2 tbsp
Chicken stock ¾ cup
Method:
Heat oil and fry garlic and add fish and small prawns then mix and fry .now add chili sauce ,chili garlic sauce ,soya sauce ,white pepper and crushed black pepper .then add chicken stock and boil rice and mix well then fry .finally add spring onion ,finely cut capsicum and sesame oil add and mix .after this serve it .

Mongolian Beef Recipe in Urdu and English
At Masala TV you can check complete Mongolian Beef Recipe in Urdu and English. This is one of the best recipes by chef Samina Jalil at Masala TV show Lazzat. Check out the other best recipes of chefs Samina Jalil.
Top relevant recipes of Mongolian Beef Recipe in Urdu