Moroccan Rice Recipe | Masala Mornings | Masala TV | Shireen Anwar | Desi Food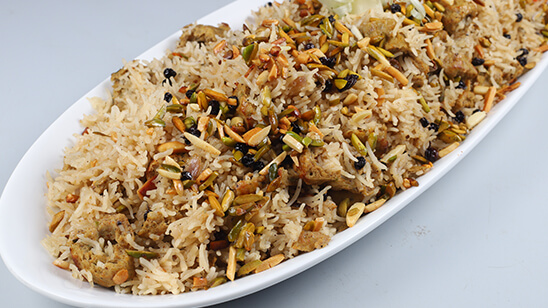 Sep 25, 2023 at 05:00 PM (GMT -04:00)

Check out the Moroccan Rice Recipe in Urdu. Learn how to make best Moroccan Rice Recipe , cooking at its finest by chef Shireen Anwar at Masala TV show Masala Mornings. Check all the Pakistan Cooking recipes in Urdu of Masala TV. Also Check Moroccan Rice Recipe , ingredients and complete Method.
This simple meal is filled with complex flavors from different ingredients all mixed together to make this amazing recipe of Moroccan Rice. Try it out and let us know what you think.
Watch this Masala TV video to learn how to make Moroccan Rice , Green tikka fish and Romanian cookies Recipes. This show of Masala Mornings with Chef Shireen Anwar aired on 18 June 2021.
Ingredients:
Oil ¼ cup
Butter 3 tbsp
Chopped onion 1 -½ cup
Garlic chopped 1 tbsp
Chopped seekh kabab ½ packet
Salt 1- ½ tsp
Crushed black pepper 1 tsp
Rice soaked ½ kg
Allspice powder 1- ½ tsp
Almonds sliced ¼ cup
Pine nuts ¼ cup
Black raisins ¼ cup
Parsley / coriander for garnishing
Method:
Heat oil and butter, add chopped onion with chopped garlic, fry fro 2-3 mins, add mince, fry for 10 mins till color changes, add all the seasonings, fry for 10 mins, add soaked rice with water, cover and cook till rice tender, fry all the nuts in ¼ cup oil, remove moroccan rice in a dish, serve garnished with fried nuts and parsley.
Ingredients for green masala:
Green chilies 10
Mint leaves 1 cup
Coriander leaves 1 cup
Lemon juice 2 tbsp
Garlic powder 1- ½ tsp
Ginger powder ½ tsp
Chili powder 1- ½ tsp
Salt 1 tsp
Coriander powder 1 ½ tsp
Chili powder 1 ½ tsp heaped
Cumin roasted & crushed 1 ½ tsp
Turmeric ½ tsp
Allspice 1 tsp
Water ¼ cup
Fish cut in fingers ½ kg
Green color few drops
Peanuts ground 1 tbsp
Almonds ground 1 tbsp
Coal to smoke
Ingredients for batter:
Flour 1 cup
Beaten eggs with milk 3
Bread crumbs as required
Ingredients for sauce:
Mayonnaise ¼ cup
Yogurt ¼ cup
Garlic crushed 1 tsp
Mint 10 – 12 leaves
Green chili sauce 1 tsp
Salt ½ tsp
Cumin ½ tsp
Method for sauce
Mix all together and serve with tenders.
Method:
Blend all the masala in a blender, marinate your fish with this masala, also add in it green color, grounded almond and peanut powder, mix all well, give dum of coal. Now take fish strips, coat in flour, then in egg and milk mixture, then in bread crumbs and deep fry until golden, serve with mayo yogurt sauce.
Ingredients:
Butter 250 gm
Icing sugar 1 cup
Egg 1
Oil 4 tbsp
Vanilla essence 1 tsp
Flour 2 cups sieved
sieved coco powder 4 tbsp
Baking powder 1 tsp
Corn flour ½ tbsp
Desiccated coconut 1 cup
Ingredients for filling:
Method:
Beat together butter and icing sugar until creamy, add 1 egg, oil, vanilla essence, beat till combined, add in flour, coco powder, baking powder, corn flour and desiccated coconut, keep in fridge for 15 mins and make into flat oval shape or any shape you like, put cookies on baking sheet leaving space in between, mark slightly with a fork, bake in a pre heated oven for 15 mins, remove from oven, cool on a cooling rack completely, sandwich with nutella between 2 biscuits, serve.

Moroccan Rice Recipe in Urdu and English
At Masala TV you can check complete Moroccan Rice Recipe in Urdu and English. This is one of the best recipes by chef Shireen Anwar at Masala TV show Masala Mornings. Check out the other best recipes of chefs Shireen Anwar.
Top relevant recipes of Moroccan Rice Recipe in Urdu