No Bake Cheese Cake Recipe | Masala Mornings | Masala TV | Shireen Anwar | Dessert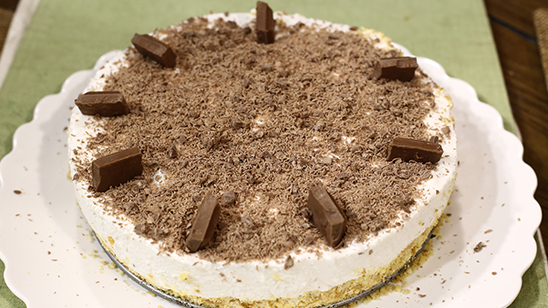 May 31, 2023 at 11:27 AM (GMT -04:00)

Check out the No Bake Cheese Cake Recipe in Urdu. Learn how to make best No Bake Cheese Cake Recipe , cooking at its finest by chef Shireen Anwar at Masala TV show Masala Mornings. Check all the Pakistan Cooking recipes in Urdu of Masala TV. Also Check No Bake Cheese Cake Recipe , ingredients and complete Method.
No Bake Cheese Cake is one of a kind. It has delightful flavors and texture that melts in your mouth!
Watch this Masala TV video to learn how to make No Bake Cheese Cake , Chops Lollypop and Gola Kabab Pulao salad Recipes. This show of Masala Mornings with Chef Shireen Anwar aired on 21 July 2021.
Ingredients:
Biscuits crushed 12-15
Melted butter ¼ cup
Egg white 2
Cream cheese 1cup
Sugar ¼ cup
Vanilla essence 1tsp
Salt pinch
Heavy cream ¼ cup
Gelatin ½ tsp
Warm water 1tsp
Method:
To make base mix crushed biscuits and melted butter mix well and make base in pan . now in a bow beat egg whites , now beat cream cheese and sugar and beat well , now add vanilla essence , salt , heavy cream , gelatin and warm water mix and add melted chocolate , then mix egg whites , pour this on base , freeze 3 hours cut in pieces and serve .
Ingredients:
Mutton chops ½ kg
Onion grinded 2 tbsp
Ginger garlic paste 2 tbsp
White pepper ¼ tsp
Black pepper ¼ tsp
Oil 2 tbsp
Salt 1 tsp
Water 1 cup
Other ingredients:
Chili powder 1 ½ tsp
Chaat masala 1 tsp
Orange food color ¼ tsp
Dried fenugreek 1 tsp
Gram flour 3 tbsp heaped
Egg 1
Lemon juice 2 tbsp
Oil for frying
Special dip for lollypops
Hung curd 1 cup
Cream 2 tbsp
Salt ¼ tsp
Method for chops lollypop:
In pressure cooker add mutton chops with ginger garlic pate, onion paste, black and white pepper, oil, salt, mix nicely, add 1 cup water, cover and cook till chops tender and water dries. In a bowl mix together all the other ingredients and marinate chops in this for 30 mins, deep fry chops until light golden, remove, cover the edge bone of chops with foil paper, serve with dip.
Ingredients for gola kabab:
Beef Mince ½ kg
Onion chopped ½ cup
Salt 1 tsp
Chili powder 1 ½ tsp
Turmeric ½ tsp
Allspice 1 tsp
Mint leaves 2 tbsp
Coriander leaves 2 tbsp
Green chilies chopped 6
Ginger garlic paste 1 tbsp
Coriander powder 1 tsp heaped
Cumin powder 1 tsp
Gram flour 2 tbsp
Crushed red pepper ½ tsp
Mace ¼ tsp grinded
Nutmeg ¼ tsp
Ingredients for pulao:
Degi pulao masala 2tbsp
Oil ½ cup
Brown onions 1 cup
White cumin seeds 1 tsp
Green chilies chopped 3
Ginger garlic 1 tbsp
Yogurt ½ cup
Tomato 1
Coriander leaves 1 tbsp
Mint leaves 1 tbsp
Salt 2 tsp
Allspice 1 tsp
Roasted n crushed cumin 1tsp
Coriander powder 1 tsp
Chili powder 1 tbsp
Rice ½ kg soaked for 30 mins
Water as required for rice
Method for gola kabab:
Mix all the ingredients together, grind to a smooth paste, moist your palm with water or oil, take a small portion from kebab mixture, insert a skewers to give a gola kebab shape, remove all the kebabs and keep in a plate, then shallow fry kebabs in half cup oil.
Method for rice:
Heat ½ cup oil in a pan, add brown onion, cumin seeds, green chilies chopped, ginger garlic paste, yogurt, chopperised tomato, coriander, mint, salt, all the dry spices, fry well, add 3-4 cups water, when boiling add soaked rice, cook on medium for 10 mins, when water dries leave it on dum, add fried gola kebabs. Before giving shape to gola kebab, give dum of coal to mince, serve with salad and

No Bake Cheese Cake Recipe in Urdu and English
At Masala TV you can check complete No Bake Cheese Cake Recipe in Urdu and English. This is one of the best recipes by chef Shireen Anwar at Masala TV show Masala Mornings. Check out the other best recipes of chefs Shireen Anwar.
Top relevant recipes of No Bake Cheese Cake Recipe in Urdu