Orange Cookies Recipe | Food Diaries | Zarnak Sidhwa | Dessert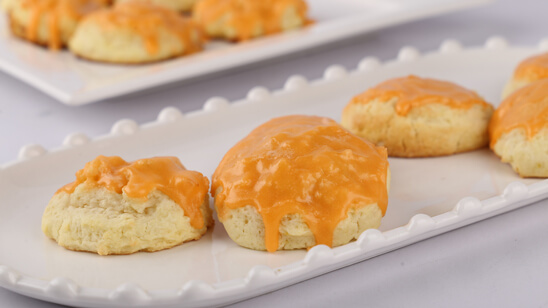 Jul 06, 2022 at 06:43 PM (GMT -04:00)

Check out the Orange Cookies Recipe in Urdu. Learn how to make best Orange Cookies Recipe , cooking at its finest by chef Zarnak Sidhwa at Masala TV show Food Diaries. Check all the Pakistan Cooking recipes in Urdu of Masala TV. Also Check Orange Cookies Recipe , ingredients and complete Method.
Orange Cookies is crispy on the outside and gooey on the inside. These cookies are all you need with you evening tea today!
Watch this Masala TV video to learn how to make Orange Cookies and Baked Chocolate Terrine Recipes. This show of Food Diaries with Chef Zarnak Sidhwa aired on 28 December 2020.
Ingredients:
Butter 1 cup
Caster sugar 1 cup
Salt 1/2 tsp
Egg 1
Grated orange zest 4 tsp
Orange juice 1/3 cup
Lemon essence 1-1/2 tsp
Flour 2-1/2 cups
Icing:
Icing sugar 1 cup
Milk 2 tbsp
Orange food color 3 drops
Method:
Beat butter, add sugar and salt, egg, orange zest, orange juice and essence. Gradually fold in flour. divide dough in half. Shape each into a disk; wrap in plastic. Refrigerate 1 hour or until firm enough to roll. On a floured surface, roll each portion of dough to 1/4-in. Thickness. Cut with a floured cookie cutter. Place 1 inch apart on greased baking sheets. bake at 190 degrees c for 8-10 minutes or until edges are light brown. Cool on wire racks.in a small bowl, mix icing sugar, milk and food coloring until smooth. Pipe or spread over cookies; let stand until set.
Ingredients :
For the Chocolate Terrine:
chocolate, chopped 8 oz.
unsalted butter 6 oz
caster sugar 3/4 cup
coffee 1/2 cup
eggs 4
cream 1 cup
For the Almond Brittle :
Sugar 2-1/2 cups
Water 3/4 cup
unsalted butter 2 Tbs
whole almonds, toasted chopped 1 cup
Method:
Melt the chocolate and butter till smooth. Add the sugar and coffee, slowly stirring to dissolve the sugar. Continue cooking until the mixture is hot to the touch and the sugar is dissolved. Remove the bowl from the heat and whisk in the beaten eggs. Pour the chocolate mixture into the lined loaf pan. Set a large baking dish on the oven rack. Set the loaf pan in the center of the baking dish and surround it with 1 inch of very hot water. Bake until the chocolate has begun to lose its shine, doesn't shimmy when jostled, and just begins to puff slightly around the edges, 40 to 50-mins. Remove the terrine from the oven and set it on a wire rack to cool to room temperature. Cover with plastic wrap and chill in the refrigerator for at least 4-hours or overnight. Mean while, make the almond brittle (below).
Lift the terrine out of the loaf pan, using the foil as a sling. Turn it over onto a platter or cutting board and peel off the foil. Using a knife that has been dipped in hot water and wiped dry, cut the terrine into 1/2-inch slices. (For even slices, trim off the ends of the loaf first.)

Orange Cookies Recipe in Urdu and English
At Masala TV you can check complete Orange Cookies Recipe in Urdu and English. This is one of the best recipes by chef Zarnak Sidhwa at Masala TV show Food Diaries. Check out the other best recipes of chefs Zarnak Sidhwa.
Top relevant recipes of Orange Cookies Recipe in Urdu