Orange Muffins Recipe | Food Diaries | Zarnak Sidhwa | Dessert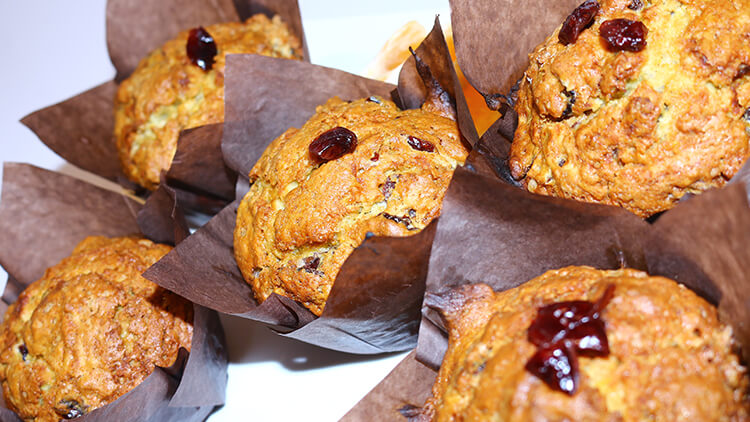 Jul 01, 2022 at 07:08 PM (GMT -04:00)

Check out the Orange Muffins Recipe in Urdu. Learn how to make best Orange Muffins Recipe , cooking at its finest by chef Zarnak Sidhwa at Masala TV show Food Diaries. Check all the Pakistan Cooking recipes in Urdu of Masala TV. Also Check Orange Muffins Recipe , ingredients and complete Method.
Orange Muffins is a simple dessert that can be enjoyed at any time. The hint of orange gives it a different taste than your regular muffins. Try it to taste this lovely dessert!
Watch this Masala TV video to learn how to make Orange Muffins, Kashmiri pulao and Savoury porridge Recipes. This show of Food Diaries with Chef Zarnak Sidhwa aired on 5 February 2020.
Ingredients:
Dried cranberries 1 cup
Orange juice ¾ cup
Flour 2 cups
Sugar ¾ cup
Baking powder 1tsp
Baking soda ½ tsp
Salt ½ tsp
Egg 1
Oil 1/3 cup
Orange zest 1
Method:
Soak the dried cranberries in the orange juice for 10 minutes. Mix the flour, sugar, baking soda and salt and whisk it together. Add in the egg, oil and orange zest along with the soaked cranberries and orange juice. Whisk together until smooth. Fill your muffin cases 3/4 full. Bake at 180 degrees C for 18-20 minutes.
Ingredients:
Mutton ½ kg
Rice 2 cups
Cinnamon stick ½ inch
Cloves 5
Green cardamom 5
Black cardamom 5
Ginger ½ inch
Turmeric powder ¼ tbsp
Yogurt ½ cup
Kashmiri red chili powder 1 tbsp
Onion 2 (sliced)
Sugar ½ tablespoon
Salt 1 tsp
Oil 2 tbsp
Method:
Grind cinnamon, cloves, black and green cardamoms, caraway seeds, ginger and turmeric, till fine and mix it with the yoghurt and set aside. Heat oil in a pan and sauté the ground masala. Set aside. In another pan heat oil and fry the sliced onion till golden brown. Take out half of the fried onions and keep aside. Add the mutton pieces and fry. Add the masala and mix. Now add salt and let the mutton cook with enough water till done. Take out the mutton pieces and measure the gravy. It should be almost double the quantity of rice. If needed you can add boiling water. Put the soaked rice in the mutton gravy along with the mutton and sugar and cook till the rice is done. Garnish with fried onions and serve hot
Ingredients:
Oats ¼ cup
Water 1 cup
Onion chopped 1
Green Chilies chopped 2
Carrot chopped 1
Green beans chopped 10
Capsicum chopped 1
Turmeric powder ½ tsp
Salt to taste
Coriander Leaves chopped as required
Other Ingredients :
oil 1tsp
Mustard seeds ½ tsp
Fried eggto serve
Method :
Heat oil. Add the mustard seeds and allow it to crackle. Add the chopped onions and green chilies. Next add the carrots, capsicum and beans. Sprinkle some salt and dash of water and cook them covered until done. Add the turmeric powder, oats and a cup of water. Keep stirring until the oats are done. Stir in the chopped coriander leaves and serve with a fried egg.

Orange Muffins Recipe in Urdu and English
At Masala TV you can check complete Orange Muffins Recipe in Urdu and English. This is one of the best recipes by chef Zarnak Sidhwa at Masala TV show Food Diaries. Check out the other best recipes of chefs Zarnak Sidhwa.
Top relevant recipes of Orange Muffins Recipe in Urdu