Peachy Pie Casserole Recipe | Evening With Shireen | Chef Shireen Anwar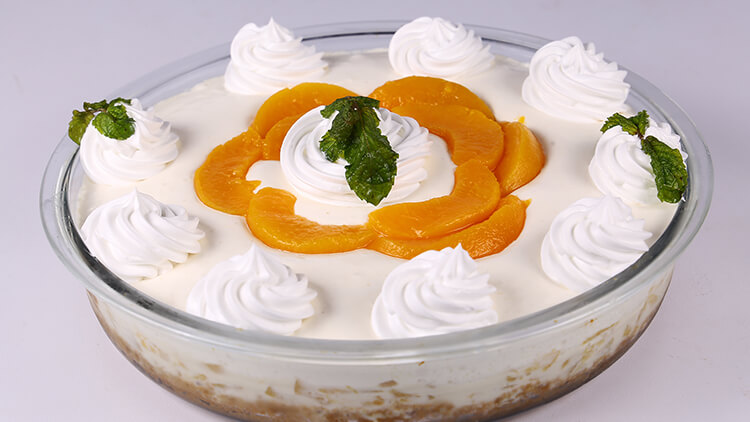 Mar 28, 2023 at 12:09 PM (GMT -04:00)

Check out the Peachy Pie Casserole Recipe in Urdu. Learn how to make best Peachy Pie Casserole Recipe, cooking at its finest by chef Shireen Anwar at Masala TV show Evening with Shireen. Check all the Pakistan Cooking recipes in Urdu of Masala TV. Also Check Peachy Pie Casserole Recipe, ingredients and complete Method.
Try out this Peachy pie casserole prepared by our Chef Shireen and make sure to let us know what you think.
Watch this Masala TV video to learn how to make Peachy Pie Casserole and Coin paratha with coin chapli kebab. This show of Evening With Shireen with Chef Shireen Anwar aired on 21 October 2019.
Ingredients for 1st layer:
Biscuits Crushed 2 cups
Brown sugar 3 tbsp
Butter melted 3 ounce
Ingredients for 2nd layer:
Peach cubes 2 cups
Condensed milk ½ cup
Fresh cream 3 tbsp
Fresh milk 3 tbsp
Ingredients for 3rd layer:
Cream cheese 200 gm
Cream 1 packet
Condensed milk 4 tbsp
Whipped cream 2 cups
Ingredients for final layer:
Peach slices to garnish as required
Method:
Mix ingredients for the 1st layer and spread in a casserole dish, bake on 180 d for 10 mins, remove. Blend together all the ingredients for 2nd layer, spread over biscuit layer, whisk together all the ingredients for 3rd layer and spread over peach layer. Finally arrange peach slices on top, chill for 4 hours before serving. Serve chilled.
Ingredients for coin Chapli Kebab:
Beef mince 250 gm
Onion finely chopped 1 cup
Ginger garlic paste 1 tbsp
Egg half beaten 1
coriander leaves chopped 2 tbsp
Green chilies finely chopped 3
Chapli kebab masala ½ packet
Medium onion ½ slice
Coal to give smoke 1
Ingredients for lacha paratha:
Flour 2 cups
Lukewarm milk ½ cup
Flour for dusting ½ cup
Clarified butter melted 1 cup
Egg 1
Salt 1 tsp
Sugar 1 tbsp
Chapli Kebab Method:
For kababs Add chopped onion to the mince with egg, ginger garlic paste, chopped greens, chapli kebab masala, mix all very well, make into small coin size chapli kebab, and give dum of coal. Heat oil ½ cup on a tawa, now fry chapli kebabs on medium flame until golden on both the sides, remove in a dish, put onions in the same oil in the same fry pan, and fry on the low flame for 2 mins, now cover the kebabs with fried onions, serve over mini lacha paratha.
Lacha Paratha Method:
For paratha In a bowl add 2 cups flour with salt, sugar, break in egg, add in 2 tbsp solid ghee and mix all very well, then gradually add lukewarm milk and knead the dough into medium consistency dough, knead very well, leave it covered for 30 mins, then again knead well until dough smooth, cut the dough into 8 equal parts, make into smooth balls, spread with ghee, leave it to rest for 30 mins, sprinkle flour on working surface, take 1 ball, roll the ball thinly, spread the paratha with 1 tsp ghee, sprinkle with ½ tsp of flour, cut into thin strips with pizza cutter, now start rolling the cut strips with a scrapper, form it into small balls, and form into mini balls, then roll into a mini paratha and shallow fry in ghee, spread in a platter, top with chapli kebab, onion ring, grill tomato rings, and imli chatni.

Peachy Pie Casserole Recipe in Urdu and English
At Masala TV you can check complete Peachy Pie Casserole Recipe in Urdu and English. This is one of the best recipes by chef Shireen Anwar at Masala TV show Evening with Shireen. Check out the other best recipes of chefs Shireen Anwar.
Top relevant recipes of Peachy Pie Casserole Recipe in Urdu