Pistachio Icebox Cake Recipe | Food Diaries | Zarnak Sidhwa | Dessert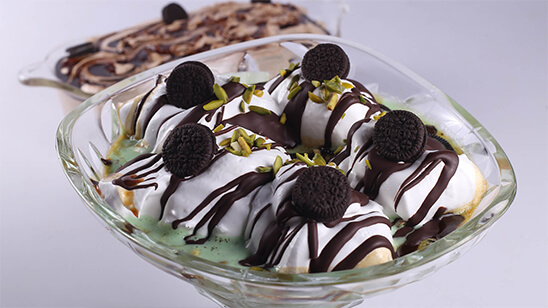 Oct 02, 2023 at 04:31 PM (GMT -04:00)

Check out the Pistachio Icebox Cake Recipe in Urdu. Learn how to make best Pistachio Icebox Cake Recipe , cooking at its finest by chef Zarnak Sidhwa at Masala TV show Food Diaries. Check all the Pakistan Cooking recipes in Urdu of Masala TV. Also Check Pistachio Icebox Cake Recipe , ingredients and complete Method.
Pistachio Icebox Cake is one of a kind. Trust us, this is the comfort food we all need.
Watch this Masala TV video to learn how to make Pistachio Icebox Cake, Mocha frozen dessert and Lotus Ice Cream Recipes. This show of Food Diaries with Chef Zarnak Sidhwa aired on 19 October 2020.
Ingredients:
Pistachio ice cream 1.5 liters
Mini dark chocolate cookies 350g
Cream whipped 200ml
Melted dark chocolate 4 oz
Caramel sauce 1 /2 cup
Chopped pistachios 3-4 tbsp
Method:
Remove the ice cream from the freezer to soften a little while you remove the fillings from the cookies and discard (you just want the biscuit). Line a deep 18cm square or round springform or loose-bottomed cake tin with cling film, and arrange a neat layer of the biscuits on the bottom. Spoon over a layer of the ice cream, packing it down until even. Add another layer of biscuits, then ice cream, and repeat, finishing with a layer of biscuits. Freeze the cake in between layers if the ice cream is melting too much. Cover with another layer of clingfilm, then freeze for at least 3 hours, or until solid. To serve, tip the cake onto a plate and remove the clingfilm. Top with the whipped cream, drizzle over the melted chocolate, caramel sauce and scatter over chopped pistachios.
Ingredients:
Coffee powder 2 tsp
Hot water 1 tbsp
Chocolate cookie crumbs 1 cup
Chopped walnuts ¾ cup
Butter, melted 1/4 cup
Cream cheese 8 oz
Condensed milk 1 can
Chocolate syrup 1/2 cup
Whipped cream 8 oz
Method:
Dissolve coffee in hot water and set aside. In a bowl, combine cookie crumbs, 1/2 cup walnuts and butter. Pat into a 13×9 inch dish. Beat cream cheese until light and fluffy. Blend in coffee mixture, milk and chocolate syrup. Fold in whipped cream and spread over crust. Sprinkle the remaining walnuts on top. Cover and freeze 4 hours or until firm.
Ingredients:
Ice Cream:
Cream 600 ml
Condensed Milk 1 tin
Biscoff Spread 275 gm
Topping:
Biscoff Spread 125 gm
Lotus Biscuits 125 gm
Method:
Beat the cream with condensed milk and Biscoff Spread till smooth. Melt the Biscoff Spread for the topping till smooth in the microwave. Coarsely chop the biscuits too. Add 1/3 of the Ice-cream to a tub and swirl through 1/3 of the melted spread and biscuits. Repeat twice more so all the ingredients are used up. Put the tub in the freezer till frozen and firm.

Pistachio Icebox Cake Recipe in Urdu and English
At Masala TV you can check complete Pistachio Icebox Cake Recipe in Urdu and English. This is one of the best recipes by chef Zarnak Sidhwa at Masala TV show Food Diaries. Check out the other best recipes of chefs Zarnak Sidhwa.
Top relevant recipes of Pistachio Icebox Cake Recipe in Urdu