Pizza Twister Sandwich Recipe | Masala Mornings | Shireen Anwar | Dessert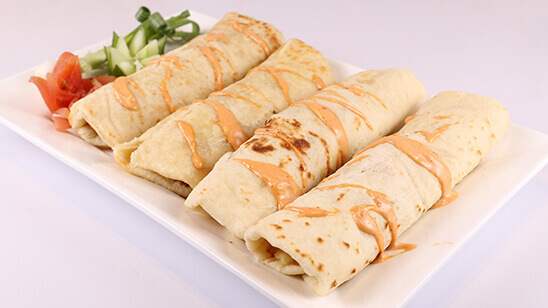 Jul 23, 2021 at 11:35 PM (GMT -04:00)

Check out the Pizza Twister Sandwich Recipe in Urdu. Learn how to make best Pizza Twister Sandwich Recipe , cooking at its finest by chef Shireen Anwar at Masala TV show Masala Mornings. Check all the Pakistan Cooking recipes in Urdu of Masala TV. Also Check Pizza Twister Sandwich Recipe , ingredients and complete Method.
Pizza Twister Sandwich are the sandwich twist we all need to fix our weekday blues.
Watch this Masala TV video to learn how to make Pizza Twister Sandwich ,Caramel creamy fruit salad and Hot prawn curry Recipes. This show of Masala Mornings with Chef Shireen Anwar aired on 21 October 2020 .
Ingredients for pizza dough:
Flour 2 cups
Yeast 1 ½ tsp
Salt ½ tsp
Sugar 1 tbsp
Oil 2 tbsp
Water to make dough
Ingredients for filling:
Capsicum 1 cut into fine cubes
Tomato 1 cut into small cubes
Mozzarella cheese grated 1 ½ cup
Oregano leaves 1 tsp
Mushrooms chopped 4 tbsp
Olives sliced 2 tbsp
Chicken breast 2 cut into fingers
Soya sauce 1 tbsp
Red chili garlic sauce 1 tbsp
Vinegar 1 tbsp
Ingredients for sauce:
Mayonnaise 3 tbsp
Tomato purees 1 tbsp
Sirarcha sauce 1 tbsp
Sweet chili sauce 1 tbsp
Ingredients for batter:
Self-rising flour 4 tbsp
Corn flour 2tbsp
Salt ½ tsp
Sirarcha sauce 1 tbsp
Egg 1
Oil 1 tbsp
Baking powder ½ tsp
Milk as required
Dry self-raising flour for coating
Method for dough:
Make dough, make into 4 balls, roll to a dinner plate size roti, cook on both the sides in fry pan.
Method for batter:
Mix all together in a bowl, make into a medium consistency batter.
Method for sauce:
Mix all together.
Method:
Marinate chicken in salt and black pepper ½ tsp each and marinate for 30 mins, dip in batter, roll in dry self-raising flour and deep fry, make 4 dinner plate size roties with pizza dough adding 1 tbsp oil, fill with stuffing, sauce, roll and serve.
Ingredients for caramel:
Sugar 1 cup
Cream 1 cup
Butter 1 tsp
Ingredients for fruit salad:
Bananas 4 sliced
Pineapple 1 tin
Mixed fruit cocktail 1 tin
Red jelly soaked 1 packet
Green jelly soaked 1packet
Condensed milk ½ cup
Cream whipped 2 cups
Milk powder ½ cup
Chilled milk ½ cup
Coconut milk powder 1 sachet
Method:
Make caramel by dissolving sugar in a pan, when caramelized, cook, add cream and butter, cook till thick, remove and keep aside. Cut fruit, mix with tin fruits, mix milk, dry milk, coconut milk powder, condensed milk, cream and caramel, fold in fruits, dissolve both the jellos in 1 cup water each, now put fruit mixture in a bowl, decorate with jelly, serve chilled.
Ingredients:
Cleaned prawns ½ kg
Sambal oleak 2 tbsp
Sirarcha sauce 2 tbsp
Onion ground 1
Ginger garlic 1 tbsp
Oil ½ cup
Lemon juice 2 tbsp
Curry leaves 20
Turmeric ½ tsp
Roasted & crushed cumin 1 ½ tsp
Coriander powder 1 tsp heaped
Chili powder 1 tsp
Salt 1 tsp
Coconut milk 1 cup
Method:
Heat oil fry curry leaves for a min, add grinded onions, fry for 5 mins till oil separates, add all the spices, fry for 1 min, add prawns, fry for other 5 mins, add salt, coconut milk, cover and cook for 10 mins, remove from heat, add lemon juice, serve with boiled rice.

Pizza Twister Sandwich Recipe in Urdu and English
At Masala TV you can check complete Pizza Twister Sandwich Recipe in Urdu and English. This is one of the best recipes by chef Shireen Anwar at Masala TV show Masala Mornings. Check out the other best recipes of chefs Shireen Anwar.
Top relevant recipes of Pizza Twister Sandwich Recipe in Urdu