Potato Bean Salad Recipe | Tarka | Desi Food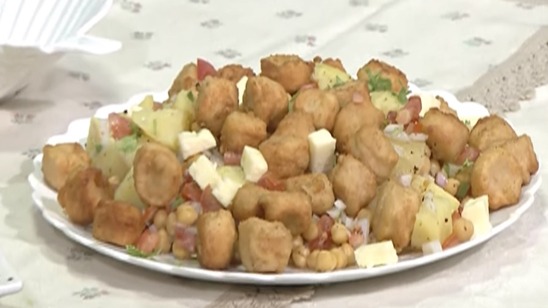 Jan 26, 2023 at 05:29 PM (GMT -05:00)

Check out the Potato Bean Salad Recipe in Urdu. Learn how to make best Potato Bean Salad Recipe , cooking at its finest by chef Rida Aftab at Masala TV show Tarka. Check all the Pakistan Cooking recipes in Urdu of Masala TV. Also Check Potato Bean Salad Recipe , ingredients and complete Method.
This Potato Bean Salad is so incredibly delicious that you will want to have it with every single meal of yours. Its filling and healthy so enjoy it to the fullest without the guilt of extra calories.
Watch this Masala TV video to learn how to make Potato Beans Salad, Fried Chops and Zafrani Rasmalai Recipes. This show of Tarka with Chef Rida Aftab aired on 26 March 2020.
Ingredients:
Chicken poppers 1 packet
Boiled chickpeas 1 cup
Boiled potatoes 2
Onion 1
Tomatoes 1
Pineapple 1 cup
Chopped coriander ½ cup
Black pepper ½ tsp
Salt ½ tsp
Vinegar 4 tbsp
Brown sugar 1 tbsp
Oil 2 tbsp
Chopped garlic 1 tbsp
Method:
Heat oil and fry chicken poppers and remove then add chopped garlic fry well. Add chick pea, potatoes, black pepper, salt, vinegar, brown sugar, pineapple, tomatoes and onion mix well. Turn off flame and remove in a dish. Add chicken poppers chopped coriander and cheese and serve.
Ingredients:
Chops ½ kg
Potatoes ½ kg
Oil for frying
Soy Sauce 2-3 tbsp
Black Pepper ½ tsp
Chili Sauce 2-3tbsp
Vinegar 1 tbsp
Green Chili Paste 2 tbsp
White Cumin Seeds 1 tsp
Salt 1/2 tsp
Egg 1
Seasame ½ cup
Corn Flour 1 cup
Rice Flour ½ cup
Method:
Marinate chops with salt, black pepper, vinegar, white cumin seeds, chili sauce, say sauce, green chili paste and boil.When dries water.Now in a bowl, add corn flour, rice flour and mix.Coat in egg.After this, coat with corn flour and rice flour and fry.Now sprinkles in potatoes corn flour, rice flour and fry.
Zafrani Rasmalai:
Ingredients
Dry milk 1-1/2 cup
Egg 1
Saffron ½ tsp
Cardamom powder ½ tsp
Fresh milk 1-1/2 liter
Butter 1-1/2 tsp
Sugar 1 cup
For garnishing:
Almonds, pistachios 100 grams
Sterling Silver paper as required
Method:
In milk cardamom, saffron add and cook on low heat till then remaining 1 litter. now add sugar then in second pot all ingredients mix and make balls then add in cooked milk then cover it for 5 minutes. finally garnish with almond, pistachios and silver paper and serve.

Potato Bean Salad Recipe in Urdu and English
At Masala TV you can check complete Potato Bean Salad Recipe in Urdu and English. This is one of the best recipes by chef Rida Aftab at Masala TV show Tarka. Check out the other best recipes of chefs Rida Aftab.
Top relevant recipes of Potato Bean Salad Recipe in Urdu