Potato Croquettes Recipe | Lazzat | Masala TV | Samina Jalil | Desi Food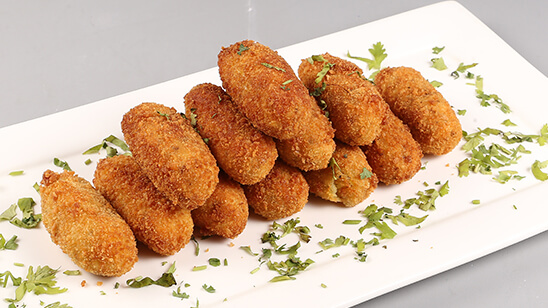 Jan 26, 2023 at 11:34 PM (GMT -05:00)

Check out the Potato Croquettes Recipe in Urdu. Learn how to make best Potato Croquettes Recipe , cooking at its finest by chef Samina Jalil at Masala TV show Lazzat. Check all the Pakistan Cooking recipes in Urdu of Masala TV. Also Check Potato Croquettes Recipe , ingredients and complete Method.
Potato Croquettes is for all the Potato lovers out there. Here is a different way to make your potato cutlets even more delicious.
Watch this Masala TV video to learn how to make Potato Croquettes , Garlic Naan and Achaari Gosht Recipes. This show of Lazzat with Chef Samina Jalil aired on 20 May 2021.
Ingredients:
Beef meat boiled 250 gm
Potato boiled 2 cup
Ginger chopped 2 tbsp
Mint ½ bunches
Green chilli finely cut 3-4
Red chilli crushed 1 tbsp
Salt to taste
Coriander, cumin crushed 2 tbsp
Mango powder 1 tbsp
Curry leaves 6-7
Eggs 2
Bread crumbs as required
Oil for deep frying
Method:
Beef meat boiled and Shredded. Now heat oil and add cuted curry leaves and add cuted ginger, finely cut green chilli mix then roast. Then boiled potatoes crushed red chilli and crushed coriander, cumin and add mango powder mix .now mix well in meat. After this make mint cutlets and dip in eggs then fry it.
Naan ingredients:
Flour 2 cups
Yeast 1 tsp
Salt ¾ tsp
Sugar 1 tsp
Yogurt 2 tbsp
Milk ½ cup
Baking powder ½ tsp
Brushing ingredients:
Butter ½ cup
Crushed garlic 1 tbsp
Green coriander as required
Method:
In Flour all ingredients mix .Now add water and knead with hand and leave for 1 hour .after this add butter and crushed garlic and green coriander mix .after this flour and batter make balls and 15 minutes minutes covered .now roll out and brush with butter .then cook on oven or hot plate then serve.
Ingredients:
Beef (boiled) ½ kg
Onion (chopped) 1 large
Ginger garlic (crushed) 1 tbsp
Yogurt ¾ cup
Lemon juice 2 tbsp
Red chili powder 1 ½ tsp
Turmeric ½ tsp
Coriander, cumin (crushed) 2 tbsp
Fenugreek seeds 1 tsp
Fennel seeds 1 tsp
Salt as taste
Fennel 1 tsp
Mustard seeds 1 tsp
Red chili (whole) 6-8
Bay leaf 6-8
Oil ¾ cup
Green chili 6-8
Coriander ½ bunch
Method:
Heat oil fry onion, fenugreek seeds, mustard seeds, whole red chili and ginger garlic. Then add red chili powder, turmeric and yogurt. Mix and cook well. Also add beef and ½ cup water. Cook properly. Then add crushed coriander, cumin, fennel seeds, fennel and bay leaves. Cook well. In the end add green chili and lemon juice. Mix well and add coriander. Serve hot.

Potato Croquettes Recipe in Urdu and English
At Masala TV you can check complete Potato Croquettes Recipe in Urdu and English. This is one of the best recipes by chef Samina Jalil at Masala TV show Lazzat. Check out the other best recipes of chefs Samina Jalil.
Top relevant recipes of Potato Croquettes Recipe in Urdu