Shahi Chargha Recipe | Masala Mornings | Shireen Anwar | Desi Food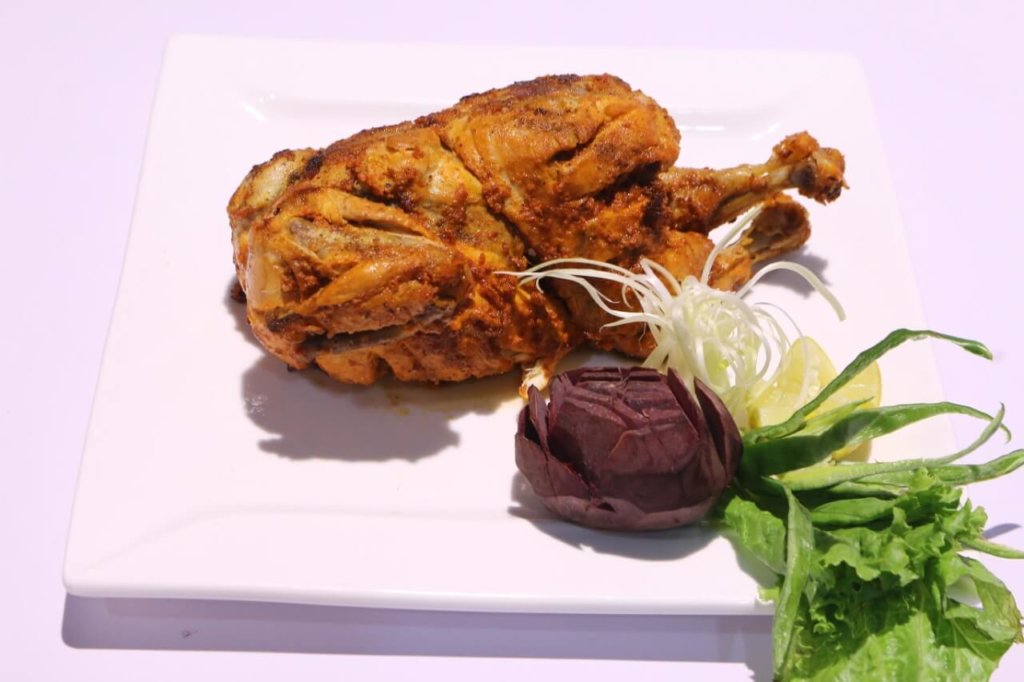 Dec 07, 2021 at 01:57 PM (GMT -05:00)

Check out the Shahi Chargha Recipe in Urdu. Learn how to make best Shahi Chargha Recipe , cooking at its finest by chef Samina Jalil at Masala TV show Lazzat. Check all the Pakistan Cooking recipes in Urdu of Masala TV. Also Check Shahi Chargha Recipe , ingredients and complete Method.
Shahi Chargha is ever so classic dish. Try this recipe over the weekend and add colours to it like never before!
Watch this Masala TV video to learn how to make Shahi Chargha, Spicy Bread Kababs and Orange Strawberry Pound Cake Recipe. This show of Masala Mornings with Chef Shireen Anwar aired on 19 March 2020.
Ingredients:
Chicken 1 kg whole
Salt 1 + 1 tsp
Vinegar 2 + 2 tbsp
Curry powder 1 ½ tsp
Ginger garlic paste 1tbsp
Black pepper ½ tsp
Chili powder 1 tsp heaped
Yogurt 1 cup
Coriander roasted & crushed 1 tsp
Cumin roasted & crushed 1 tsp
Orange color a pinch
Egg 1
Lemon juice 2 tbsp
Chat masala 1 tsp
METHOD:
Give cuts on whole chicken, marinate with salt and 2 tbsp vinegar, leave it for 1 hour and discard the water which came out from the chicken. In a bowl add yogurt, salt, 2 tbsp vinegar, curry powder, ginger garlic paste, black powder, chili powder, dhania and zeera, orange color, add this to the chicken and mix well, leave it for a few hours, now put the marinated chicken in a pan, cover and cook till chicken tender and thick masala left, remove chicken from masala and add 1 egg to the masala, mix well, apply masala on the chicken, deep fry for 10 mins, serve sprinkled with lemon juice and chat masala, serve immediately.
Ingredients:
Bread slices 8
Water as required
Semolina 2 tbsp heaped
Green chilies 4 chopped
Coriander leaves chopped 2 tsp
Salt 1 tsp
Garlic paste ½ tsp
Crushed red pepper 2 tsp
Allspice 1 tsp
Lemon juice 2 tbsp
METHOD:
Soak bread with little water and mix well, add in it all the rest, mix well, shape into kababs and deep fry, serve with chatni.
Ingredients:
Butter softened 4 ounce
Oil ½ cup
Caster sugar 1 ½ cup
Eggs 4
Vanilla 1 tsp
Orange essence ½ tsp
Orange zest 1 tbsp
Flour 2 cups
Baking powder 2 tsp
Baking soda ¼ tsp
Salt ½ tsp
Butter milk ½ cup
Orange color a pinch
Fresh orange juice ¾ cup
Frozen strawberries ½ cup blended
Ingredients for Glaze:
Icing sugar 1 cup
Orange juice 3-4 tbsp
METHOD:
Pre-heat oven to 180 D, grease an 8 inch loaf pan with butter, sieve together flour, baking powder, baking soda and salt. Beat butter and sugar till light and creamy, add in 1 egg at a time and beat well, add in both the essence, orange zest, fold in the dry ingredients, mix food color in butter milk, add to the batter, finally fold in the orange juice, mix till combined, pour well in a well-greased baking pan, pour blended strawberries in the batter and swirl with a knife, bake for 25 mins until done.

Shahi Chargha Recipe in Urdu and English
At Masala TV you can check complete Shahi Chargha Recipe in Urdu and English. This is one of the best recipes by chef Samina Jalil at Masala TV show Lazzat. Check out the other best recipes of chefs Samina Jalil.
Top relevant recipes of Shahi Chargha Recipe in Urdu