Shahi Thaal Recipe | Tarka | Rida Aftab | Desi Food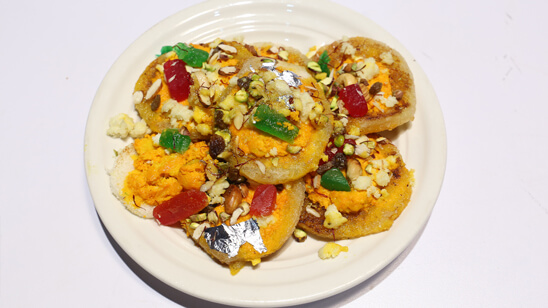 Nov 28, 2023 at 09:04 AM (GMT -05:00)

Check out the Shahi Thaal Recipe in Urdu. Learn how to make best Shahi Thaal Recipe , cooking at its finest by chef Rida Aftab at Masala TV show Tarka. Check all the Pakistan Cooking recipes in Urdu of Masala TV. Also Check Shahi Thaal Recipe , ingredients and complete Method.
What could be a better way to celebrate Eid than this Shahi Thaal? It tastes wonderful which is why this a must-have this Eid!
Watch this Masala TV video to learn how to make Shahi Thaal, Reshami kabab and Beef Biryani Recipes. This show of Tarka with Chef Rida Aftab aired on 3 August 2020.
Ingredients:
Bread slices (fry) 6
Sugar 1 cup
Water ½ cup
Yellow color 1 pinch
Saffron 1 pinch
Whole dried milk ½ kg
Sterling silver leaves 4
Cashew nut 2 tbsp
Almonds 2 tbsp
Raisins, pistachios 2 tbsp
Milk ½ cup
Ashrafiyan 1 cup
Cardamom ½ tsp
Method:
In water add sugar, saffron and yellow color and make sugar syrup then turn off the flame. Now cook whole dried milk in milk. When it gets dissolved then turn off the flame. Now put bread slices in a thaal then pour sugar syrup over it. Then spread whole dried milk and milk over it. Then put dry fruit, ashrafiyan and sterling silver leaves on it.
Ingredients:
Beef mince ½ kg
Green chilies 6
Black pepper 1 tsp
Mint ½ bunch
Salt 1 tsp
Fry onion 1
cardamom Powder 2-3
Poppy seeds powder 1 tbsp
All spice powder 1 tsp
Bread slices 2
Cream 4 tbsp
Egg 1
Oil as required
Melted butter 1tbsp
Papaya 2 tbsp
Ginger garlic 1 tbsp
Method:
Finely grind mince beef, green chilies, onion, black pepper, salt, cardamom, poppy seeds, all spice, ginger and garlic. Then add finely cut mint, egg, butter, papaya, ginger garlic, cream and bread slices in it and mix well then leave for half an hour. Now put them on sticks and put it on tray and bake in over or fry in oil.
Ingredients:
rice (boiled) 1 kg
Potatoes 3
Boiled beef ½ kg
Yogurt 250gm
Tomatoes 250gm
Chopped green chilies 2 tbsp
Coriander powder 2 tsp
Salt 2 tsp
Red chili powder 2 tsp
Crushed chili powder 1 tsp
Turmeric powder ½ tsp
Mixed all spices 1 tbsp
Star anise 4
Mace powder ½ tsp
Nutmeg powder ½ tsp
Chaat masala 2 tsp
Chinese salt ½ tsp
Finely chopped ginger 1 tbsp
Ginger garlic paste 1 tbsp
Plum 50g
Curry leaves 6
Green coriander ½ bunch
Mint leaves ½ bunch
Yellow food color ½ tsp
Oil 1 cup
Fried onions 1 tsp
Method:
In a bowl add water, yogurt, red chili powder, turmeric powder, red chilies, salt, oil,mixed all spices, whole spice, ginger garlic paste, chinese salt, mace powder, nutmeg powder and 4 star anise and mix it. Now put it in a pan and add boiled beef and cook it for 10 minutes. Put 3 potatoes and cook. When it's half done, then in yogurt, put yellow food color and spread it. On the top put fried onions, 250g sliced tomatoes, plum, bunch green coriander, mint leaves,chaat masala, curry leaves and finely chopped ginger and then put boiled rice. Put oil on the rice and then keep it for 30 minutes on simmer and then turn off the stove.

Shahi Thaal Recipe in Urdu and English
At Masala TV you can check complete Shahi Thaal Recipe in Urdu and English. This is one of the best recipes by chef Rida Aftab at Masala TV show Tarka. Check out the other best recipes of chefs Rida Aftab.
Top relevant recipes of Shahi Thaal Recipe in Urdu