Shahi Tukray Recipe | Tarka | Rida Aftab | Dessert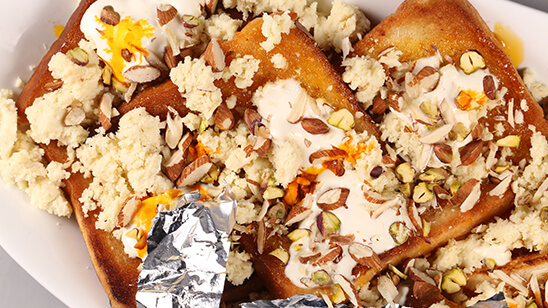 Jan 26, 2023 at 11:28 PM (GMT -05:00)

Check out the Shahi Tukray Recipe in Urdu. Learn how to make best Shahi Tukray Recipe , cooking at its finest by chef Rida Aftab at Masala TV show Tarka. Check all the Pakistan Cooking recipes in Urdu of Masala TV. Also Check Shahi Tukray Recipe , ingredients and complete Method.
Shahi Tukray are the most scrumptious dessert you can have this weekend to enjoy it the core. Try it out and fall in love with it.
Watch this Masala TV video to learn how to make Shahi Tukray , Ginger Mutton and Balochi Tikka Karahi Recipes. This show of Tarka with Chef Rida Aftab aired on 14 May 2021.
Ingredients:
Bread slices 8
Clarified butter 2 cups
Cream 1 packet
Sliced almonds 3 tbsp
Sugar 1 cup
Saffron 1 pinch
Sterling silver paper 4
Whole dried milk 250 gm
Sliced pistachio 3 tbsp
Method:
Heat clarified butter in a pan. Deep dry the bread slices until golden brown. Remove and set aside. In a pan add sugar, water and saffron. Cut the bread slices into triangle. In sugar syrup add cream and whole dried milk. Mix well. Pour on bread slices. Press silver paper. Sprinkle almonds and pistachios and serve.
Ingredients:
Mutton ½ kg
Onions 2
Ginger 4 tbsp
Garlic 1 tbsp
Tomatoes 6
Coriander seeds 1 tbsp
Cumin seeds 1 tbsp
Caraway seeds ½ tsp
Black peppercorns 1 tsp
Bay leaves 2
Lemon slices 4
Green chilies 6
Red chili powder 1 tsp
Turmeric powder ½ tsp
Coriander powder 1 tsp
Salt 1 tsp
Oil ½ cup
Fresh coriander ½ bunch
Method:
In a pressure cooker add 4 cups of water. Then add coriander seeds, cumin seeds, caraway seeds, black peppercorns, bay leaves, red chili powder, turmeric powder, coriander powder, salt, garlic, onions and tomatoes. Boil it well. Now add mutton and cook on a high flame until the water gets dry. Then add green chilies, fresh coriander and lemon slices. Mix well. Now heat oil in a pan and fry ginger. Temper in mutton and serve hot.
Ingredients:
Chicken boti 1 kg
Oil ½ cup
Chopped garlic 1 tbsp
Sliced ginger 2 tbsp
Green chilies (thickly sliced) 4
Lemon juice 1 tsp
Salt 1 tsp
Fresh coriander 2 tbsp
Black pepper 1 tsp
Yogurt 1 cup
Charcoal 1 piece
Method:
Light the charcoal piece and smoke the chicken. In a pan heat oil and fry chicken on high heat for 8 to 10 minutes. Remove the chicken. In a saucepan add garlic and fry for a minute. Then add yogurt, chicken, salt and lemon juice and cook on low flame for 10 minutes uncover and dry the liquid. Now add remaining ingredients and cook for 2 minutes on high heat and serve.

Shahi Tukray Recipe in Urdu and English
At Masala TV you can check complete Shahi Tukray Recipe in Urdu and English. This is one of the best recipes by chef Rida Aftab at Masala TV show Tarka. Check out the other best recipes of chefs Rida Aftab.
Top relevant recipes of Shahi Tukray Recipe in Urdu