Sindhi Biryani Recipe | Dawat | Abida Baloch | Desi Food | Masala TV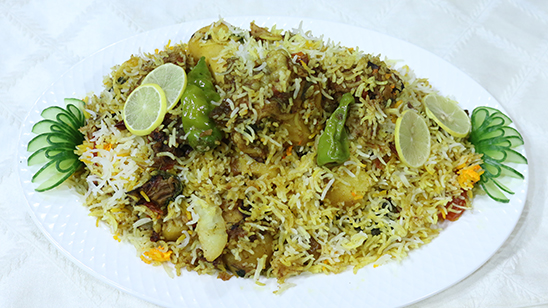 Dec 11, 2023 at 05:11 AM (GMT -05:00)

Check out the Sindhi Biryani Recipe in Urdu. Learn how to make best Sindhi Biryani Recipe , cooking at its finest by chef Abida Baloch at Masala TV show Dawat. Check all the Pakistan Cooking recipes in Urdu of Masala TV. Also Check Sindhi Biryani Recipe , ingredients and complete Method.
If you haven't tried this Sindhi Biryani Recipe yet, you are missing out on the most tempting, aromatic and scrumptious Biryani of your life. What are you waiting for? Have this one today!
Watch this Masala TV video to learn how to make Sindhi Biryani And Mutton Paneeri Handi Recipes. This show of Dawat with Chef Abida Baloch aired on 22 July 2021.
Ingredients:
Boiled beef 500grams
Potatoes 250 grams
Rice soaked 500grams
Onion sliced 3
Tomato sliced 4
Ginger paste 2 tbsp
Garlic paste 2 tbsp
Yogurt 1 cup
Mint leaves 2 tbsp
Green chilies 3
Yellow food color as required
Oil 175 ml
Sindhi biryani masala 1 packet
Method:
Heat oil and fry onion until golden.. Keep aside. In same oil add ginger garlic paste and fry for 1 minute then add potatoes and cook. Now meat and fry for 5 minutes. Now add tomatoes, yogurt, half of fried onion and biryani masala. Cook on medium flame for 10 minutes till oil separate. Now add water cover and cook on low heat until meat is tender. Add green chilies and cook on high flame until oil separate. In separate pan add as required water with salt and bring to boil. Then add soaked rice and cook. Now spread half rice in pot and pour meat curry. Top with remaining rice. Sprinkle remaining fried onion, fresh mint leaves and food color. Cover and cook on low heat until rice is done.
Ingredients:
Boiled mutton 300grams
Oil ¼ cup
Onion (paste) ½ cup
Green chili paste 1 tbsp
Ginger garlic paste 1 tbsp
Yogurt ½ cup
Salt To taste
Butter 1 tbsp
For Sauté Veggies:
Oil 1 tbsp
Small capsicum, sliced 1
Small onion, sliced 1
Mushrooms sliced as required
Other ingredients:
Shredded cheese 1/4 cup
Cream 1/4 cup
Butter 1 tbsp
Green chilies (julienne ) 3
Salt to taste
Method:
FOR GRAY:
In a pot, heat oil then addspaste of onion, chili, garlic and ginger paste. Mix well and cover the pot. Cook for 5 minutes on medium heat until onions are soft. Switch off heat then add yogurt and cook for 2.3 minutes and Set aside. In same pot, heat oil and sauté sliced onion and capsicum for 2 minutes until soft, set aside. Heat butter on low flame. Add the mutton and cook for 5 minutes until color changes. Now add in yogurt gravy, sautéed onions, capsicum,Mushrooms slices and cheddar cheese to the mutton pot. Mix well and simmer for 2-3 minutes. Add 2 tbsp of water Finally, mix in cream. Add butter on sides of pot and simmer for few more minutes until oil separates. Serve

Sindhi Biryani Recipe in Urdu and English
At Masala TV you can check complete Sindhi Biryani Recipe in Urdu and English. This is one of the best recipes by chef Abida Baloch at Masala TV show Dawat. Check out the other best recipes of chefs Abida Baloch.
Top relevant recipes of Sindhi Biryani Recipe in Urdu