Sindhi Seyal Gosht Recipe | Dawat | Abida Baloch | Desi Food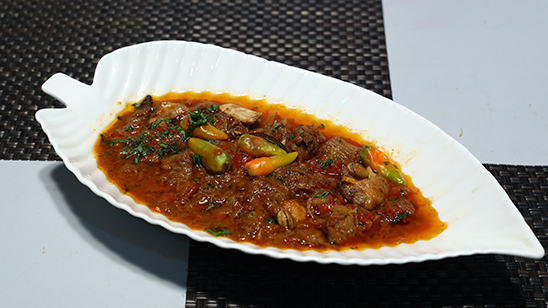 Sep 24, 2023 at 12:27 PM (GMT -04:00)

Check out the Sindhi Seyal Gosht Recipe in Urdu. Learn how to make best Sindhi Seyal Gosht Recipe , cooking at its finest by chef Abida Baloch at Masala TV show Dawat. Check all the Pakistan Cooking recipes in Urdu of Masala TV. Also Check Sindhi Seyal Gosht Recipe , ingredients and complete Method.
Sindhi Seyal Gosht is the traditional recipe its taste will have you falling in love with this desi dish. Try this Sindhi Seyal Gosht today !
Watch this Masala TV video to learn how to make Sindhi Seyal Gosht and Dhaba Style Channa Masala Recipes. This show of Lazzat with Chef Samina Jalil aired on 9 September 2021.
Ingredients:
Mutton 1 kg
Tomatoes 6
Red chili powder 1 tsp
Garlic paste 1 tbsp
Green chilies 4
Cumin powder 2 tsp
Green cardamoms 4
Oil 2 tbsp
Salt 2 pinches
Cinnamon stick 1
Black cardamom 2
Onions 4
Yogurt ½ cup
Ginger paste 1 tbsp
Coriander leaves 1/2 cup
Coriander powder 2 tsp
Turmeric ½ tsp
Bay leaves 2
Lemon juice 1 tsp
Cloves 4
Oil ½ cup
Method:
Step 1 Marinate the mutton for an hour
To prepare this delicacy, marinate the cubed mutton in the mixture of lemon juice,1 tsp ginger-garlic paste, turmeric powder, curd and salt. Mix everything well and leave it covered for at least 1 hour.
Step 2 Roast the whole spices and add marinated mutton
Now, heat oil in a pan and add to it, bay leaves, cloves, powdered green cardamom, black cardamom and cinnamon stick. Roast the spices until they are aromatic. After some time add the marinated mutton pieces in it, and cook for 15 minutes on low flame. Cook well till the mutton is cooked on all sides.
Step 3 Pressure cook the mutton with all the spices
Next, in pressure cooker heat ghee over medium flame. When the ghee is hot enough, add onions and green chilies in it. Cook for 5 minutes and then add ginger-garlic paste, chopped tomatoes with turmeric, red chili powder, coriander powder, cumin powder, salt and meat masala. Stir well and cook until oil starts leaving from the sides. Now, add the mutton-spice mixture. Add water if required, and cover the lid. Let the dish cook for another half an hour.
Step 4 Garnish tender mutton with fresh coriander leaves
Once tender, serve in a bowl and garnish with fresh coriander leaves. Your Seyal Mutton is ready
Ingredients:
boiled chickpeas 2 tins
Oil 1/4 cup
Cumin 2 tsp
Clove 3
Cinnamon stick 1
Garlic paste 1 tbsp
Tomato Chopped 2
Onion chopped 1
Red chili powder 1 tsp
Salt 1 tsp
Coriander powder 1 tsp
Turmeric powder 1/2 tsp
Green chili chopped 2-3
Water 1/2 cup
All spice powder 1 tsp
FOR TARKA :
Oil 1/4 cup
Curry leaves 9 -10
Red chili powder 1/2 tsp
For Garnish:
Coriander leaves chopped for garnish
Ginger julienned for garnish
METHOD:
Take a pot add oil ,cumin ,clove, cinnamon stick, onion chopped fry until light golden .add garlic ,tomato, red chili ,salt, coriander powder, turmeric powder,greenchill cover and cook on low flame until tomatoes are soft .add boil chickpeas ,water all spices powder cover and cook on low flame for 8 -10 mins.
Tadka take pan add oil ,curry leaves turn off flame add red chili spread on chickpeas then garnishing .serve

Sindhi Seyal Gosht Recipe in Urdu and English
At Masala TV you can check complete Sindhi Seyal Gosht Recipe in Urdu and English. This is one of the best recipes by chef Abida Baloch at Masala TV show Dawat. Check out the other best recipes of chefs Abida Baloch.
Top relevant recipes of Sindhi Seyal Gosht Recipe in Urdu