Tawa Naan Recipe | Tarka | Rida Aftab | 20 October 2022 | Masala Tv Recipes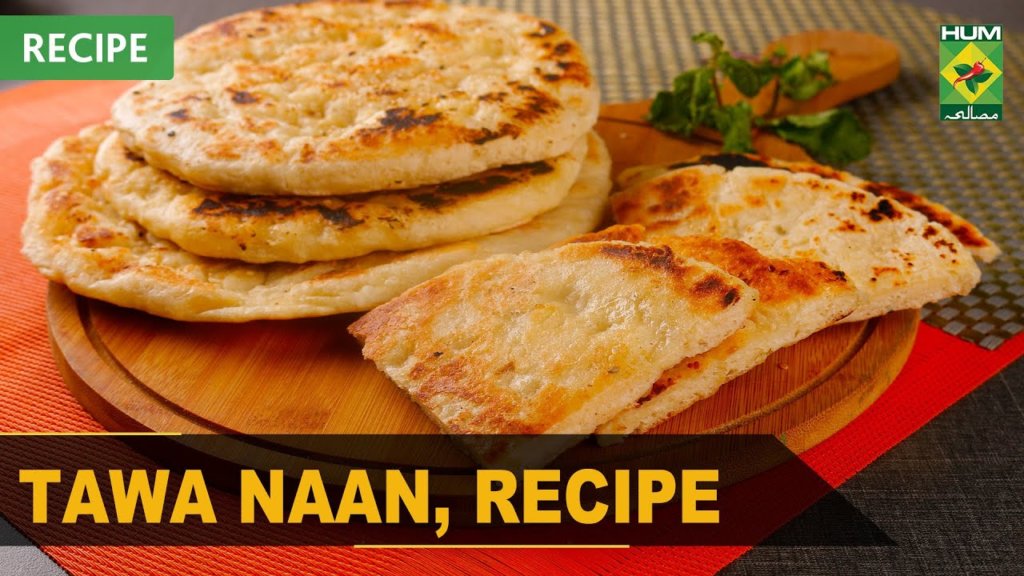 Sep 22, 2023 at 06:45 PM (GMT -04:00)

Check out the Tawa Naan Recipe in Urdu. Learn how to make best Tawa Naan Recipe , cooking at its finest by chef Rida Aftab at Masala TV show Tarka. Check all the Pakistan Cooking recipes in Urdu of Masala TV. Also Check Tawa Naan Recipe , ingredients and complete Method.
Subscribe To Masala TV Recipes YouTube Channel! https://bit.ly/MasalaTV
The show is hosted by Chef Rida Aftab who not only cooks South Asian dishes but also offers solutions regarding storage of food and longevity of ingredients. It is the chef's relatable personality that is the unique selling point of the show.
This Tawa Naan is filled with classic traditional flavours that you can never go wrong with this amazing recipes.
#TawaNaan #LemonOrangeSoda #masalatv #Tarka #foodie
Click Here :https://www.masala.tv/karahi-chicken-…
to watch this Masala TV video to learn how to make Tawa Naan, Kaale chane ka shorba And Lemon orange soda Recipes.
This show of Tarka with Chef Rida Aftab aired on 20 October 2022.
If you enjoy cooking Pakistani food and are looking for recipes, videos of LIVE shows, totkas, and other food stories in both Urdu and English, subscribe to this Youtube channel or go to our website: https://www.masala.tv/
Ingredients
All-purpose flour 1 kg
Salt 1 Tbsp
Yeast 1 tbsp
Powdered sugar 2 Tbsp
Olive oil ½ cup
Sesame seeds as needed
Yoghurt ½ cup
Lukewarm milk as needed
Method:
Add all ingredients in flour and knead together and let it rest for 1 hour. Make into naan and sprinkle sesame seeds on top. Bake on stove and serve.
Ingredients:
Boiled chick peas ½ kg
Onion 2
Tomato 4
Salt 1tsp
Tamarind juice ½ cup
Roasted cumin 1 tsp
Roasted whole Coriander 1 tsp
Ginger Garlic 1 Tbsp
Red chili powder 2 tsp
Roasted carom seed ½ tsp
Turmeric ½ tsp
ground spices powder ½ tsp
Coriander leaves ½ bunch
Green chili as needed
Oil ½ cup
Method:
In hot oil, cook onion until brown and then take out. Grind onion, tomato, and spices and add into the pot of boiled chickpeas then mix well. Then add green chili, coriander leaves and crushed ground spice, cover for dum. Lastly add tamarind juice.
Ingredients:
Cucumber 1
Soda water 1 bottle
Ice 1 cup
Coriander leaves ½ cup
Black salt ½ tsp
Lemon juice 2 Tbsp
Fresh orange juice 1 glass
Method:
In a blender add cucumber, lemon juice, fresh orange juice, black salt, soda water, ice and blend together. Take out in a glass and garnish with coriander leaves. Serve.

Tawa Naan Recipe in Urdu and English
At Masala TV you can check complete Tawa Naan Recipe in Urdu and English. This is one of the best recipes by chef Rida Aftab at Masala TV show Tarka. Check out the other best recipes of chefs Rida Aftab.
Top relevant recipes of Tawa Naan Recipe in Urdu