Turkish Kabab Recipe | Lazzat | Samina Jalil | Turkish Food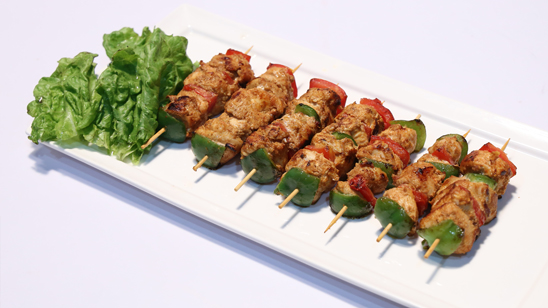 Oct 21, 2021 at 06:40 AM (GMT -04:00)

Check out the Turkish Kabab Recipe in Urdu. Learn how to make best Turkish Kabab Recipe , cooking at its finest by chef Samina Jalil at Masala TV show Lazzat. Check all the Pakistan Cooking recipes in Urdu of Masala TV. Also Check Turkish Kabab Recipe , ingredients and complete Method.
These Kababs have all the scrumptious flavours of classic Turkish food. These Turkish Kababs will almost make you feel like you are in Turkey itself because of its taste and aroma
Watch this Masala TV video to learn how to make Turkish kabab, Masala cone paratha and Makhni omelette curry Recipes. This show of Lazzat with Chef Samina Jalil aired on 30 March 2020.
Ingredients:
Boneless chicken 400 gram
Yogurt ½ cup
Cumin powder 1 tsp
Red chili powder ¾ tsp
Crushed garlic 2 cloves
Pomegranate powder 1 tbsp
Butter 2 tbsp
Capsicum (cubed) 1 cup
Tomatoes (cubed) 1 cup
Wooden skewers as required
Method:
Marinate chicken with all ingredients and leave overnight. Now put chicken, capsicum and tomato on sticks and grill them in grill pan.
Ingredients:
For paratha:
Flour 1 cup
Wheat flour 1 cup
Clarified butter 2 tbsp
Salt 1-1/2 tsp
For filling:
Roasted cumin powder 2 tsp
Red chili powder 1 tsp
Carom seeds ¾ tsp
Salt ¼ tsp
Clarified butter ½ cup
Oil for frying
Method:
Mix all ingredients of paratha and knead soft dough. Now in ½ cup clarified butter add salt, red chili powder, carom seeds and roasted cumin powder. Then make round balls of dough and roll them in round shape and spread clarified butter masala and make half cut from center and roll like a cone. Now press it and roll them then fry.
Ingredients:
For omelette:
Eggs 4
Finely cut green chili, coriander ½ cup
Finely cut onion 1
Salt, turmeric,red chili to taste
Oil for frying
Cheddar cheese ½ cup
For curry:
Chopped onion 1
Onion paste 1
Tomato paste ½ cup
Cream 2 tbsp
Butter 4 tbsp
Oil 2 tbsp
Salt, turmeric, red chili to taste
Cumin powder ¾ tsp
Cheddar cheese 2 tbsp
Green chili, green coriander as required
Dried fenugreek leaves 2 pinches
Method:
Add salt, red chili, turmeric, green chili, green chilies and onion in egg and beat well. Now heat oil and fry omelette in it. Then add cheddar cheese on one side then roll it and cook. Now cut in pieces and take out in dish. For gravy heat oil and butter then fry onion it. Now add tomato, onion paste, salt, red chili, turmeric and cumin then sauté gravy well. Now add ½ cup water and let it cook. Then add cream, dried fenugreek leaves, green coriander and green chili then mix and pour on kabab. Now add cheddar cheese over it and serve with paratha.

Turkish Kabab Recipe in Urdu and English
At Masala TV you can check complete Turkish Kabab Recipe in Urdu and English. This is one of the best recipes by chef Samina Jalil at Masala TV show Lazzat. Check out the other best recipes of chefs Samina Jalil.
Top relevant recipes of Turkish Kabab Recipe in Urdu