Bagharey Dahi Barey Recipe | Food Diaries | Zarnak Sidhwa | Ramzan Recipes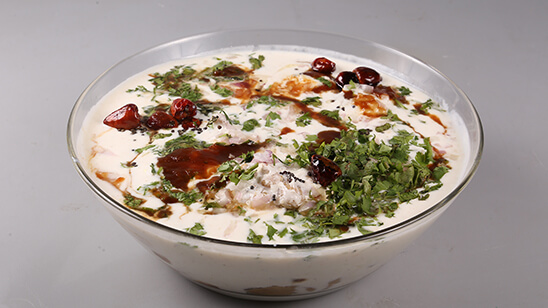 Sep 22, 2023 at 04:34 PM (GMT -04:00)

Check out the Bagharey Dahi Barey Recipe in Urdu. Learn how to make best Bagharey Dahi Barey Recipe , cooking at its finest by chef Zarnak Sidhwa at Masala TV show Food Diaries. Check all the Pakistan Cooking recipes in Urdu of Masala TV. Also Check Bagharey Dahi Barey Recipe , ingredients and complete Method.
Bagharey Dahi Barey is the recipe for simplest iftaari snack! Learn to make besan k bagharay dahi baray at home and treat your family & friends with this refreshing snack!
Watch this Masala TV video to learn how to make Bagharey Dahi Barey and Chinese Pakora Recipes. This show of Food Diaries with Chef Zarnak Sidhwa aired on 15 April 2021.
Ingredients:
For the barey :
Gram flour 250 gm
Ginger paste 1/2 tsp
Salt 1 tsp
Red chili powder 1- 1/2 tsp
Cumin seeds 1/2 tsp
Caraway seeds 1/4 tsp
Baking soda 1/4 tsp
For the yogurt:
Yogurt 500 gm
Roasted cumin 1 tsp
Chaat masala powder 1 tsp
Garlic paste 1 tsp
Black salt 1 tsp
Tarka :
Whole dry red chillies 5-6
Cumin seeds 1/2 tsp
Black mustard seeds 1/2 tsp
Oil 5-6 tbsp
Toppings :
Onion chopped 1
Fresh coriander as required
Tamarind jiggery chutney as required
Method:
Mix gram flour, ginger paste, salt, red chili powder, cumin seeds, caraway seeds, baking soda in a bowl. Add some water to make a thick batter. Drop spoonfuls of batter in hot oil and fry until light golden in hot oil. Drain and put them in a bowl full of waterfor few seconds, then take out each and press a little between your hands and keep in a flat dish. Whisk yogurt , roasted cumin, chaat masala powder, garlic paste, black saltin a bowl. Add this on fried bara in the dish. Add tamarind jaggery chutney. In a pan heat oil and add whole dry red chillies, cumin seeds, black mustard seeds and fry and add over the dahi baras, sprinkle coriander, chopped onion and pour some tamarind jaggery chutney.
Ingredients:
Flour 1 cup
Rice flour 3-4 tbsp
Egg 1
Black pepper powder 1 tsp
Red chili crushed ½ tsp
Chicken powder (or crushed chicken cube) 1 tbsp
Salt 1/2 tsp
White pepper powder ½ tsp
Yellow food color 1 pinch
Water ½ cup
Chicken boiled & shredded 1 cup
Carrot 1 cup
Capsicum 1 cup
Cabbage 1 cup
Green onion leaves ½ cup
Oil for frying
Method :
In a bowl, add flour, rice flour ,egg, black pepper powder ,red chili crushed, chicken powder ,salt, white pepper powder ,yellow food color and mix well. gradually add water and whisk until batter is formed .add chicken, carrot, capsicum, cabbage, green onion leaves and mix well. Heat oil and deep fry pakoras on medium flame until golden & crispy. Serve with ketchup.

Bagharey Dahi Barey Recipe in Urdu and English
At Masala TV you can check complete Bagharey Dahi Barey Recipe in Urdu and English. This is one of the best recipes by chef Zarnak Sidhwa at Masala TV show Food Diaries. Check out the other best recipes of chefs Zarnak Sidhwa.
Top relevant recipes of Bagharey Dahi Barey Recipe in Urdu