Bheja Fry Recipe | Dawat | Abida Baloch | Desi Food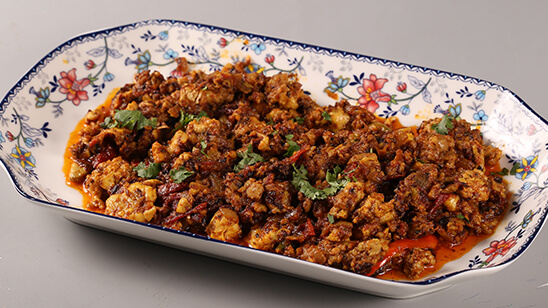 Jul 04, 2022 at 02:42 AM (GMT -04:00)

Check out the Bheja Fry Recipe in Urdu. Learn how to make best Bheja Fry Recipe , cooking at its finest by chef Abida Baloch at Masala TV show Dawat. Check all the Pakistan Cooking recipes in Urdu of Masala TV. Also Check Bheja Fry Recipe , ingredients and complete Method.
Aren't we all crazy Bheja Fry fans? Here is the most amazing recipe you'll find so give it a try and enjoy it with your loved one.
Watch this Masala TV video to learn how to make Bheja Fry , Tandoori Beef Samosa and Melon slush Recipes. This show of Dawat with Chef Abida Baloch aired on 23 April 2021.
Ingredients:
Lemon Juice 1 tbsp
Dried fenugreek 1tsp
Red chili powder 1 tsp
Coriander Powder 1 tsp
Cumin 1tsp
Ginger garlic paste 1 tsp
Green chilies (chopped) 3
Turmeric Powder 1/2 tsp
Salt to taste
Onion sliced 1
Beef brain 1
Oil as required
Coriander leaves (Chopped) 1/2 bunch
Method:
Boil Brain in water along with turmeric for 5 minutes this helps in cleaning. Take a pan add oil, cumin. Now add chopped onions, cook till it becomes light brown color. Add Turmeric powder, ginger garlic paste, green chilies, pepper powder, coriander powder, red chili powder sauté all this for few minutes. Cut brain into equal pieces and add to the masala cook for 5 minutes by closing with a lid. Lastly, add chopped Coriander leaves and lemon juice.
Ingredients :
Beef mince 250 gm
Tandoori masala. 2 tbsp
Oil 2 tbsp
Onion finely chopped 2
Ginger garlic paste 1tsp
Green chili finely chopped 2 tsp
Chaat masala 1 tsp
Fresh coriander finely chopped as required
Lemon juice 2 tsp
Salt to taste
For the samosas:
Samosa wraps as required
Flour 1 tbsp
Water 1 tbsp
Oil for frying
Method:
To make the filling, fry beef along with all spices then remove from stove and add onion, fresh coriander assembles all the samosas, spread a little flour paste onto the edges and seal the samosa. Set aside and continue with the remaining ingredients' heat oil until hot in a deep pot then fry the samosas until golden brown and crisp.
Ingredients:
Watermelon cubes 2 cups
Fresh mint leaves 10-12
Lime juice 2 tbsp
Water 1 cup
Red syrup as required
Method:
Freeze watermelon cubes overnight or well in advance
In a blender jar add, red syrup, frozen watermelon, fresh mint leaves, lime juice and water. Blend the mixture until it purees
Pour the slushie in drinking glasses and serve when it is still cold.

Bheja Fry Recipe in Urdu and English
At Masala TV you can check complete Bheja Fry Recipe in Urdu and English. This is one of the best recipes by chef Abida Baloch at Masala TV show Dawat. Check out the other best recipes of chefs Abida Baloch.
Top relevant recipes of Bheja Fry Recipe in Urdu