Bihari Pulao Recipe | Masala Mornings | Shireen Anwar | Desi Food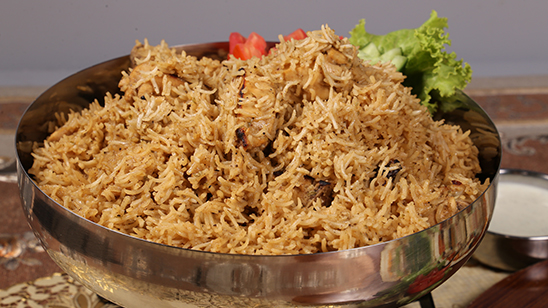 Nov 29, 2023 at 03:37 AM (GMT -05:00)

Check out the Bihari Pulao Recipe in Urdu. Learn how to make best Bihari Pulao Recipe , cooking at its finest by chef Shireen Anwar at Masala TV show Masala Mornings. Check all the Pakistan Cooking recipes in Urdu of Masala TV. Also Check Bihari Pulao Recipe , ingredients and complete Method.
Bihari Pulao is a truly a Bihari specialty that is finger-licking good. Try this one today!
Watch this Masala TV video to learn how to make Bihari Pulao , Three Milk Cake Shots And Tortizza Recipes. This show of Masala Mornings with Shireen Anwar aired on 31 March 2021..
Ingredients:
Chicken 1 kg 16 pcs
Ginger garlic paste 2 tbsp
Green chilies grinded 2 tbsp
Onion raw grinded 2
Poppy seeds 1 tbsp heaped
Yogurt 1 cup
Black pepper whole 1 tsp
Green cardamom 4
Cinnamon 1 stick
Cloves 6
Bay leaf 1
Cumin seeds 1 tsp
Rice ½ kg soaked for 30 mins
Oil ½ cup
Salt 2 ½ tsp heaped
Clarified butter 2 tbsp
METHOD:
Marinate chicken with ginger garlic, grinded chili paste, salt, onion raw grinded, poppy seeds, black pepper and yogurt for 1 hour. Heat oil, add whole spices, fry for 1 min, add marinated chicken, fry till boiling, cook for 20 mins till oil comes on top, add soaked rice with water 1 inch above the rice and chicken, also add in clarified butter, once the mixture boiling, lower flame, cook on dum for 15 mins till done. Serve hot with raita and kachoomber.
Ingredients for cake:
Eggs 6 separated
Caster sugar ¼ cup + ¼ cup
Vanilla essence ½ tsp
Flour 1 cup sieved
Corn flour 2 tbsp
Ingredients for Cream:
Condensed milk 1 tin
Whipped cream 1 packet
Evaporated milk 5 ounce tin
Vanilla ½ tsp
Orange juice ¼ cup
METHOD FOR CAKE:
Beat egg whites with ¼ cup sugar until stiff peaks formed, beat egg yolks and add remaining sugar in a medium bowl until light yellow in color, fold egg white mixture and flour alternately into egg yolk mixture, pout into a well-greased and floured swiss roll tray, bake on 190 D for 15 mins, remove, cool, then cut into round pieces, size of your shot glasses.
METHOD FOR CREAM:
Mix together condensed milk, whipped cream, evaporated milk, orange juice, vanilla in a bowl, stir well, prick cake pieces well with toothpick, pour prepared cream over cake, put another piece of cake, repeat with cream, let it stand for 30 mins until cake absorbs cream, serve chilled.
Ingredients for Tortillas:
Flour 2 ½ cup
Salt ½ tsp
Baking powder ½ tsp
Oil 2 tbsp
Warm water to knead
Ingredients for Filling:
Pizza sauce ½ cup
Chicken tikka chunks 2 cups
Capsicum 1 cut into tiny cubed
Mushrooms 4 sliced
Black olives 2 tbsp sliced
Onion 1 cubed
Tomato 1 cubed and seeds removed
Red chili flakes 1 tsp
Oregano 1 tsp
Grated cheddar cheese 1 cup
Grated mozzarella cheese 1 cup
METHOD:
Mix all the filling ingredients and keep aside. At the time of serving cover the wire rack of the oven with foil, grease foil, place a tortilla on the rack, brush the edges of tortilla with oil, spread with sauce on the tortilla, then spread with filling and cheese mixture, bake for 15 mins in a pre-heated oven on 180 D till the edges start turning crisp, cut into wedges as pizza and serve.
METHOD FOR TORTILLAS:
Beat the dough, leave to rest for half an hour then make into 5 tortillas each of dinner plate size, keep aside.

Bihari Pulao Recipe in Urdu and English
At Masala TV you can check complete Bihari Pulao Recipe in Urdu and English. This is one of the best recipes by chef Shireen Anwar at Masala TV show Masala Mornings. Check out the other best recipes of chefs Shireen Anwar.
Top relevant recipes of Bihari Pulao Recipe in Urdu