Black Forest Smoothie Recipe | Lazzat | Samina Jalil | Beverage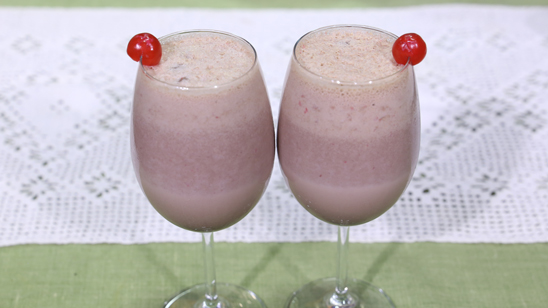 May 12, 2021 at 11:47 PM (GMT -04:00)

Check out the Black Forest Smoothie Recipe in Urdu. Learn how to make best Black Forest Smoothie Recipe , cooking at its finest by chef Samina Jalil at Masala TV show Lazzat. Check all the Pakistan Cooking recipes in Urdu of Masala TV. Also Check Black Forest Smoothie Recipe , ingredients and complete Method.
This Black Forest Smoothie is one of a kind smoothie that has a wonderful taste to it.
Watch this Masala TV video to learn how to make Black Forest Smoothie , Hot Saucy Crispy Chicken Wings and Spaghetti with Tomato Cream Recipes. This show of Lazzat with Chef Samina Jalil aired on 13 April 2020.
Ingredients:
Cherries 15-16
Oats 2 tbsp
Chocolate syrup 2 tbsp
Sugar 4 tbsp
Vanilla biscuits 4-5
Milk 3 cups
Cream 2 tbsp
Whipped cream for garnish
Vanilla essence few drops
Red cherries for garnish
Ice as required
Method:
Put cherries, oats, ice, vanilla essence, milk, sugar, vanilla biscuits and cream in a blender and blend well. Now take out in glass garnish with whipped cream and put cherries then serve.
Ingredients for Marination:
Chicken wings ½ kg
Garlic Powder 1 tsp
Salt 1 tsp
Red Chili Powder 1 ½ tsp
Vinegar ½ cup
Butter Milk ¾ cup
Ingredients for Dry Coating:
Flour 1 cup
Corn Flour 2 tbsp
Baking Powder 1 tsp
Baking Soda 2 pinch
Garlic Powder ¾ tsp
Oil for frying
Ingredients for Sauce:
Oil 2 tbsp
Crushed Garlic 1 tsp
Chili Garlic ¾ cup
Worcestershire Sauce 2 tbsp
Red Chili Flakes 1 tsp
Crushed Black Pepper ½ tsp
Capsicum (Chopped) 2 tbsp
Corn Flour 1 tsp
METHOD:
In a bowl, marinate the chicken wings with the above ingredients for overnight. Now sieve the dry coating ingredients. Then roll each fillet with dry coating and let it rest for half an hour. Now heat oil in a pan and fry the fillets on a medium heat until golden brown. For the sauce, Heat oil in a saucepan, fry crushed garlic. Now add the rest ingredients and half cup water. Meanwhile, add a little water in a corn flour, pour and thick the sauce mixture. Now add the fried chicken and serve immediately.
Ingredients:
Boiled spaghetti 1 cup
Oil 4 tbsp
Crushed garlic 1 tbsp
Boiled crushed tomato 1-1/2 cup
Cream 1 cup
Crushed black pepper 1 tsp
Salt to taste
Parsley to taste
Sugar 1 tsp
Finely chopped onion 1
Method:
Heat oil in a pan fry onion and garlic in it. Alongside this add boiled crushed tomatoes, salt and crushed black pepper and mix well. Then add cream and finely cut parsley, mix well then add boiled spaghetti and cook for 5 minutes.

Black Forest Smoothie Recipe in Urdu and English
At Masala TV you can check complete Black Forest Smoothie Recipe in Urdu and English. This is one of the best recipes by chef Samina Jalil at Masala TV show Lazzat. Check out the other best recipes of chefs Samina Jalil.
Top relevant recipes of Black Forest Smoothie Recipe in Urdu