Chicken Corn Soup Recipe | Food Diaries | Chef Zarnak Sidhwa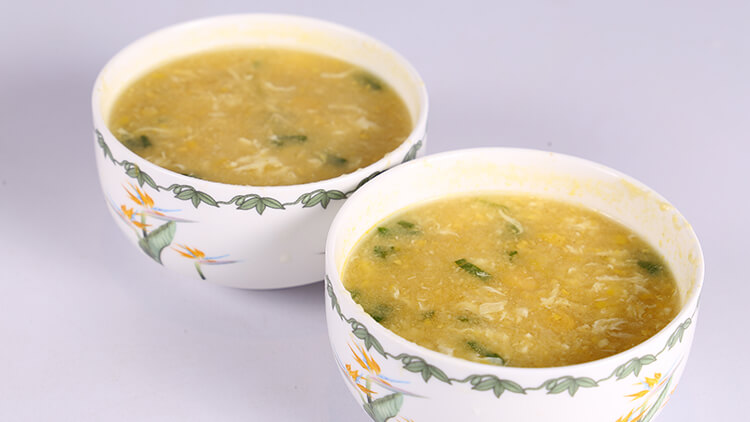 Jun 10, 2023 at 02:43 AM (GMT -04:00)

Check out the Chicken Corn Soup Recipe in Urdu. Learn how to make best Chicken Corn Soup Recipe, cooking at its finest by chef Zarnak Sidhwa at Masala TV show Food Diaries. Check all the Pakistan Cooking recipes in Urdu of Masala TV. Also Check Chicken Corn Soup Recipe, ingredients and complete Method.
Winter season is incomplete without soups, and Chicken Corn Soup is by far the king of soups, so enjoy this basic recipe at home and thank us later.
Watch this Masala TV video to learn how to make Chicken Corn Soup ,Pistachio Chocolate Barfi and Daal Vegetable Oats Recipes. This show of Food Diaries with Chef Zarnak Sidhwa aired on 2 December 2019.
Ingredients:
Chicken stock 6 cups
Chicken breast fillet (boneless) 1 large
Corn 1 cup
Creamed corn 1 cup
Corn flour 1 tbsp
Soy sauce 2 tbsp
Eggs 2
Spring onions (finely sliced) 2
Method:
Bring the chicken stock to the boil in a large saucepan. Add chicken breast fillet to the stock, turn the heat off and cover the pan with a lid for 15 minutes. Remove chicken breast from the stock and leave to cool for a few minutes then shred. Add corn to stock and bring to the boil over a medium heat. Combine soya sauce and corn flour into a paste then stir into the soup to thicken slightly. Add shredded chicken to soup. Slowly pour beaten eggs into the soup in a steady stream, stirring constantly with a fork. Serve topped with the sliced spring onions
Beef Stock:
Ingredients:
Meaty beef bones 4 pounds
Beef (chunks) 1 pound
Olive oil as required
Onions 2
Carrots 2
Celery Handful
Garlic 3 cloves
Parsley Handful
Bay leaves 1-2
Black peppercorns 10
Chicken stock:
Ingredients:
Chicken bones 1 kg
Celery tops 1
Onion 1
Carrot 1
Parsley 1 bunch
Salt to taste
Black pepper as required
Beef Stock  Method:
Rub a little olive oil over the beef chunks, carrots, and onions. Place along with stock bones, carrots and onions in a large, shallow roasting pan. Roast in an oven at 200 degrees C for about 45 minutes, turning the bones and meat pieces half-way through the cooking, until nicely browned. If bones begin to char at all during this cooking process, lower the heat. They should brown, not burn. When the bones and meat are nicely browned, remove them and the vegetables and place them in a large stock pot. Add hot water and scrape up the browned bits. Pour the browned bits and water into the stock pot. Add vegetables, water, bring to a low simmer: Add celery, garlic, parsley, bay leaves, and peppercorns to the pot. Cover the pot loosely and let simmer low and slow for 3-6 hours. Do not stir the stock while cooking. Stirring will mix the fats in with the stock, clouding up the stock. Skim scum and fat. Remove solids and strain. Use a slotted spoon to gently remove the bones and vegetables from the pot. Using a fine sieve, covered with a couple layers of cheesecloth, pour the stock through the sieve to strain it of remaining solids. Let cool to room temperature then chill in the refrigerator. Once the stock has chilled, any fat remaining will have risen to the top and solidified. The fat forms a protective layer against bacteria while the stock is in the refrigerator. If you plan to freeze the stock however, remove and discard the fat, pour the stock into a jar or plastic container.
Chicken stock Method:
Put the chicken bones into a large stock pot. Add celery, onion, carrots, and parsley. Cover with water. Add salt and pepper. Bring to a boil and then simmer covered at least 4 hours, occasionally skimming off any foam that comes to the surface. Remove the bones and vegetables with a slotted spoon and strain the stock through a fine sieve. If making stock for future use in soup you may want to reduce the stock by simmering an hour or two longer to make it more concentrated and easier to store.
Suji Ladi Pav:
Ingredients:
Semolina 2 cups
Milk powder 2 tbsp
Salt 2 tsp
Yeast 2-1/2 tsp
Lukewarm milk ½ cup
Luke warm water ¼ cup
Sugar 1 tbsp
Oil or melted butter 2 tbsp
Flour 1 tbsp
Butter to brush
Milk to brush
Vegetable stock:
Ingredients:
Olive oil 1 tbsp
Onion 1
Celery 2 stalks
Carrots 2
Chopped green onions 2-3
Minced garlic 8 cloves
Fresh parsley 8 springs
Thyme 1 tsp
Bay leaves 2
Salt 1 tsp
Water 2 quarters
Suji Ladi Pav Method:
Mix semolina, milk powder, salt yeast, sugar, lukewarm milk and lukewarm water, knead about 3 minutes in the mixer. Leave to rest covered. Add oil or melted butter. Knead again few minutes. Add flour. Knead until very smooth. Keep aside covered for 2 hours. Once doubled, punch down. Make rolls and keep in greased tray for 1 hour. Let rise again, this is the 2nd proofing. Brush paav with milk and bake at 200 degrees C for 15 to 20 minutes, till golden on top. When done, brush with butter and keep covered with towel for 10 minutes before cutting in slices.
Vegetable stock Method:
Chop all vegetables into 1-inch chunks. Heat oil in a deep pan. Add onion, celery, carrots, spring onions, garlic, parsley, thyme and bay leaves. Cook over high heat for 5 to 10 minutes, stirring frequently. Add salt and water and bring to a boil. Lower heat and simmer, uncovered, for 30 minutes. Strain. Discard vegetables.

Chicken Corn Soup Recipe in Urdu and English
At Masala TV you can check complete Chicken Corn Soup Recipe in Urdu and English. This is one of the best recipes by chef Zarnak Sidhwa at Masala TV show Food Diaries. Check out the other best recipes of chefs Zarnak Sidhwa.
Top relevant recipes of Chicken Corn Soup Recipe in Urdu