Chicken Croissants Recipe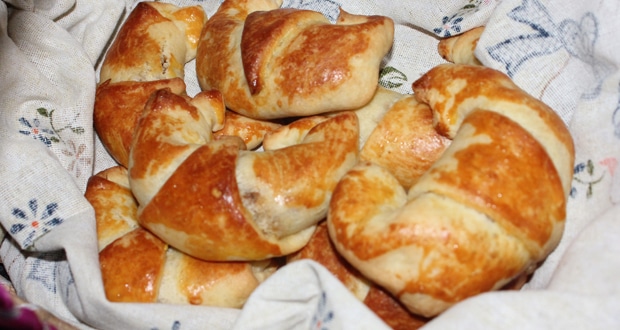 Nov 28, 2023 at 08:21 PM (GMT -05:00)

Check out the Chicken Croissants Recipe in Urdu. Learn how to make best Chicken Croissants Recipe, cooking at its finest by chef Zarnak Sidhwa at Masala TV show . Check all the Pakistan Cooking recipes in Urdu of Masala TV. Also Check Chicken Croissants Recipe, ingredients and complete Method.
Ingredients for Filling:
Boneless chicken breast (small pieces) 250 gm
Capsicum (grated or chopped finely) 1 (small)
Corn 2 tbsp
Carrot (grated) 1
Finely chopped onion 1 (small)
Green chillies (chopped) 1-2
Garlic paste 1/2 tsp
Chopped coriander 1 tsp
Salt to taste
Ground cumin powder 1/2 tsp
Tandoori masala (optional) pinch
Lemon juice of 1/2 lemon
Soya sauce 1 tsp
Butter 1 tbsp
Ingredients for Dough:
Flour 2 cups
Salt 1 tsp
Sugar 1 tsp
Yeast 1/2 tsp
Baking powder 1/4 tsp
Softened butter 3 tbsp
Oil 2 tbsp
Warm milk mixed with water 1/2 cup
Method:
For the filling, heat the butter, add the onions and stir fry until they're translucent. Do not brown them. Add the capsicum and carrot. Add the chicken and stir fry. Add the chillies, garlic, salt, cumin powder, tandoori masala and corn. Sauté until the chicken become tender. If the mixture sticks to the pan and the chicken is not yet done, add a tbsp. of water and cover until ready. Make sure that the mixture is completely dry. Lastly, add the coriander and soya sauce, mix well and switch off. Pour the lemon juice on the mixture, and shred the chicken. You can smoke the mixture with a coal and some oil to give it a nice bbq aroma.
For the dough, sieve the flour and add the yeast, baking powder, salt and sugar. Add 2 tbsp. of butter and 2 tbsp oil. (Reserve the last tbsp. butter for later). Rub into the flour using finger tips until the flour has a crumbly texture. Gradually add the warm milk & water, stirring it in with a wooden spoon at first until the dough starts to hold together, and then continuing to knead together with your hands until the dough has softened. You need this dough slightly sticky, oil your hands slightly to help with the stickiness and keep kneading. Adding a little sprinkling of flour when it gets too sticky to handle until the dough is nice and well-kneaded and formed into a ball. Apply a touch of oil all over the ball of dough, place in a container and cover with a damp towel. Place in a micro or anywhere warm. Leave it to rise to about double its original size. (40mins to an hour) Roll out the dough on a floured surface into a huge circle of about 30cm diameter (use your fingertips to stretch the circle out when you feel you can't roll with the pin any further), then rub half of the reserved tbsp. of butter all over this rolled out circle. Using a pizza cutter or sharp knife, cut the circle into quarters, then divide each quarter again to form eighths. Take the first eighth of the circle; place your mixture of choice on the edge (where the perimeter of the circle used to be). Roll carefully towards the pointed edge. Curve down the edges of your rolled up croissant to form the crescent shape. Place the croissants on a greased tray and cover them again for another half an hour so that the dough can rise again. Glaze the croissants with egg yolk to give them a nice color. Bake at 175 degrees C for about 12-15 minutes. When ready, remove and place them on a cloth, and take the remaining half tbsp. of butter, and gently touch up the buns with it to give them a nice shiny soft finish. Cover the buns in the cloth for about 10 minutes before serving. This gives the butter time to get absorbed fully into the croissants, thereby making them soft and extra delish.

Chicken Croissants Recipe in Urdu and English
At Masala TV you can check complete Chicken Croissants Recipe in Urdu and English. This is one of the best recipes by chef Zarnak Sidhwa at Masala TV show . Check out the other best recipes of chefs Zarnak Sidhwa.
Top relevant recipes of Chicken Croissants Recipe in Urdu