Chicken Fricassee Recipe | Fusion Food | Chef Mahnoor Malik | 26 October 2022 | Masala Tv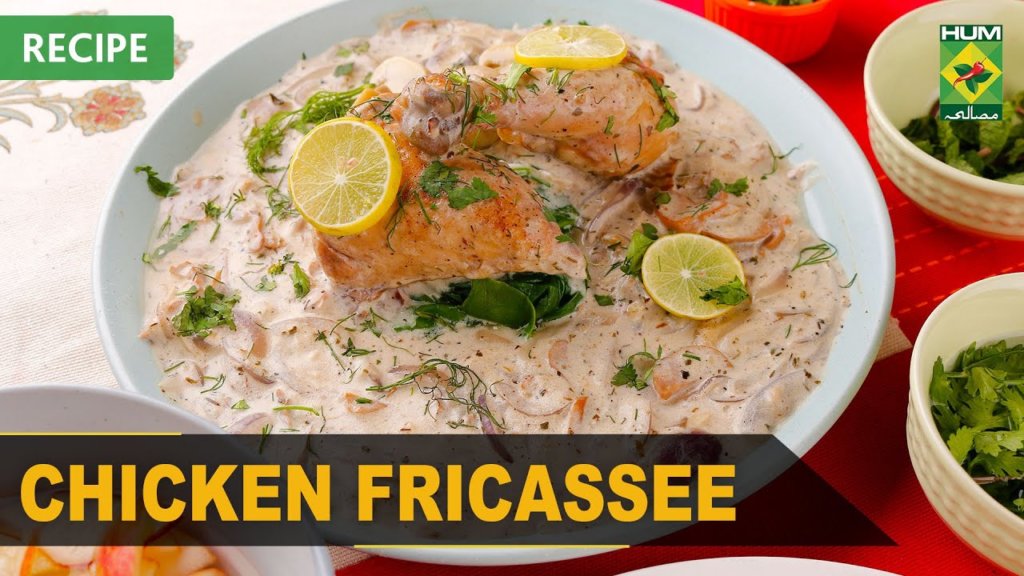 Dec 03, 2023 at 07:39 PM (GMT -05:00)

Check out the Chicken Fricassee Recipe in Urdu. Learn how to make best Chicken Fricassee Recipe , cooking at its finest by chef Mahnoor Malik at Masala TV show Fusion Food. Check all the Pakistan Cooking recipes in Urdu of Masala TV. Also Check Chicken Fricassee Recipe , ingredients and complete Method.
Subscribe To Masala TV Recipes YouTube Channel! Masala tv
This show is hosted by Chef Mahnoor Malik who gives a personalized fusion twist to international cuisines. The chef also makes sure to provide a calorie count for each dish in the episode as well as to mention healthy substitutes for the ingredients to ensure a touch of healthiness in her dishes.
We bet you have never had as good as this one!
#ChickenFricassee #cremebrulee #masalatv
Watch this Masala TV video to learn how to make Chicken Fricassee And Crème Brûlée recipe.
Ingredients For The Chicken
Whole chicken 1
Salt to taste
Pepper to taste
Flour 1 tbsp
Butter for frying
For The Sauce
Mushrooms 1 cup
Onions 2 (medium)
Garlic 3-4 cloves
Chicken stock 1 cup
Thyme 1 tsp
Basil 1 tsp
Parsley 1 tsp
Heavy cream 1 tsp
Method
Clean the chicken pieces sprinkle salt and pepper and flour on to them.
Add butter to the pan add chicken fry take out the chicken now.
For sauce add onions in the same pan as chicken let them be translucent add mushrooms ,herbs, spices sauté and add stock let it cook for a while add chicken to get it cooked a little more in stock now take out the chicken add little flour and heavy cream stir well now add chicken back. Eat it with rice or anything you like. Enjoy
Fat 10 gm
Carb 18 gm
Proteins 14 gm
Calories 210
Serving size 1 to 2 person each bowl
Ingredients
Egg yolks 2Sugar ¼ cup
Cream 200 ml
Salt ½ tsp
Vanilla essence ½ tsp
Method
Whisk egg yolks and sugar together till well formed.
Preheat oven and add the pan with hot water.
Put a saucepan on stove.
Add cream let it make bubbles add salt and vanilla essence.
Now add cream to yolk mix and whisk well.
Transfer into ramekins and bake for 35 to 40 min at 200 c°
Cool it add sugar and give it a nice torch.

Chicken Fricassee Recipe in Urdu and English
At Masala TV you can check complete Chicken Fricassee Recipe in Urdu and English. This is one of the best recipes by chef Mahnoor Malik at Masala TV show Fusion Food. Check out the other best recipes of chefs Mahnoor Malik.
Top relevant recipes of Chicken Fricassee Recipe in Urdu