Chicken Parda Biryani Recipe | Lively Weekends | Masala TV | Desi Food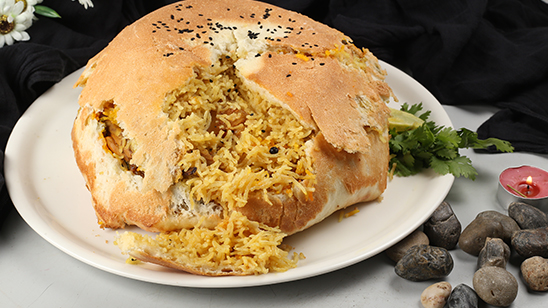 Mar 23, 2023 at 01:27 PM (GMT -04:00)

Check out the Chicken Parda Biryani Recipe in Urdu. Learn how to make best Chicken Parda Biryani Recipe , cooking at its finest by chef at Masala TV show Lively Weekend. Check all the Pakistan Cooking recipes in Urdu of Masala TV. Also Check Chicken Parda Biryani Recipe , ingredients and complete Method.
Chicken Parda Biryani has a royal – rustic taste that you'll fall in love with. Feel royal in every bite of this Biryani.
Watch this Masala TV video to learn how to make Chicken Parda Biryani , Cheese Cake and Nuggets Kabab Recipes. This show of Lively Weekend with Host Kiran Khan aired on 18 September 2021.
Ingredients:
Chicken 1 kg
Rice (boiled) 1/2 kg
Tomato 4
Onions 3
Yogurt 1 cup
Whole spices 1 tsp for (boiled rice)
Green chilies 5
Bay leaves 2
Black pepper corns 1 tsp
Cloves 1 tsp
Turmeric powder 1 tsp
Dry plum 8
Nutmeg ¼ tsp
Mace ¼ tsp
Cinnamon powder ½ tsp
Potato 3 cubes
Ginger garlic paste 2 tbsp
Cumin 1 tsp
Coriander powder 1-1/2 tsp
Red chili powder 2 tsp
Salt to taste
Cinnamon 2
Black cardamom 1
Green cardamom 4
Coriander leaves 1/2 bunch
Mint leaves 1/2 bunch chopped
Oil 1 cup
Milk ¼ cup
Lemon juice 2 tsp
Fried onions ½ cup
Saffron color 2 pinch
Screw pine water 1 tsp
For garnish:
Lemon slices 1
Cashew nuts (roasted) 2 tsp
Raisins (washed) 2 tsp
For dough ingredients:
All purpose flour 3 cups
Yeast 1 tsp
Salt ½ tsp
Sugar 1 tbsp
Oil 3 tbsp
Warm water 3 cups
Method:
For dough:
Mix all dough ingredients and knead well for 3 minutes cover and set aside.
Take a large skillet add oil onions fry till golden brown, add whole spices and fry for few seconds.
Add chicken fry for a minute, add cumin, cinnamon, black cardamom, green cardamoms, tomatoes, yogurt, ginger garlic paste, red chili powder, turmeric, salt, coriander powder, nutmeg ,mace, dry plum, and cook until oil is oozing out. Add potatoes and 1 cup water and cook until chicken is cooked well.
Add green chilies, coriander leaves, mint leaves, lemon juice and screw pine water.
Now assemble the boiled rice and gravy in the skillet.
Roll the dough like a thick chapatti lay carefully in the skillet and sprinkle the cashews, raisins, and fried onions then fill the boiled rice food color then biryani masala again rice and sprinkle food color.
Cover with foil paper and simmer for 15 minutes on medium heat.
Ingredients For the crust:
Cookies crumbs 2-½ cups
Unsalted butter, melted 6 tablespoons
For the Cheesecake Filling:
Cream cheese 16 oz
Sugar powder 1 cup
Vanilla extract 1 teaspoon
Whipping cream 2 cups
Biscuit spread 1 cup
For the Topping:
Biscuit spread ½ cup
Biscuit cookies crumbs as required
Method:
To make crust:
Finely crush the cookies in a food processor, add melted butter and blend until it's all moistened
Press crumb mixture onto bottom of the prepared 9-inch spring form pan by lightly greasing the edges of the pan with cooking spray
Place in the freezer while you make the filling
To make cheesecake filling:
In medium bowl, mix cream cheese and powdered sugar until smooth and creamy
In separate bowl, whip heavy cream until soft peaks form, add vanilla extract and mix until stiff peaks form
Add cream cheese mixture into beaten heavy cream and mix on low speed just to combine
Add Biscuit spread and mix on medium speed until well combined and very smooth
Spread Biscuit cheesecake filling into bottom of the Biscuit crust
Set in the fridge to firm
Refrigerate for at least 6 hours or until set
When the cheesecake is set and cooled run a thin knife around the sides and remove the spring form pan sides
To make topping:
Place ½ cup Biscuit spread in a microwave safe bowl and heat in the microwave until very melted about 40 seconds
Use a zipper lock bag with the end snipped off to drizzle some of melted Biscuit around the edges then pour the remaining spread all over the top of the cheesecake
Sprinkle the sides of the cheesecake with biscuit cookies crumbs, if desired Serve
Ingredients:
Nuggets 1packet
Ginger 1 tsp
Garlic 1 tsp
Coriander leaves 1 tsp
Red pepper powder 1 tsp
Black pepper to taste
Salt to taste
Bread crumbs as required
Peas (boiled) ½ cup
Green chilies 3
Eggs 1
Oil as required
Method:
Chop the nuggets in chopper and set aside.
Chop all the vegetable and
Mix well all the vegetables with the nuggets and seasoning
Make small kababs and fold in beaten egg and bread crumbs.
Fry on medium heat till golden brown.

Chicken Parda Biryani Recipe in Urdu and English
At Masala TV you can check complete Chicken Parda Biryani Recipe in Urdu and English. This is one of the best recipes by chef at Masala TV show Lively Weekend. Check out the other best recipes of chefs .
Top relevant recipes of Chicken Parda Biryani Recipe in Urdu