Chicken Penne Casserole Recipe | Food Diaries | Zarnak Sidhwa | Italian Food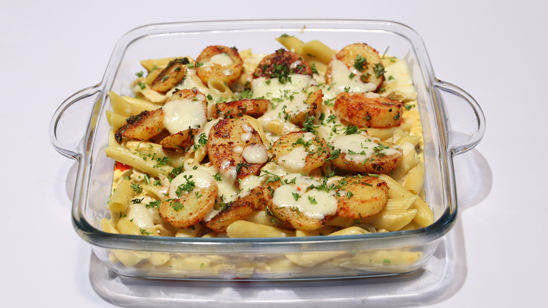 Mar 23, 2023 at 01:08 PM (GMT -04:00)

Check out the Chicken Penne Casserole Recipe in Urdu. Learn how to make best Chicken Penne Casserole Recipe , cooking at its finest by chef Zarnak Sidhwa at Masala TV show Food Diaries. Check all the Pakistan Cooking recipes in Urdu of Masala TV. Also Check Chicken Penne Casserole Recipe , ingredients and complete Method.
This Chicken Penne Casserole is a classic Italian dish that is loved by people all across the globe. Now, you too can have this lovely dish at home!
Watch this Masala TV video to learn how to make Chicken Penne Casserole and Nutmeg Cake Recipes. This show of Food Diaries with Chef Zarnak Sidhwa aired on 1 July 2020.
Ingredients:
Boneless Chicken strips 250 gm
Garlic paste 1 tsp
Black pepper 1 tsp
Salt 1 tsp
Parsley flakes 1 tsp
Mushrooms 8
Penne boiled 2 cups
Parboiled Potatoes, cut into discs 2
Other ingredients:
Chopped Garlic 1 tsp
Flour 2 tsp
Cream Cheese 3-4 tbsp
Milk 1 ½ cups
Paprika 1 tsp
Chili Sauce 2 tbsp
Cheddar Cheese 1/2 Cup
Butter 1 tbsp
Olive Oil 2-3 tbsp
Chopped Parsley as required
Method:
Take 2 tablespoons chopped parsley , 1 tablespoon olive oil , salt and paprika , mix it all , and gently coat potato discs well. Heat little olive oil, saute chicken till done and remove. To the same wok add butter and more oil, saute garlic till soft, add salt and seasoning and toss the mushrooms and remove. In the same wok , add some butter , stir flour into melted butter mixing well until fully incorporated giving you a pale colored roux . Add in chopped fresh parsley . Slowly add milk, stirring to avoid lumps. Stir in cream cheese along with some cheddar , add mushrooms , chicken and pasta , simmer gently for 5 minutes. Into a pyrex dish add the mixture which should be a bit on the thinner side as it will thicken while baking. Level the surface and put the prepared potatoes on top, add grated cheese, bake for about 20 minutes on 180 degrees C .
Ingredients:
Flour 1 cup
Milk ½ cup
Baking soda ½ tsp
Baking powder 1 tsp
Brown sugar ¾ cup
Unsalted butter 6 tbsp
Nutmeg 1 tsp
Egg 1
Walnuts ¼ cup
Cardamoms 2
Method:
Sift together the flour and the baking powder into a bowl. Mix the baking soda into the milk. Set it aside. Mix brown sugar, flour mixture and cubed butter. Then mix the butter with fork or a pastry blender into the dry ingredients. Put 1/3rd of this crumbly mixture into a greased 6" cake pan. Press down to form a crust. Beat egg in a bowl and add the nutmeg and milk–baking soda mixture and set aside. Once it's mixed well and frothy (about 3 minutes using a standing mixer), pour in the rest of the crumbly mixture. Mix that well, pour the batter over prepared crust. Gently place walnuts over the batter. Bake at 180 degrees C for 40 minutes or until done. The top should be a golden brown, and an inserted toothpick comes out clean.

Chicken Penne Casserole Recipe in Urdu and English
At Masala TV you can check complete Chicken Penne Casserole Recipe in Urdu and English. This is one of the best recipes by chef Zarnak Sidhwa at Masala TV show Food Diaries. Check out the other best recipes of chefs Zarnak Sidhwa.
Top relevant recipes of Chicken Penne Casserole Recipe in Urdu