Chicken Saltimbocca Recipe | Lively Weekends | Italian Food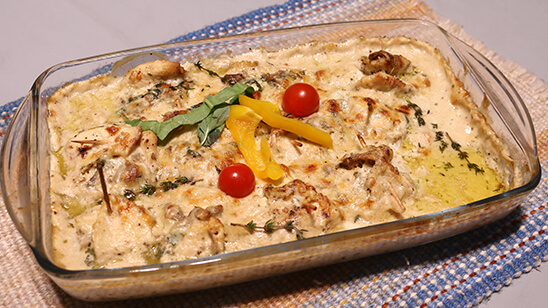 Dec 05, 2022 at 01:23 PM (GMT -05:00)

Check out the Chicken Saltimbocca Recipe in Urdu. Learn how to make best Chicken Saltimbocca Recipe , cooking at its finest by chef at Masala TV show Lively Weekends. Check all the Pakistan Cooking recipes in Urdu of Masala TV. Also Check Chicken Saltimbocca Recipe , ingredients and complete Method.
Chicken Saltimbocca is a classic combination of chicken, cheese and spinach that makes it taste extra ordinary. Give it a try!
Watch this Masala TV video to learn how to make Chicken Saltimbocca , Tiramisu and Parmesan eggplant Recipes. This show of Lively Weekend with Host Kiran Khan aired on 4 April 2021.
Ingredients:
Boneless sliced chicken breast ½ kg
Shredded cheese ½ cup
Cottage cheese ½ cup
Mushrooms sliced 1 cup
Spinach chopped and steamed 1 cup
Rice vinegar 2 tsp
flour 3 tbsp
milk 2 cup
cream 1 cup
ground sage 1tsp
salt 1 tsp
olive oil 3 tbsp
Method:
lightly pound the chicken breast slices
dredge these slices in seasoned flour
dd oil to a hot large saute pan..then lightly fry the slices.
Filling:
saute mushrooms with salt and pepper
saute chopped spinach.
in a bowl mix mushrooms..spinach cottage cheese shredded cheese and rice wine vinegar ..salt and pepper
Instructions for white sauce:
in a pan melt butter
add flour..salt ans pepper and saute..while whisking quickly add milk and cream.till u have a nice white sauce with a not so thick consistency
Assembly of the dish..take a sauteed chicken slice
put the filling ing in the middle and roll up. And add a toothpick to hold it
In a casserole ..place these chicken roll ups side by side
pour the white sauce on top of the chicken
top with a little shredded cheese and bake in an oven for 25 mins at 350 °.
Ingredients:
Strong coffee 1 ½ cup
Lady finger biscuits 1 pack
Powdered sugar ¾ cup
Whipping cream 2 cup
Cocoa powder 3 tbsp
Mascarpone cheese
Ingredients for Mascarpone cheese:
Cream 3 cups
Lemon juice 3 tbsp
Method:
Simply boil the cream over medium heat and then add the lemon juice. After this, the mixture simmers and thickens in around 10-15 minutes. Set aside in a sieve, lined with cheese cloth.
Instructions for tiramisu:
Mix the mascarpone cheese into the whipped cream and whip. Dip and arrange the biscuits in a caserole dish (13 by 9 inches), in a single layer. In a separate bowl beat heavy cold cream until medium peaks for (3 – 4 minutes). Add the mascarpone cheese and cover the biscuits with this concoction. With a sieve, dust the surface of the dish with cocoa powder.
Ingredients:
Eggplants 2 large
Nuggets fried ½ packet
Sea salt 2 tbsp
Seasoned breadcrumbs 2 cups
eggs 2
milk ¾ cups
vegetable oil 4 tbsp
marinara sauce 3 cups
mozzarella cheese 2 cups
parmesan cheese 1 cup
basil leaves few
Methods:
Salt the top side of your eggplant slices and place them on a wire rack on a baking dish. Set aside for 45 minutes to 1 hour.
Then brush off the excess salt with a wet paper towel.
In a shallow plate add bread crumbs. In another shallow plate, whisk milk and eggs. Dip both sides of the eggplant slices into the milk and egg mixture. Then coat with bread crumbs, tapping off the excess.
Place each slice on a baking tray, one by one, till all are done.
Preheat oven to 375 degrees.
Heat a skillet over medium/high heat. Add 1 tbsp of vegetable oil and cook both sides till golden brown. Repeat with all slices.
In a large casserole dish add 1 cup of marinara sauce to the bottom of the dish. Add a layer of the eggplant slice. Then add dollops of marinara sauce on top and sprinkle mozzarella and parmesan cheese. Top with basil leaves.
Bake for 25 minutes.

Chicken Saltimbocca Recipe in Urdu and English
At Masala TV you can check complete Chicken Saltimbocca Recipe in Urdu and English. This is one of the best recipes by chef at Masala TV show Lively Weekends. Check out the other best recipes of chefs .
Top relevant recipes of Chicken Saltimbocca Recipe in Urdu