Chicken & Spinach Braid Recipe | Food Diaries | Zarnak Sidhwa | Bakery Item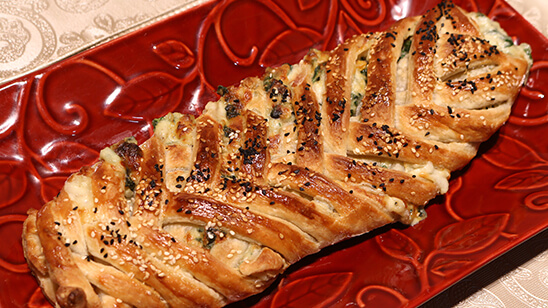 Feb 06, 2023 at 11:14 PM (GMT -05:00)

Check out the Chicken & Spinach Braid Recipe in Urdu. Learn how to make best Chicken & Spinach Braid Recipe , cooking at its finest by chef Zarnak Sidhwa at Masala TV show Food Diaries. Check all the Pakistan Cooking recipes in Urdu of Masala TV. Also Check Chicken & Spinach Braid Recipe , ingredients and complete Method.
Chicken & Spinach Braid has a crumby outer layer and the softest inside. You'll enjoy it more if it's paired with sauce . Try it and keep loving our recipes.
Watch this Masala TV video to learn how to make Chicken & Spinach Braida , Gajar Halwa and Suji Halwa Recipes. This show of Food Diaries with Chef Zarnak Sidhwa aired on 4 February 2021.
Ingredients:
Rolled puff pastry 1/2 kg
Butter 4 tbsp
Flour 4 tbsp
Chopped onion 1 small
Milk 2 cups
Green chilies chopped 3
Salt ¾ tsp
Black pepper ½ tsp
Cream cheese 2 oz
Cheese grated ¼ cup
Chopped spinach 2 ½ cup
Corn ½ cup
Cooked chicken shredded ¾ cup
Egg 1
White sesame seeds 1 tbsp
Nigella seeds 1 tbsp
Method:
Melt the butter and add the flour. Gradually add the milk, whisking continuously. Add onion, green chillies, salt and pepper. Cook until the béchamel sauce becomes thick. Add cream cheese and grated cheese, followed by the spinach, chicken and corn. Take off the heat. Let it cool to room temperature. Roll out puff pastry onto a silicon sheet on a baking tray. Spread 1-1 ½ cup mixture in the center in a rectangle. Using a pizza cutter, cut thin strips diagonally on both sides of the puff pastry. Fold the strips over alternately to create a braid effect. Whisk the egg and brush on top of the pastry. Sprinkle with sesame and nigella seeds. Bake at 200 degrees c for 25 minutes until puffed up and golden. Slice and serve immediately.
Ingredients:
Carrots 1 kg
Clarified butter ¼ cup
Cashews, chopped 10
Almonds, chopped 10
Milk 3 cups
Sugar ¾ cup
khoya ½ cup
Cardamom powder ¼ tsp
Method:
Grate the carrots finely. Heat ¼ cup ghee and fry cashews and almonds till golden brown, set aside. In the same pan, add grated carrot and saute well until it changes color. Pour milk and boil for 10 minutes stirring occasionally until the carrots are cooked well and milk reduces. Once the milk thickens completely, add sugar, mix well and cook until the sugar dissolves and thickens. Cook until the halwa thickens and ghee releases from sides. Add khoya, cardamom powder and fried nuts. Mix well, enjoy gajar ka halwa warm or chilled.
Ingredients:
Semolina 1 Cup
Sugar 1 cup
Water 4 cups
Clarified butter 1/2 cup
Green cardamom powder 1/4 tsp
Almond slivers to garnish 1 tbsp
Method:
Melt Clarified butter add the semolina and stir fry. In another pan dissolve the sugar in the water over low heat and keep on simmer till required. When the semolina is light brown, add the sugar syrup and the cardamom and bring to a boil, then simmer till the liquid is absorbed. Serve hot, garnished with the almonds.

Chicken & Spinach Braid Recipe in Urdu and English
At Masala TV you can check complete Chicken & Spinach Braid Recipe in Urdu and English. This is one of the best recipes by chef Zarnak Sidhwa at Masala TV show Food Diaries. Check out the other best recipes of chefs Zarnak Sidhwa.
Top relevant recipes of Chicken & Spinach Braid Recipe in Urdu