Chickpea Fajitas Recipe | Dawat | Abida Baloch | Fast Food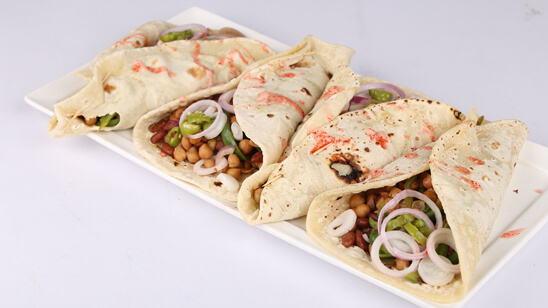 May 28, 2023 at 01:01 PM (GMT -04:00)

Check out the Chickpea Fajitas Recipe in Urdu. Learn how to make best Chickpea Fajitas Recipe , cooking at its finest by chef Abida Baloch at Masala TV show Dawat. Check all the Pakistan Cooking recipes in Urdu of Masala TV. Also Check Chickpea Fajitas Recipe , ingredients and complete Method.
Chickpea Fajitas are the delicious fajita wraps that we all crave for. These will make the perfect snack or a light lunch or dinner. Give these a try!
Watch this Masala TV video to learn how to make Chickpea Fajitas and Cheesy Vegetable Crepes Recipes. This show of Dawat with Chef Abida Baloch aired on 19 November 2020 .
Ingredients:
soy sauce 2 tbsp
Lemon juice 2 tbsp
Oil 3 tbsp
Hot sauce 1 tbsp
Garlic minced 3 cloves
Chickpeas cooked 2 cups
kidney beans 1 cup
Onion sliced 1
Bell peppers 2
Salt to taste
Crushed red chilies 1 tsp
Flour tortillas 4
Pickled jalapenos to serve
Hot sauce to serve
Method:
In a large bowl, mix soy sauce, lime juice, oil, hot sauce, salt, chilies and garlic. Pour into a large Ziploc bag, along with the chickpeas, onion, bell peppers, Seal firmly and marinate in the fridge for at least an hour. Heat a large wok or nonstick skillet over medium-high heat. Pour the entire contents of the bag, including the marinade, into the pan. Cook for 10-12 minutes. .Toast the tortillas in a large skillet. Serve tortillas with the fajita filling, pickled jalapenos and hot sauce.
Ingredients:
For pancakes:
Flour 3/4 cup
Eggs 2
Milk 1 cup
Oil 2 tsp
Baking powder 1/4 tsp
Rosemary 1/2 tsp
Salt, black pepper few
Filling:
Vegetable boiled 2 cups
Grated mozzarella 1 cup
Salt, Black pepper as required
Butter 2 tbsp
White sauce 3 tbsp
Method:
Prepare the pancake batter: In a large bowl, whisk the flour, spices, and baking powder together, then add the eggs, milk, oil and whisk until smooth. Cover and set aside for 15 minutes.
Heat a little amount of oil in a pancake pan over high heat. Ladle a portion of the batter into the pan, cook until the edges of the pancake are slightly crispy and browned, flip it over and cook briefly on the other side. Repeat with the remaining batter.
Saute vegetables in butter with salt and paper for few minutes then add white sauce half cheese and set aside.
Spread 2 tbsp of stuffing and roll up the pancakes.
Bake the pancakes: Place the pancakes on a baking tray, sprinkle with remaining grated cheese and bake in the oven preheated until the cheese is melted and golden.

Chickpea Fajitas Recipe in Urdu and English
At Masala TV you can check complete Chickpea Fajitas Recipe in Urdu and English. This is one of the best recipes by chef Abida Baloch at Masala TV show Dawat. Check out the other best recipes of chefs Abida Baloch.
Top relevant recipes of Chickpea Fajitas Recipe in Urdu