Colorful Coconut Cupcakes Recipe | Food Diaries | Zarnak Sidhwa | Dessert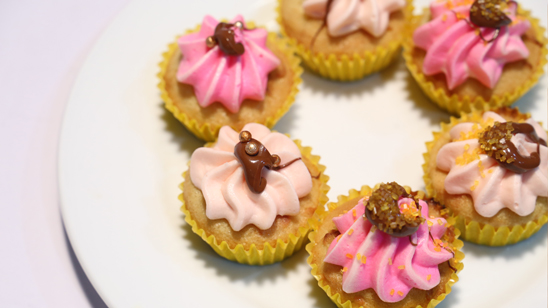 Jun 08, 2023 at 01:25 AM (GMT -04:00)

Check out the Colorful Coconut Cupcakes Recipe in Urdu. Learn how to make best Colorful Coconut Cupcakes Recipe , cooking at its finest by chef Zarnak Sidhwa at Masala TV show Food Diaries. Check all the Pakistan Cooking recipes in Urdu of Masala TV. Also Check Colorful Coconut Cupcakes Recipe , ingredients and complete Method.
These Colorful Coconut Cupcakes will cheer up everyone's mood with how gorgeous they look and how lovely they taste.
Watch this Masala TV video to learn how to Colorful Coconut Cupcakes & Chaat Recipes. This show of Food Diaries with Chef Zarnak Sidhwa aired on 8 April 2020.
Ingredients :
125gm butter
55gm caster sugar
1/2 tsp vanilla essence
2 eggs
190gm flour
1 tsp baking powder
3/4 cup coconut flakes
270ml can coconut cream
pearl sprinkles, to serve
Chocolate hearts :
100g white chocolate, melted
Buttercream :
375g unsalted butter
380g icing sugar
1/4 cup milk
Pink and orange food coloring
Method :
Beat butter, sugar and vanilla in a bowl until pale and creamy. Add eggs, 1 at a time, beating well after each addition, until combined. Stir in the flour, coconut flakes and coconut cream. Divide mixture evenly among cupcake cases lined in a cupcake tin. Bake at 180 degrees C for 20-25 minutes or until a skewer inserted into the center comes out clean. Turn onto a wire rack to cool. For the chocolate hearts, line a baking tray with baking paper. Dip the back of a teaspoon in the melted chocolate and gently drag the spoon across the paper to create a teardrop shape. Dip the spoon in chocolate again and repeat next to this, making sure the teardrops join at the tip to create a rustic heart shape. Repeat to make 24 hearts. Allow to set. To make the buttercream, beat the butter until pale and creamy. Gradually add icing sugar and milk, in alternating batches, beating until combined. Divide buttercream between 2 bowls. Add a few drops of pink food coloring to 1 bowl. Stir to combine. Add a few of drops of orange food coloring to the other bowl. Stir to combine.
Spoon the pink icing down one side of a piping bag fitted with a nozzle. Spoon the orange icing down the other side of the piping bag. Pipe the icing onto the cooled cupcakes. Scatter the pearl sprinkles over the top and decorate with chocolate hearts.
Ingredients:
1 cup Fried Potato Crisps
Corn Masala:
1 cup corn
Few sprigs of fresh coriander
2 tsp chaat masala
Black salt to taste
1 tbsp finely chopped ginger
1/4 tsp red chilli powder
1 onion chopped
Juice of lemons
Oil
Pineapple & Cucumber Dip:
1 cucumber chopped
3-4 slices pineapple chopped
1-1/2 cups thick curd
2 finely chopped green chillies
Finely chopped coriander leaves
2 tsp sugar
Black salt to taste
2 tsp roasted cumin powder
6-7 mint leaves chopped
Green Chutney:
1 cup coriander leaves
1/2 cup mint leaves
3 Green chillies
1/2 tsp cumin seeds
Salt to taste
Juice of 1 lemon
Tamarind Chutney:
2 cups tamarind pulp
2 tbsp roasted cumin seeds powder
1 tsp red chili powder
1 cup sugar
Rock salt or black salt as required
1/4 cup raisins
1 tsp ginger powder
For Garnish:
Pomegranate seeds
Coriander leaves
Pineapple wedge for decoration
Method :
For Corn Masala, heat 1 tbsp oil. Add the ginger and chopped onions. Sauté and add corn, chaat masala, black salt, red chill powder and toss well. Squeeze in lemon juice and add chopped coriander. Transfer to a bowl and allow it to cool.
For Pineapple & Cucumber Dip, Whisk curd in a bowl ensuring its smooth and has no lumps. Add chopped cucumber, chopped pineapple, green chillies, black salt, sugar, roasted cumin powder and chopped coriander leaves and mint leaves and whisk thoroughly. If you feel the dip is too thick add milk. Refrigerate for sometime.
Green Chutney Blend all the ingredients mentioned for and squeeze in the lemon juice once all has blended well.
Tamarind Chutney cook the tamarind pulp in a pan. Add roasted cumin powder, sugar, ginger powder, red chilli powder and once thick add in raisins and salt as per taste. When cooled, store the chutney in a box or bottle in the fridge.
To assemble chaat, place the fried potato crisps at the bottom of the glass. Add the corn masala. Now spoon in a big dollops of cucumber pineapple dip and spread properly. Add the green chutney, tamarind chutney and sprinkle some pomegranate seeds. Place a coriander leaf at the center and arrange a pineapple wedge on the rim of the glass. Serve it immediately or else it will become soggy.

Colorful Coconut Cupcakes Recipe in Urdu and English
At Masala TV you can check complete Colorful Coconut Cupcakes Recipe in Urdu and English. This is one of the best recipes by chef Zarnak Sidhwa at Masala TV show Food Diaries. Check out the other best recipes of chefs Zarnak Sidhwa.
Top relevant recipes of Colorful Coconut Cupcakes Recipe in Urdu