Corn Methi Seekh Kabab Recipe | Food Diaries| Chef Zarnak Sidhwa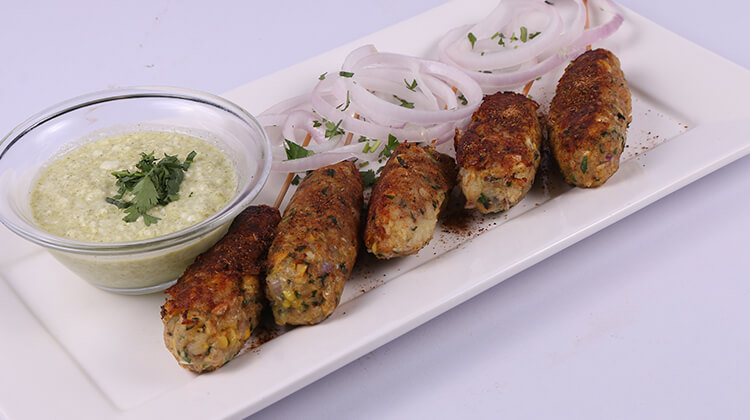 Aug 08, 2022 at 07:36 PM (GMT -04:00)

Check out the Corn Methi Seekh Kabab Recipe in Urdu. Learn how to make best Corn Methi Seekh Kabab Recipe, cooking at its finest by chef Zarnak Sidhwa at Masala TV show Food Diaries. Check all the Pakistan Cooking recipes in Urdu of Masala TV. Also Check Corn Methi Seekh Kabab Recipe, ingredients and complete Method.
Corn Methi Seekh Kabab recipe by Chef Zarnak is a spicy patty made from the smooth minced mixture must try at home.
Watch this Masala TV video to learn how to make Corn Methi Seekh Kabab,Honey Madeleines and Potato Salad. This show of Food Diaries with Chef Zarnak Sidhwa aired on 3 October 2019.
Ingredients:
Corn 1 cup
Chopped mint& coriander leaves 2-3 tbsp
Fenugreek leaves Handful
Green chilies 2
Chopped onion 1
Boiled mashed potatoes 2
Grated ginger 1 tbsp
Grated garlic 4 cloves
Coriander powder 1 tsp
Red chili powder 1 tsp
All spice powder a pinch
Dry mango powder 1 tsp
Salt to taste
Rice flour 2 tbsp
Flour 1 tsp
Chaat masala to sprinkle
Onion rings to serve
Fresh coriander to serve
Yogurt dip to serve
Method:
In a blender, add corn, fenugreek leaves, mint, coriander leaves and green chilies and coarsely blend it all. In a bowl, add mashed potatoes, onion, ginger and garlic. Mix corn and potatoes. Add all the spices, flour and rice flour and mash well. Shape into kababs on skewers and then shallow fry in hot oil. Drain on an absorbent paper and sprinkle some chat masala. Serve with onion rings, coriander and yogurt dip.
Ingredients:
Unsalted butter 150 g
Eggs 3
Caster sugar 150 g
Flour 150 g
Baking powder 1 tsp
Honey 1 tsp
Butter to grease
Flour to grease
Method:
Melt the butter in a small saucepan and set aside to cool. Beat the eggs and sugar until the mixture is pale and thick. Add the flour, baking powder, honey and melted butter. Mix until everything is well incorporated and the batter has a thick consistency. Leave the batter to rest in the fridge for at least 1 hour. Generously grease the madeleine mould with butter and flour. Place a generous teaspoon of batter in the hole of each mould. Place the tray in the oven, and bake at 210°C, until the madeleines have risen and are lightly golden on top. Remove the tray from the oven, and wait a few minutes before carefully removing the cakes from the moulds. Leave them to cool on a wire rack and eat them warm or cold.
Ingredients:
Potatoes 3-4
Chopped spring onions 2
Chopped celery 2 sticks
Lettuce leaves few
Boiled egg 1
For Dressing:
Mayonnaise 3 tbsp
Yoghurt 3 tbsp
Sugar ½ tsp
Lemon juice of ½ lemon
Salt to taste
Black pepper as required
Method:
Peel, cube and boil the potatoes. Mix together all the ingredients for the dressing with a whisk. Mix together the potatoes, spring onions and celery and pour the dressing over. Combine well and leave in the fridge for an hour to allow the flavors to develop. To serve chop the lettuce leaves into thin strips and line a dish with them. Spoon over the potato salad and serve chilled, topped with a boiled sliced egg.

Corn Methi Seekh Kabab Recipe in Urdu and English
At Masala TV you can check complete Corn Methi Seekh Kabab Recipe in Urdu and English. This is one of the best recipes by chef Zarnak Sidhwa at Masala TV show Food Diaries. Check out the other best recipes of chefs Zarnak Sidhwa.
Top relevant recipes of Corn Methi Seekh Kabab Recipe in Urdu