Daal Pulao Recipe | Tarka | Rida Aftab | Desi Food | Masala TV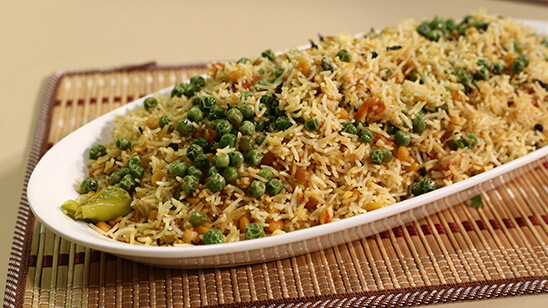 Sep 18, 2021 at 01:32 AM (GMT -04:00)

Check out the Daal Pulao Recipe in Urdu. Learn how to make best Daal Pulao Recipe , cooking at its finest by chef Rida Aftab at Masala TV show Tarka. Check all the Pakistan Cooking recipes in Urdu of Masala TV. Also Check Daal Pulao Recipe , ingredients and complete Method.
Daal Pulao is a classic that everyone must learn to ace! Pair it with some Shami Kabab and Raita; you'll enjoy every bit of it!
Watch this Masala TV video to learn how to make Daal Pulao , Achaari Pasta and Hara masala fish Recipes. This show of Tarka with Chef Rida Aftab aired on 14 July 2021.
Ingredients:
Rice ½ kg
Bay leaf 2
Gram lentils boiled 200gm
Chicken powder 1 tbsp
Cumin 2tsp
Cinnamon 1
Clove 4
Whole black pepper 1tsp
Onion 1
Garlic ginger 2tsp
Green chilies 6
Tomatoes 4
Green peas 1 cup
Red chili powder 1tsp
Salt 1tsp
All spice ½ tsp
Turmeric ½ tsp
Oil as required
Water as required
Method:
In a pan boil oil, water, bay leaf , salt and rice , now roast cumin, cinnamon, Chicken powder, boil yellow lentil ,clove and whole black pepper , now add in onions and cook, then roast garlic ,ginger green chilies and tomatoes ,now roast all veggies , grinded red chilies ,salt, all spice and turmeric and mix it . Lastly add rice and give dam &serve.
Ingredients:
Mince 1 kg
Ridged Elbow 1 packet
Tomatoes 250 gm
Green Chilies 10
Coriander Leaves ½ bunch
Oil ½ cup
Crushed Red Chilies 1 tsp
Ginger Garlic Paste 1 tsp
Red Chili Powder 1 tsp
Salt ½ tsp
Tamarind Pulp 2 tbsp
Achaari Masala 2 tbsp
METHOD:
• In the mince, add red chilies, salt, coriander leaves, finely chopped green chilies, ginger garlic paste, tamarind pulp.
• In a clay pot, heat oil, add tomatoes paste, achaari masala, salt, red chili powder, and yogurt and fry well.
• Add masala mince and fry add ridged elbow.
• In the end , Before serving, Sprinkle green chilies and coriander leaves.
Ingredients:
Fish 1kg
Coconut fresh 200gm
Green chilies 8
Cumin 2tsp
Tomatoes 2
Garlic cloves 6
Ginger 1
Lemon juice ½ cup
Salt 1tsp
All spice 2tsp
Fennel seeds 2tsp
Turmeric 1tsp
Yogurt 1cup
Oil ½ cup
Curry leaves 8
Method:
1. Blend fresh coconut , green chilies , tomatoes, garlic , ginger, lemon juice , salt , fennel seeds and yogurt and make paste.
2. Now heat oil in a pan add cumin , fennel seeds , curry leaves roast well then add grinded paste .
3. When oil comes on the top add fish & cook for 10 min
4. Lastly serve it in a bowl and add all spice .

Daal Pulao Recipe in Urdu and English
At Masala TV you can check complete Daal Pulao Recipe in Urdu and English. This is one of the best recipes by chef Rida Aftab at Masala TV show Tarka. Check out the other best recipes of chefs Rida Aftab.
Top relevant recipes of Daal Pulao Recipe in Urdu