Darbari Gajar Ka Zarda Recipe | Lazzat | Samina Jalil | Desi Food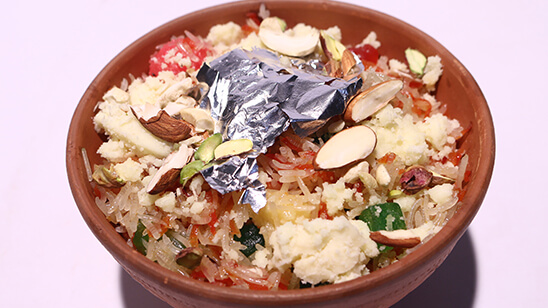 Dec 03, 2023 at 07:36 PM (GMT -05:00)

Check out the Darbari Gajar Ka Zarda Recipe in Urdu. Learn how to make best Darbari Gajar Ka Zarda Recipe , cooking at its finest by chef Samina Jalil at Masala TV show Lazzat. Check all the Pakistan Cooking recipes in Urdu of Masala TV. Also Check Darbari Gajar Ka Zarda Recipe , ingredients and complete Method.
Darbari Gajar Ka Zarda is a delightful Desi dessert that tastes like pure bliss. Give this amazing recipe a try at home and let us know how much you liked it.
Watch this Masala TV video to learn how to make Darbari Gajar Ka Zarda and Sarson ka Saag Recipes. This show of Lazzat with Chef Samina Jalil aired on 25 November 2020.
Ingredients:
Sella rice (boiled) ½ kg
Carrots (grated) 3cups
Sugar ½ kg
Green cardamom 7-8
Almonds, pistachios ¾ cup
Gulab jamun (small) 1 cup
Clarified butter 1 cup
Sterling silver paper 1
Green, red (ashrafi) ½ cup
Orange peel 2tbsp
Dried milk 100g
Screw pine essence few drops
Method:
Firstly soak sella rice for 3 to 4 hours in water. Now in a pan add water, small cardamom and rice cook it till the rice tenders. Now drain water from rice through seive.Then in a frying pan add some clarified butter and shallow fry grated carrots. Now in the rest of the clarified butter fry 3-4 small cardamom then add sugar and 2 cups of water and cook till the sugar dissolves. Now add rice and orange peel and set the flame on high. When the water is dried then add the fried carrots and screw pine essence and set it to simmer. Lastly add almonds, pistachios, screw pine, small gulab jamun and decorate it with green, red asharfiyan and spread sterling silver paper over it and serve.
Ingredients:
Mustard greens 1-1/2kg
Spinach ½ kg
Fenugreek ½ cup
Garlic 15-20
Yogurt 2tbsp
Salt as per taste
Green chili 10-12
Maize flour 2tbsp
Whole red chili 5-6
Clarified butter 1/2cup
Ginger, garlic (finely cut)1-1/2tbsp
Butter 2tbsp
Method:
In a big pot boil water and add mustard greens, spinach and fenugreek. Now add garlic and green chili and cook till they are tender and remove the water that is left. When it gets a bit cool then chop it in the chopper. Then in a handi (mud pot) heat clarified butter and add whole red chili, ginger garlic to fry and with it add the chopped saag. Now add yogurt to roast and mix the maize flour and simmer it for 30mins. Lastly dish it out and garnish it with finely cut ginger and butter then serve it with maize flour roti.

Darbari Gajar Ka Zarda Recipe in Urdu and English
At Masala TV you can check complete Darbari Gajar Ka Zarda Recipe in Urdu and English. This is one of the best recipes by chef Samina Jalil at Masala TV show Lazzat. Check out the other best recipes of chefs Samina Jalil.
Top relevant recipes of Darbari Gajar Ka Zarda Recipe in Urdu