Darbari mutton Recipe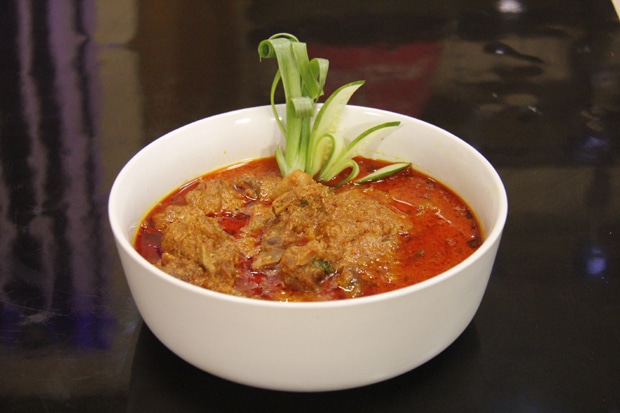 Aug 08, 2022 at 07:04 PM (GMT -04:00)

Check out the Darbari mutton Recipe in Urdu. Learn how to make best Darbari mutton Recipe, cooking at its finest by chef Shireen Anwar at Masala TV show . Check all the Pakistan Cooking recipes in Urdu of Masala TV. Also Check Darbari mutton Recipe, ingredients and complete Method.
Ingredients
Mutton ½ kg
Onion 1 cup chopped
Kashmiri red chilies 6 soaked and grinded
Khoya ½ cup
Allspice 1 tsp
Yogurt 1 cup
Sesame seeds 1 tbsp grinded
Poppy seeds 1 tbsp grinded
Cashew nuts 8 grinded
Green chilies 4
Coriander leaves 2 tbsp
Ginger garlic 1 tbsp heaped
Salt 1 tsp heaped
Tomato puree 2 tbsp
Method
Heat ½ cup ghee fry chopped onion till light golden, add grinded red chilies with ginger garlic paste, salt, and tomato puree, fry well, add in the grinded masala of sesame seeds, cashew and poppy seeds, add 1 cup water with mutton. Cover and cook till nearly done. Add Khoya, yogurt, fry well and leave it on dum. Serve garnish with chopped coriander leaves and green chilies.
Bombay darbar biryani with biryani masala
Ingredients for biryani masala
Nutmeg 1
Mace 5 blades
Green cardamom 15
Black cumin 1 tsp
Cloves 1 tsp
Black pepper 1 tsp
Anis star 4
Cinnamon 4 sticks
Deghi laal mirch powder 4 tbsp
Chili powder 2 tbsp
Coriander powder 4 tbsp
Salt 1 tbsp
Turmeric 1 tsp heaped
Aalu Bukhara 15 whole
Bay leaf 3 whole
Green cardamom 15 whole
Black pepper 15 whole
Cloves 15 whole
Cinnamon 4 sticks whole
Method
In a coffee grinder, grind together nutmeg, mace, green cardamom, black cumin seeds, cloves, black pepper and anis star finely. Mix with powdered spices, aalu Bukhara and whole spices, mix well. Preserve in an air tight bottle.
Ingredients for Bombay darbar biryani
Oil ¾ cup
Mutton 750 gm
Brown onion ½ cup
Ginger garlic paste 1 ½ tbsp heaped
Yogurt 1 cup
Chili powder 1 tsp
Salt 1 tsp
Yellow color ¼ tsp
Kewra water 1 tbsp
Rice 750 gm soaked and boiled with 3 tbsp salt
Prepared biryani masala 3 tbsp to 4 tbsp heaped
Method
Heat oil, add ginger garlic paste, brown onion and mutton, cover and leave it for 10 minutes then add yogurt, mixed with biryani masala, cover and leave it for 10 minutes, then add salt, chili powder with 1 ½ cup water, cover and cook for 20 minutes till mutton tender and thick gravy left.
To assemble
In a pan put ¼ cup oil and water, add ½ quantity of boiled rice top with mutton mixture, remaining quantity of rice, brown onion, yellow color mixed with Kewra, cover and cook on high flame for 5 minutes, lower flame and leave it on dum for 15 minutes.

Darbari mutton Recipe in Urdu and English
At Masala TV you can check complete Darbari mutton Recipe in Urdu and English. This is one of the best recipes by chef Shireen Anwar at Masala TV show . Check out the other best recipes of chefs Shireen Anwar.
Top relevant recipes of Darbari mutton Recipe in Urdu