Delhi Bong Nihari Recipe | Lazzat | Chef Samina Jalil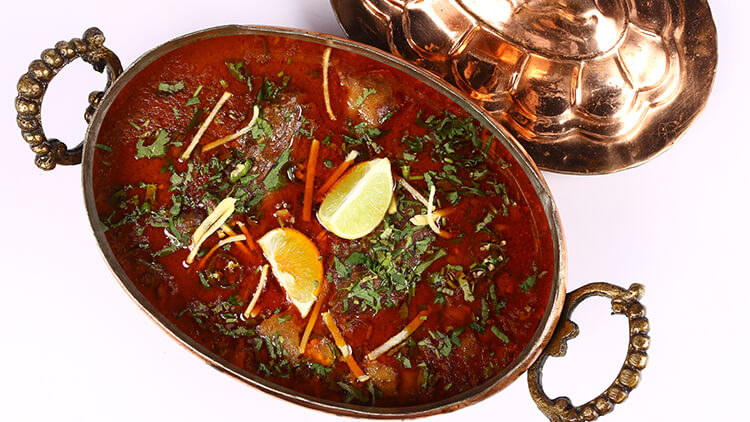 Nov 29, 2023 at 03:05 AM (GMT -05:00)

Check out the Delhi Bong Nihari Recipe in Urdu. Learn how to make best Delhi Bong Nihari Recipe, cooking at its finest by chef Samina Jalil at Masala TV show Lazzat. Check all the Pakistan Cooking recipes in Urdu of Masala TV. Also Check Delhi Bong Nihari Recipe, ingredients and complete Method.
Nihari lovers, this one's for you! This Delhi Bong Nihari recipe will make you fall in love! Try it out and let us know.
Watch this Masala TV video to learn how to make Delhi Bong Nihari and Matar Pulao Recipes. This show of Lazzat with Chef Samina Jalil aired on 10 December 2019.
Ingredients:
Beef (shank pieces) 1kg
Bone stock ½ liter
Onion (small, chopped) 1
Ginger garlic paste 2tbsp
Salt 1-1/2tsp
Red chili (powder) 1-1/2tbsp
Dry ginger (powder) 1/2tsp
All spices (powder) 1tsp
Turmeric 3/4tsp
Clarified butter 1cup
Tamarind pulp 1/2cup
Flour 4-5tbsp
Green spices, lemon for garnishing
Ginger (finely cut) for garnishing
Nihari special masala ingredients:
Cloves 8-10
Black cardamoms 5-6
Small cardamoms 5
White cumin 3tbsp
Aniseed 3tbsp
Black salt 1/2tsp
Nutmeg mace powder 1/2tsp
Method:
To make niharis spices crush all the spices to set it in a bottle. Now heat clarified butter and fry onion. With It add beef bong and ginger garlic paste to roast. Then add salt, red chili powder, turmeric, aniseed, tamarind and all spices powder to roast. Now add bone stock and 2 cups of water to cook till it gets a boil and remove the clarified butter from it. After that add 2 cups of water in flour and knead it to add it in the cooked meat and set it on medium flame to cook till the gravy thickens.Lastly add the removed clarified butter with special nihari spices to cook for 15-20mins more. Then set it out on a dish and garnish it with lemon and chopped ginger to serve.
Ingredients:
Rice ½ kg
Onion (fried) 3 tbsp
Yogurt ½ cup
Whole all spice 1 tbsp
Bay Leaf 1
Oil ¾ cup
Ginger Garlic Paste 1 tbsp
Fennel Seeds Powder 1 tsp
Nutmeg, Mace Powder ¼ tsp
Salt to taste
Green Peas 1 cup
Eggs(boiled) as required

Delhi Bong Nihari Recipe in Urdu and English
At Masala TV you can check complete Delhi Bong Nihari Recipe in Urdu and English. This is one of the best recipes by chef Samina Jalil at Masala TV show Lazzat. Check out the other best recipes of chefs Samina Jalil.
Top relevant recipes of Delhi Bong Nihari Recipe in Urdu