Delhi Nihari Recipe | Lively Weekends | Desi Food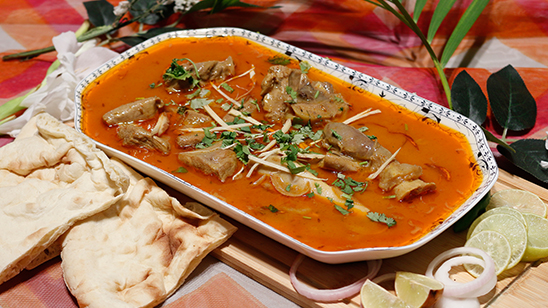 Nov 28, 2023 at 08:08 PM (GMT -05:00)

Check out the Delhi Nihari Recipe in Urdu. Learn how to make best Delhi Nihari Recipe , cooking at its finest by chef at Masala TV show Lively Weekend. Check all the Pakistan Cooking recipes in Urdu of Masala TV. Also Check Delhi Nihari Recipe , ingredients and complete Method.
Delhi Nihari is the most royal and rich form of Nihari you've tried. Give this very easy recipe a try!
Watch this Masala TV video to learn how to make Delhi Nihari , Baingan ka raita and Seekh kabab ka qeema Recipes. This show of Lively Weekend with Host Kiran Khan aired on 13 March 2021.
Ingredients:
Mutton boiled ½ Kg
Salt 1 tsp
Red chili powder 1 tsp
Turmeric powder ½ tsp
Crushed coriander 2 tsp
Cooking oil ½ cup
Ginger paste 1 tbsp
Garlic paste 1 tbsp
Crushed ground fennel 1 tbsp
Dried ginger 1 tbsp
Flour ¼ cup
Cumin 2 tsp
Black cumin 2 tsp
Onion large 1
Nihari masala 2 tbsp
Ingredients for nihari masala:
Cinnamon 1inch piece
Black cardamom 4
Nutmeg 1/3 piece
Mace 2 pieces
Cloves 1/3 tsp
Bay leaves 7 to 8
Black peppercorns ¾ tsp
Cumin seeds 1 tsp
Dry pomegranate seeds 1 tsp
Fennel seeds 1.25 tsp
Ginger powder 1 tsp
Red chili powder 1 tsp
Coriander powder 2 tsp
Paprika powder ½ tsp
Grind the ingredients and keep it in the air tight jar for a month.
Method:
Heat oil in a wok
Add boiled meat ( ½ tsp ginger ½ tsp garlic paste) in and fry it a little
Add salt chili powder, turmeric powder, coriander powder, nihari masala home made and mix all the ingredients and cook until oil is oozing out.
Add 3 cups of water and lid on and cook on low flame for half an hour until meat is tender.
Add flour in half cup of water and mix with it thoroughly no lumps are visibe add in the nihari gravy and cook 15 minutes keep stirring.
Add onion sliced in frying pan in oil with 1 tsp cumin and pour it in the Nihari gravy and serve with lemon wedges, coriander leaves chopped, green chilies chopped and ginger sliced & Naan.
Enjoy.
Ingredients:
Eggplant roasted 1
Yogurt 1 cup
Coriander leaves chopped 1 tbsp
Cumin roasted 1 tsp
Green chili chopped 2
Red pepper powder 1 tsp
Salt to taste
Oil 4 tbsp
For temper :
Curry leaves 2tbsp
Turmeric powder 1tsp
Cumin 1 tsp
Dry red pepper 1 tsp
Mustard seeds 1 tsp
Method:
Roast the eggplant and cumin cool it then peel the eggplant, mash it.
Add yogurt, cumin, green chili, salt and pepper mix well.
Take a pan add oil, curry leaves, cumin, dry red pepper, mustard seeds, cook for until cracked sound, now add turmeric mix well and pour it on raita and enjoy.
Ingredients:
Seekh Kabab 1 packet
Green chilies chopped 10
Oil or butter 2 tbsp
Ginger 1 piece
Coriander 1 tbsp
Lemon juice 1 tbsp
Black pepper ½ tsp
Salt to taste
Method:
Chopped the kabab in chopper.
Heat the oil add keema fry for 4 to 5 minutes on medium heat add chopped green chilies and lemon juice and seasoning, cover the lid for 2 to 3 minutes add ginger finely chopped and serve hot with Naan.
Enjoy

Delhi Nihari Recipe in Urdu and English
At Masala TV you can check complete Delhi Nihari Recipe in Urdu and English. This is one of the best recipes by chef at Masala TV show Lively Weekend. Check out the other best recipes of chefs .
Top relevant recipes of Delhi Nihari Recipe in Urdu