Delicious Mexican Cookies Recipe | Food Diaries | Chef Zarnak Sidhwa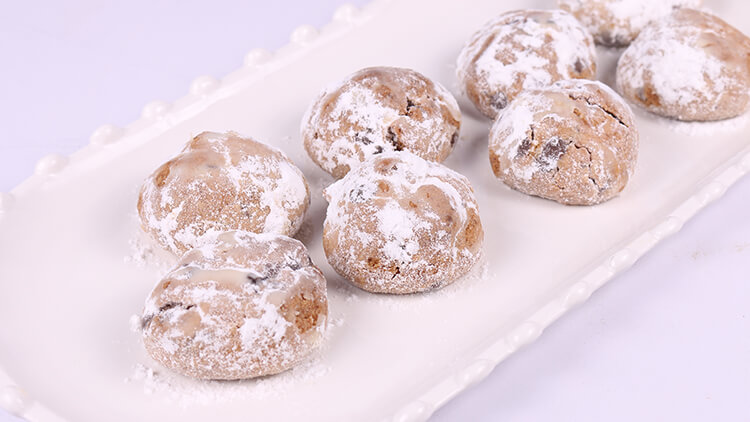 Mar 25, 2023 at 12:18 PM (GMT -04:00)

Check out the Delicious Mexican Cookies Recipe in Urdu. Learn how to make best Delicious Mexican Cookies Recipe, cooking at its finest by chef Zarnak Sidhwa at Masala TV show Food Diaries. Check all the Pakistan Cooking recipes in Urdu of Masala TV. Also Check Delicious Mexican Cookies Recipe, ingredients and complete Method.
Try out our delicious mexican cookies, they'll leave you savoring every tender bite.
Watch this Masala TV video to learn how to make Mexican Cookies and Taiwanese Beef Noodle Bowl. This show of Food Diaries with Chef Zarnak Sidhwa aired on 10 October 2019.
Ingredients:
Butter ½ cup
Icing sugar ¾ cup
Vanilla essence 1 tsp
Flour 1 cup
Ground walnuts ½ cup
Chili powder 1 tsp
Ground cinnamon ¼ tsp
Ground cloves ¼ tsp
Ground all spice ¼ tsp
Chocolate chips ½ cup
Method:
Beat butter and 1/3 cup icing sugar until light and fluffy, add in vanilla essence. Mix in all the other ingredients. Fold in chocolate chips. Shape dough into 1 inch balls. Place on ungreased baking sheets. Bake at 180 degrees C until bottoms are lightly browned, 12-15 minutes. Remove from pans to wire racks to cool 5 minutes. Roll in remaining icing sugar. Cool completely.
Ingredients for the Beef & Sauce:
Ground beef ½ kg
Beef stock ½ cup
Oyster sauce 1 tbsp
Soy sauce 4 tbsp
Rice vinegar 1 tsp
Five spice powder 1 tsp
Honey 1 tbsp
Oil 2 tbsp
Onion (chopped) 1
Minced ginger 1 tsp
Garlic (chopped) 7 cloves
Bamboo shoots ½ cup
Sliced green onions 2 (to garnish)
For Noodles:
Spaghetti/rice noodles 1 packet
Oil 2 tbsp
Sesame oil 2 tbsp
Onion powder ¼ tsp
Garlic powder ¼ tsp
Salt to taste
Black pepper as required
Method:
In a bowl, mix the beef stock, oyster sauce, soy sauce, rice vinegar, five-spice powder and honey and set aside. Heat oil. Add onion, ginger and garlic. Add ground beef, brown well and then add the sauce mixture. Cook, breaking up the beef, until fully cooked through. Add bamboo shoots and turn heat off. Toss earlier boiled noodles with 2 tbsp oil and 2 tbsp sesame oil to coat. Add onion powder, garlic powder, and sprinkle with salt and ground black pepper. Divide noodles into individual bowls and spoon generously with warm beef and sauce. Top with freshly sliced green onions.

Delicious Mexican Cookies Recipe in Urdu and English
At Masala TV you can check complete Delicious Mexican Cookies Recipe in Urdu and English. This is one of the best recipes by chef Zarnak Sidhwa at Masala TV show Food Diaries. Check out the other best recipes of chefs Zarnak Sidhwa.
Top relevant recipes of Delicious Mexican Cookies Recipe in Urdu