Dhaba Mutton Gravy Recipe | Food Diaries | Zarnak Sidhwa | Desi Food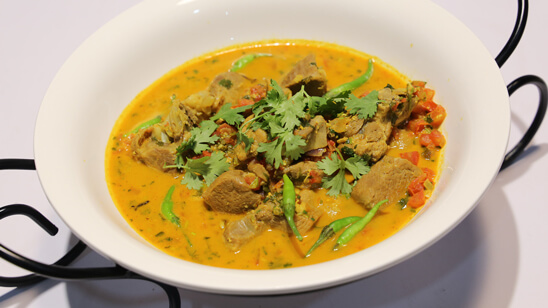 Dec 09, 2023 at 01:13 PM (GMT -05:00)

Check out the Dhaba Mutton Gravy Recipe in Urdu. Learn how to make best Dhaba Mutton Gravy Recipe , cooking at its finest by chef Zarnak Sidhwa at Masala TV show Food Diaries. Check all the Pakistan Cooking recipes in Urdu of Masala TV. Also Check Dhaba Mutton Gravy Recipe , ingredients and complete Method.
This Dhaba Mutton Gravy Recipe will hep you replicate dhaba style food at home and ace it!
Watch this Masala TV video to learn how to make Dhaba Mutton Gravy and Beef Pie Recipes. This show of Food Diaries with Chef Zarnak Sidhwa aired on 31 July 2020.
Ingredients:
Mutton, cubed 500 gm
Garlic, chopped 5 cloves
Onions, chopped 2
Yogurt 3/4 cup
Cumin powder 1 tbsp
Coriander powder 1 tbsp
Cloves 4
Oil as required
Green chilies 3
Ginger, grated 1 tsp
Tomatoes, chopped 2
Bay leaves 2
Cardamoms seeds 3
Red chili powder 1 tbsp
Turmeric powder 1 tbsp
Salt to taste
All spice powder a pinch
Coriander leaves for garnish (chopped)
Method:
Marinate mutton with yogurt, red chili powder, turmeric powder, cumin powder, coriander powder and salt, for about 2 hours. Heat oil, add cloves, cardamoms, bay leaves, garlic, ginger and sauté for a few seconds. Add chopped onion, green chilies and sauté them till they turn golden brown. Add in the marinated mutton and cook till tender. Add in the tomatoes. Cook few minutes. Then add in some water and cook few more minutes. Sprinkle all spice powder and garnish it with chopped coriander leaves.
Ingredients:
Olive oil 3 tbsp
Beef mince 1 kg
Onionschopped 2
Carrotschopped 3
Celerysticks, chopped 3
Garlic, chopped 2cloves
Flour 3 tbsp
Tomato purée 1 tbsp
Beef stock 850ml
Worcestershire sauce 4 tbsp
Thyme a pinch
Bay leaves 2
For The Mash:
Potatoeschopped 1 kg
Milk 225ml
Butter 25gm
Cheddar grated 200gm
Freshly grated nutmeg 1 tsp
Method:
Heat olive oil and fry beef mince until browned. Set aside. Put the other 2 tbsp olive oil into the pan, add chopped onions, chopped carrots and chopped celery sticks and cook until soft. Add chopped garlic cloves, flour and tomato purée, increase the heat and cook for a few minutes, then return the beef to the pan. Add beef stock, Worcestershire sauce, thyme and bay leaves. Bring to a simmer and cook, uncovered for few minutes. By this time the gravy should be thick and coating the meat. Discard the bay leaves and thyme stalks. To make the mash, boiled the peeled and chopped potatoes in salted water until tender. Drain and mash with milk, butter and half the cheddar cheese, season with nutmeg, salt and pepper.
Spoon the meat into a pyrex dish. Pipe or spoon on the mashed potatoes to cover. Sprinkle on the remaining cheese. Bake at 200 degrees C for 25-30 minute, or until the topping is golden.

Dhaba Mutton Gravy Recipe in Urdu and English
At Masala TV you can check complete Dhaba Mutton Gravy Recipe in Urdu and English. This is one of the best recipes by chef Zarnak Sidhwa at Masala TV show Food Diaries. Check out the other best recipes of chefs Zarnak Sidhwa.
Top relevant recipes of Dhaba Mutton Gravy Recipe in Urdu