Easy Chocolate Croissants Recipe | Food Diaries | Zarnak Sidhwa | Dessert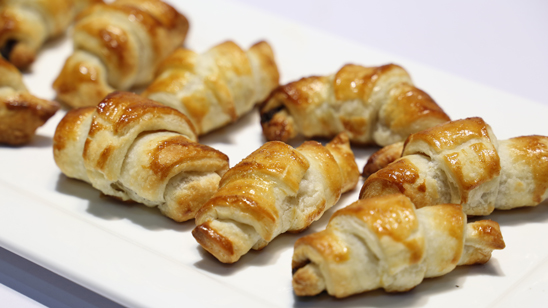 Nov 29, 2023 at 03:06 AM (GMT -05:00)

Check out the Easy Chocolate Croissants Recipe in Urdu. Learn how to make best Easy Chocolate Croissants Recipe , cooking at its finest by chef Zarnak Sidhwa at Masala TV show Food Diaries. Check all the Pakistan Cooking recipes in Urdu of Masala TV. Also Check Easy Chocolate Croissants Recipe , ingredients and complete Method.
These Easy Chocolate Croissants are your ultimate solution for a light dessert that you can have at any time of the day.
Watch this Masala TV video to learn how to make Easy Chocolate Croissants and Thai Baked Fish Recipes. This show of Food Diaries with Chef Zarnak Sidhwa aired on 9 July 2020.
Ingredients:
Egg 1
Water 1 tbsp
Puff pastry 1 kg
Chocolate chips 2/3 cup
Method:
Beat the egg and water in a bowl and set aside. Lightly flour your work surface. Roll the puff pastry into a square. Cut pastry in rectangles and then each rectangle diagonally into two triangles. Place about 2 tbsp of the chocolate chips down the center of each triangle. Then, starting at the wider end, roll each triangle up. Place each croissant seam-side down so that the tip of the triangle is tucked under the rolled croissant. Then, bend in the edges, creating a crescent shape. Lightly brush tops of croissants with egg wash. Bake at 200 degrees C for 20 to 25 minutes or until they are golden brown.
Ingredients For The Coconut Marinade/Sauce:
Onion 1
Garlic 2 cloves
Galangal or ginger (sliced) 1 piece
Ground coriander 2 tsp
Basil leaves handful
Fish sauce 2 tbsp
Coconut milk 1/2 tin
Kaffir lime leaves 2
Fresh red chili (sliced) 1
Red chili powder 1 tsp
Chili sauce 1 tbsp
Thai sweet chili sauce 1 tbsp
Lemon juice 1/2
For The Fish:
Fish fillets 1/2 kg
Banana leaves few
Method:
To make the Coconut Marinade/Sauce in a blender, place onion, garlic, galangal, ground coriander, basil, fish sauce, coconut milk, lime leaves, sliced red chili, red chili powder, chili sauce, thai sweet chili sauce and lemon juice. Process until well combined. Place fish fillets in a bowl and add half the marinade. Reserve the rest for later. Let marinade in the refrigerator 10 to 15 minutes. Singe a small square of banana leaf directly on the fire and then place on fish fillet in the center of the leaf. Fold both sides of the wrapping material over the fish, then fold both ends to create a square "packet." Turn it seam-side down to keep sides from opening. Place packets in a pyrex dish and bake it in an oven for 15 minutes at 180 degrees C or longer depending on the thickness of the fillets. After 15 minutes, open one of the packets. Insert fork into the center of the fillet to check if the fish is cooked. If not, return to oven for another 5-10 minutes. Over low heat, warm up the reserved marinade. To serve the fish, scoop several spoonful of white rice onto the side of the fish (right on the banana leaf, if using). Spoon some sauce over the fish, then add a sprinkling of basil and/or coriander leaves.

Easy Chocolate Croissants Recipe in Urdu and English
At Masala TV you can check complete Easy Chocolate Croissants Recipe in Urdu and English. This is one of the best recipes by chef Zarnak Sidhwa at Masala TV show Food Diaries. Check out the other best recipes of chefs Zarnak Sidhwa.
Top relevant recipes of Easy Chocolate Croissants Recipe in Urdu