Enchiladas Recipe | Fusion Food | Chef Mahnoor Malik | 02 Nov 2022 | Masala Tv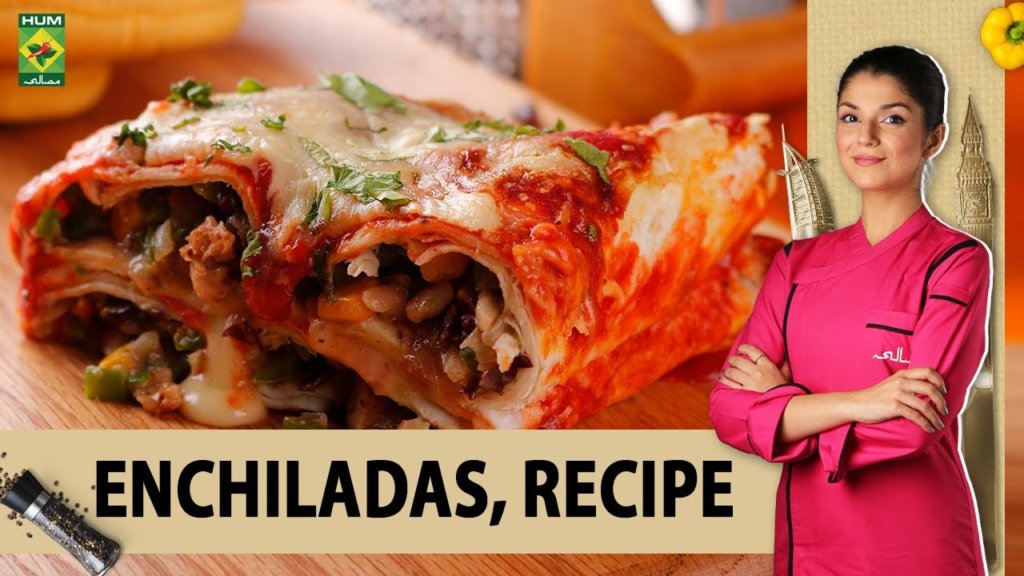 Mar 25, 2023 at 12:34 PM (GMT -04:00)

Check out the Enchiladas Recipe in Urdu. Learn how to make best Enchiladas Recipe , cooking at its finest by chef Mahnoor Malik at Masala TV show Fusion Food. Check all the Pakistan Cooking recipes in Urdu of Masala TV. Also Check Enchiladas Recipe , ingredients and complete Method.
Subscribe To Masala TV Recipes YouTube Channel! https://bit.ly/MasalaTV
This show is hosted by Chef Mahnoor Malik who gives a personalized fusion twist to international cuisines. The chef also makes sure to provide a calorie count for each dish in the episode as well as to mention healthy substitutes for the ingredients to ensure a touch of healthiness in her dishes.
We bet you have never had as good as this one!
#enchiladas #chocolatemilkshakerecipe #masalatv
Watch this Masala TV video to learn how to make Enchiladas And Chocolate de batido recipe.
Total serving
Calories 329
Carbs 36g
Fats 16g
Protein
INGREDITENS
• 6 to 8 tortillas
Enchiladas seasoning
• 1 tsp EACH onion powder, garlic powder, salt
• 1 tbsp EACH dried cumin powder, paprika, dried oregano
• 1/4 tsp black pepper
• 3/4 tsp cayenne pepper (optional, adjust to taste)
Enchiladas sauce
• 2 tbsp olive oil
• 3 tbsp flour , plain/all purpose
• 2 cups (500ml) chicken stock/broth , low sodium
• 1.5 cups (375ml) tomato paste or puree
For chicken and filling
• 600g / 1.2lb chicken breast , sliced in half horizontally (or boneless thigh or breast)
• ▢2 tbsp olive oil , separated
• ▢1/2 onion , chopped
• ▢2 garlic cloves , finely minced
• ▢1 red capsicum/bell pepper , diced
• ▢400g / 14oz refried beans
• ▢400g/14oz canned corn , drained (sub frozen 1 3/4 cups)
• ▢1/4 cup (65ml) water
• ▢1 cup (100g) cheese shredded (Mexican cheese blend, cheddar)
For topping
Chedder cheese
• Colantro ir corriander chopped
Method
• Enchilada Seasoning: Mix Enchilada Seasoning Spices. To be used for Filling and Sauce.
ENCHILADA SAUCE
• Make roux – Heat oil in saucepan over medium heat. Add flour and stir 20 seconds.
• Add other ingredients – Add 2 tbsp Enchilada Seasoning, broth and tomato. Stir to combine.
• Simmer to thicken – Increase heat slightly to medium high. Cook for 4 minutes, whisking regularly, until the sauce thickens to the consistency of thick syrup ). Remove from stove.
CHICKEN FILLING
• Coat chicken – Drizzle 1 tbsp oil over chicken, mix to coat. Sprinkle with Seasoning, toss to coat.
• Cook chicken – Heat remaining 1 tbsp oil in a large skillet over high heat. Add chicken, cook 2 minutes. Turn and cook 1.5 minutes. Remove, rest 2 minutes then chop.
• Saute onion – In the same skillet, add onion and garlic, cook 1 minute. Add capsicum, cook 2 minutes until onion is translucent.
• Add everything else – Add refried beans, diced chicken, corn and water. Stir and cook for 2 minutes until reduces slightly. Should be thick and juicy, not watery.
ASSEMBLE AND BAKE:
• Preheat oven to 180°C/350°F.
• Roll – Lay tortilla on work surface. Spread 2/3 cup Filling on lower third, sprinkle with cheese then roll up,
• finishing with the seam side down (to hold it closed). Repeat to make 8.
• Smear a scoop of Enchilada Sauce across base of 22 x 33cm /9 x 13″ pan. Place Enchiladas in, pour over remaining Sauce
• , sprinkle with cheese.
• Bake 20 – 25 minutes or until cheese is melted and golden. Serve immediately, sprinkled with coriander!
Total serving
Calories
Carbs
Protein
Ingredients
• Chocolate ice cream 6 scoops
• Whole milk 1litre
• Chocolate syrup ¼ cup
• Whopped cream ¼ cup
• Chocolate macroons optional for decoration
Methos
In the glass of the blender we put the ice cream and milk until it covers it. We beat until well mixed and add mil until it has the consistency that you like the most, lighter or thicker. We put in a glass and decorate with whipped cren anf finish off with some chocolate chunks and macroons. Serve cold

Enchiladas Recipe in Urdu and English
At Masala TV you can check complete Enchiladas Recipe in Urdu and English. This is one of the best recipes by chef Mahnoor Malik at Masala TV show Fusion Food. Check out the other best recipes of chefs Mahnoor Malik.
Top relevant recipes of Enchiladas Recipe in Urdu