Energy Bars Recipe | Dawat | Abida Baloch | Dessert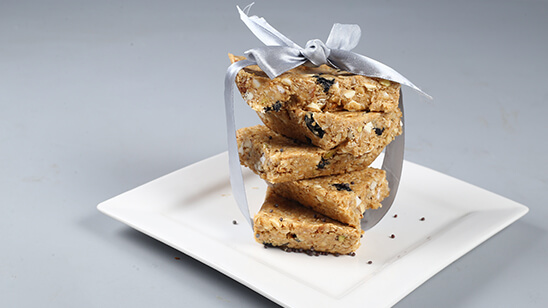 May 12, 2021 at 11:51 PM (GMT -04:00)

Check out the Energy Bars Recipe in Urdu. Learn how to make best Energy Bars Recipe , cooking at its finest by chef Abida Baloch at Masala TV show Dawat. Check all the Pakistan Cooking recipes in Urdu of Masala TV. Also Check Energy Bars Recipe , ingredients and complete Method.
Energy Bars are healthy, wholesome and fulfill your craving for dessert without ruining your diet.
Watch this Masala TV video to learn how to make Energy bars , Coconut Peanut Chutney and Hyderabadi Shikampuri Kabab Recipes. This show of Dawat with Chef Abida Baloch aired on 7 April 2021.
Ingredients:
Creamy Peanut Butter 1/2 cup
Honey 1/4 cup
Oats 2 cups
Mix nuts 1/2 cup
Black and golden raisins 1/2 cup
Salt 1/4 tsp
Chocolate chips 1/2 cup
Method:
In a large microwave-safe bowl, combine peanut butter and honey. Heat, uncovered, until warmed, 20-30 seconds. Stir until smooth; add remaining ingredients and stir until combined. Transfer to a lightly greased 13×9-inch pan; gently press mixture into pan. Cover and refrigerate until set, 1 hour or overnight. Cut into bars and serve .
Ingredients:
Peanuts 1 cup
Coconut grated 1/2 cup
Dried Whole Red Chilies 4
Tamarind pulp 2tbsp
Ginger chopped 1-1/2 tbsp
Salt to taste
For tempering:
Mustard seeds 1 tsp
Curry leaves 12
oil 3 tbsp
Dried red chilies 2
Method:
Dry roast the peanuts in a pan on low heat keep aside.In the same pan add 1-1/2 tsp oil and roast the dried red chilies on low heat till it changes its color and become darker. remove the chilies and keep aside .In the mixer jar add the roasted peanuts, tamarind pulp, roasted red chili, fresh coconut, chopped ginger and salt. Grind to make a smooth paste, add water to adjust the consistency. Take out the prepared chutney in a bowl. For Tempering ingredients heat a pan and add 1-1/2 tbsp oil and then add all ingredients of tempering and fry then do the tarka on chutney.
Ingredients:
For Filling:
Hung Curd 1/2 cup
Onion, finely chopped 2
Green Chilies, finely chopped 4
Coriander Leaves, finely chopped 2 tbsp
Mint Leaves, finely chopped 2tabs
Salt to taste
For Kabab:
Boneless chicken 300 grams
Gram lentils soaked 1/2 cup
Red Chilies 4-5
Turmeric powder 1/2 tsp
Ginger garlic, grated 1 tbsp
Cardamom 2
Cinnamon Stick 1-inch piece
Cloves 4
Whole Black Peppercorns 4
Whole Egg beaten 1
Salt to taste
Oil for frying
Method:
Firstly heat 1-2 cups of water in a pan and add chicken pieces, gram lentils , crushed cardamom, cinnamon stick, cloves, black pepper, cumin, salt, red chili, turmeric powder, chopped ginger and garlic. Cover the lid and cook till the chicken is done and the lentils is soft cooked. Allow to cool and grind everything together to make a fine paste. Add egg. Meanwhile, take a bowl and prepare the filling by mixing the hung curd with finely minced onion, salt, green chili, mint and coriander. Pinch a lemon size ball of the kebab paste and flatten it between your palms like a disc. Place a small filling of the hung curd and cover up the filling. Cover from all sides nicely and again flatten it to shape a disc and place on a tray lined with parchment paper. Heat a skillet or shallow frying pan with a little oil. Once the oil is hot, fry in hot oil till browned on a medium heat and flip to brown evenly on the other side too. Serve.

Energy Bars Recipe in Urdu and English
At Masala TV you can check complete Energy Bars Recipe in Urdu and English. This is one of the best recipes by chef Abida Baloch at Masala TV show Dawat. Check out the other best recipes of chefs Abida Baloch.
Top relevant recipes of Energy Bars Recipe in Urdu