Fish Pulao Recipe | Mehboob's Kitchen | Chef Mehboob Khan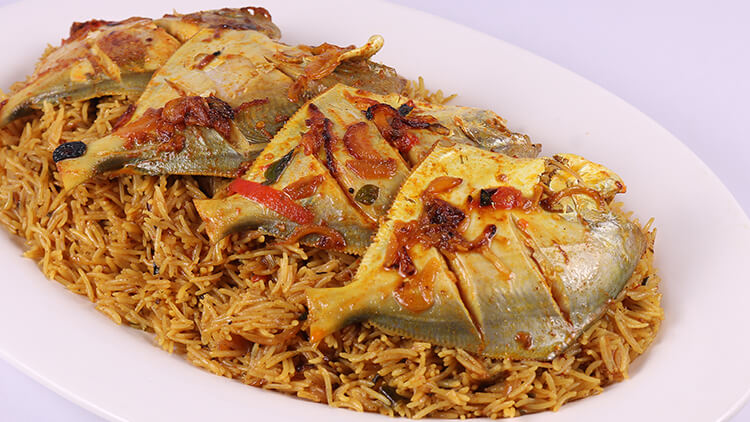 Aug 08, 2022 at 06:00 PM (GMT -04:00)

Check out the Fish Pulao Recipe in Urdu. Learn how to make best Fish Pulao Recipe, cooking at its finest by chef Mehboob Khan at Masala TV show Mehboob's Kitchen. Check all the Pakistan Cooking recipes in Urdu of Masala TV. Also Check Fish Pulao Recipe, ingredients and complete Method.
Learn to make Fish Pulao in easy steps and enjoy the taste to the fullest.
Watch this Masala TV video to learn how to make Fish Pulao ,Sausages Bites and Stuffed Fish Cutlets. This show of Mehboob's Kitchen with Chef Mehboob Khan aired on 8 October 2019.
Ingredients:
Fish ½ kg
Rice ½ kg
Onion 2
Tomatoes 3
Curry leaves 8
Green coriander 1/2bunch
Garlic 8 cloves
Green chilies 6
Red chili 1 tsp
Turmeric powder ½ tsp
Dried fenugreek 1 tsp
Oil 200 grams
Salt to taste
Method:
Heat oil and fry onion garlic and curry leaves then roasted when the soft then add tomatoes and add green chili ,red chili powder ,turmeric powder ,dried fenugreek and salt mix then add water and fish when fish almost cook then remove add water and rice and leave on dum after this keep on top fish and green masala and ready fish pulao .
Ingredients:
For crust:
Flour 2cups
Yeast 1 tsp
Sugar 1 tsp
Oil 3 tbsp
Egg 2
Salt 1 tsp
Water 3 cups
Filling ingredients:
Sausages slices 1 cup
Cheddar cheese slices ½ cup
Pizza sauce ½ cup
Method:
In a bowl all crust ingredients mix and knead well .now cover it and leave it for 2 hours then again knead and make 8 balls then rolling it like disk shape .then place sausages ,cheddar cheese and pizza sauce and cover it .then brush with eggs and bake 170 c for 20 minutes and serve .
Ingredients:
Fish 1 kg
Turmeric 1 tsp
Salt to taste
Cottage Cheese 1 packet
White Vinegar 1 tbsp
Green chilies (Finely Chopped) 6
Coriander Leaves (Finely Chopped) 1 bunch
Potatoes (boiled) 3
Lemons 3
White Chilies 1 tbsp
White Cumin Seeds (roasted) 1 tsp
Rice Flour 2 tbsp
Red Chilies (crushed) 1 tbsp
Black Pepper (crushed) 1 tsp
Bread Crumbs as required
Eggs 2
Oil as required
Method:-
Coat the unwashed fish with vinegar and keep aside for 5minutes
Sprinkle some salt and the juice of 2 lemons on the fish.

Fish Pulao Recipe in Urdu and English
At Masala TV you can check complete Fish Pulao Recipe in Urdu and English. This is one of the best recipes by chef Mehboob Khan at Masala TV show Mehboob's Kitchen. Check out the other best recipes of chefs Mehboob Khan.
Top relevant recipes of Fish Pulao Recipe in Urdu