Frozen Mocha Cake With Choc Glaze Recipe | Food diaries | Zarnak Sidhwa | Desi Food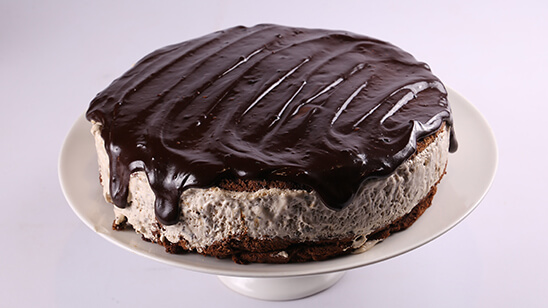 Dec 09, 2023 at 01:23 PM (GMT -05:00)

Check out the Frozen Mocha Cake With Choc Glaze Recipe in Urdu. Learn how to make best Frozen Mocha Cake With Choc Glaze Recipe, cooking at its finest by chef Zarnak Sidhwa at Masala TV show Food Diaries. Check all the Pakistan Cooking recipes in Urdu of Masala TV. Also Check Frozen Mocha Cake With Choc Glaze Recipe, ingredients and complete Method.
This moist, dense Frozen Mocha Cake is flavored with chocolate and full of glaze. Try this and share your experience.
Watch this Masala TV video to learn how to make Frozen Mocha Cake With Choc Glaze, Chocolate Gelato and Lemon gelato Recipes. This show of Food Diaries with Chef Zarnak Sidhwa aired on 21 October 2020.
Ingredients:
Chocolate, chopped 4 oz
Eggs, separated 3
Sugar 1/4 cup
Filling:
Egg yolks 5
Sugar ½ cup
Coffee essence 1/4 tsp
Whipping cream 1 cup
Coffee powder 2 1/2 tsp
Egg whites 3
Chopped dark chocolate 1/2 cup
glaze :
Cream 1/2 cup
Coffee 1/4 cup
Light corn syrup 1 tbsp
Chocolate, chopped 6 oz
Method:
For cake:
melt the chocolate, cool 5 minutes. Whisk egg yolks into chocolate. Beat whites in another bowl until soft peaks form. Add sugar 1 tablespoon at a time, beating until stiff and glossy. Fold 1/4 of whites into chocolate to lighten. Gently fold in remaining whites until combined and be careful not to deflate batter. Divide batter between 2 greased and lined pans (layers will be very thin). Bake at 180 degrees c until cakes begin to pull away from sides of pans and tester inserted into center comes out clean, about 10 minutes. Cool cakes in pans on rack 1 hour. Carefully invert cakes onto cardboard rounds. Cool cakes completely. Peel off paper.
For filling: line 9" cake pan with plastic wrap, leaving 5-inch overhang. Whisk egg yolks, 1/4 cup sugar, and coffee essence in bowl. Set bowl over saucepan of simmering water (do not allow bottom of bowl to touch water). Using electric mixer, beat until yolk mixture is thick and thermometer inserted into mixture registers 140°f. Remove bowl from over water. Continue to beat mixture until cool to touch, about 3 minutes. Beat whipping cream and coffee powder in another medium bowl until firm peaks form. Fold cream mixture into yolk mixture in 2 additions. Using clean dry beaters, beat egg whites in large bowl until soft peaks form. Gradually add remaining 1/4 cup sugar and beat until stiff and glossy. Gently fold whites into yolk mixture. Fold in chopped chocolate. Carefully place 1 cake layer in prepared pan (cake layer is very delicate). Spread filling evenly over cake (filling layer will be thick). Top with second cake layer; press gently to adhere. Fold plastic overhang over cake, then cover with foil. Freeze cake overnight.
For glaze:
bring cream, coffee, light corn syrup to simmer in a saucepan. Remove from heat. Add chocolate; whisk until smooth. Transfer 1/2 cup glaze to small bowl; chill for a few minutes, if you leave it too long in fridge it will not spread.
Remove foil and plastic wrap from top of cake. Invert cake onto platter. Working quickly, spread thin layer of chilled glaze over top and sides of cake. Freeze until glaze is set, about 1 hour.
Re-warm remaining glaze over low heat until just warm. Transfer to a measuring cup. Pour half of glaze over top of cake. Working quickly and using offset spatula, spread glaze over top, allowing excess to run down sides of cake; spread quickly over sides (glaze will harden quickly on frozen cake). Pour remaining glaze over top of cake; spread quickly and smoothly over top and sides. Freeze until firm and glaze is set, at least 4 hours. To serve, dip knife into hot water, then wipe dry and cut cake into wedges, pulling knife out at bottom of cake to avoid tearing glaze and repeating for each slice.
Ingredients:
Milk 3 cups
Chocolate, chopped 4 oz
Cocoa powder 1/4 cup
Sugar 3/4 cup
Corn flour 2 tbsp
Method:
Place 2 cups of the milk in a saucepan. Remove from the heat when milk just begins to simmer. Add chocolate to the hot milk and stir in until completely melted. Combine remaining 1 cup of milk, cocoa powder, sugar and corn flour in a bowl, then stir into hot milk and chocolate mixture. Return pan to medium heat and cook, stirring until mixture thickens, approximately 10 minutes. Remove from heat and let it cool to room temperature. Transfer to a bowl, cover and refrigerate overnight. Beat well and freeze in an airtight box.
Ingredients:
Milk 1 cup
Sugar 1 cup
Egg yolks 5
Grated lemon zest 3 tablespoons
Fresh lemon juice 3/4 cup
Whipping cream 2 cups
Method:
In a saucepan, heat milk to 175°; stir in sugar until dissolved. Whisk a small amount of hot mixture into egg yolks. Return all to the pan, whisking constantly. Add lemon zest. Cook over low heat until mixture is just thick enough to coat a metal spoon and a thermometer reads at least 160°, stirring constantly. Do not allow to boil. Remove immediately from heat; stir in lemon juice and cream. Place in a bowl. Press plastic wrap onto surface of custard; refrigerate several hours or overnight. Remove from fridge and then freeze 2-4 hours or until firm.

Frozen Mocha Cake With Choc Glaze Recipe in Urdu and English
At Masala TV you can check complete Frozen Mocha Cake With Choc Glaze Recipe in Urdu and English. This is one of the best recipes by chef Zarnak Sidhwa at Masala TV show Food Diaries. Check out the other best recipes of chefs Zarnak Sidhwa.
Top relevant recipes of Frozen Mocha Cake With Choc Glaze Recipe in Urdu