Frozen Salad Mold Recipe | Food Diaries | Masala TV | Zarnak Sidhwa | Appetizer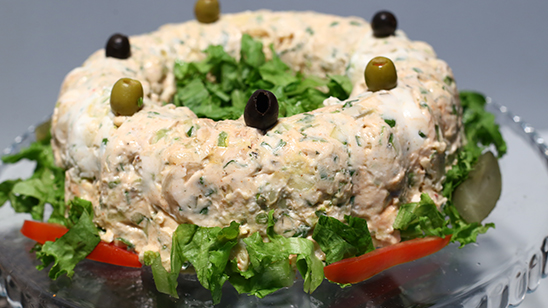 Jun 05, 2023 at 07:21 AM (GMT -04:00)

Check out the Frozen Salad Mold Recipe in Urdu. Learn how to make best Frozen Salad Mold Recipe , cooking at its finest by chef Zarnak Sidhwa at Masala TV show Food Diaries. Check all the Pakistan Cooking recipes in Urdu of Masala TV. Also Check Frozen Salad Mold Recipe , ingredients and complete Method.
Frozen-Salad Mold is the right way to keep it healthy this time around. We never knew a salad could be this wholesome and tasteful until we tried making it this way.
Watch this Masala TV video to learn how to make Frozen Salad Mold and Brownie And Cookie Cake Recipes. This show of Food Diaries with Chef Zarnak Sidhwa aired on 7 September 2021.
Ingredients:
Boneless chicken ½ kg
Onion 1 halved
Bay leaves few
Black peppercorns 6-8
Salt 1 tsp
Olive oil 2 tsp
Other Ingredients:
Mayonnaise 1 ½ cups
Hung curd 1/2 cup
Salt and pepper to taste
Oregano a pinch
Capsicum (finely chopped) 1
Cucumber (finely chopped) 1
Spring onion (chopped) 1
Black and green olives 2 tbsp
Gherkin (chopped) 1
Fresh parsley 1 tbsp
Chili sauce 1 tbsp
Paprika 1 tsp
Mustard paste 1 tbsp
Ketchup 1 tbsp
Caster sugar a pinch
Gelatine 2 tbsp
Hot water ¼ cup
Method:
Simmer chicken in water to which you have added onion, bay leaves, black peppercorns and salt.
Once chicken is done, strain. Sautè the boiled chicken in olive oil, then chop and set aside to cool. Mix together Mayonnaise, Hung Curd, capsicum, cucumber, spring onion, olives, gherkin, fresh parsley, chili sauce, salt, pepper, oregano, paprika, mustard paste, ketchup and caster sugar. Add in the chicken. Dissolve gelatine in water over low heat, let that cool and then mix it in and pour mixture in a greased mold. Chill overnight. Overturn next day and decorate and serve.
Ingredients:
Brownie 1
Chocolate chip cookie dough as required
Butter 1 cup
Icing sugar 5 cups
Milk 1/4 cup
Vanilla essence 1 tsp
Dark chocolate cookies (crushed) 1/3 cup
Dark chocolate cookies 14
Cookies to decorate
Chocolate sauce for drizzling
Method:
Prepare brownie in a pan. Press cookie dough into an even layer in another similar sized pan. Bake until golden, about 25 minutes. Let cool completely. To make the frosting, beat butter and about half the icing sugar until smooth. Add remaining icing sugar, milk and vanilla and beat until smooth. Fold in crushed cookies. Place the chocolate chip cookie layer on a serving platter. Spread a thin layer of frosting on top, then top with whole cookies. Spread more frosting on the cookies, then top with the brownie layer and spread the remaining frosting on top. Garnish with more crushed cookies and drizzle with chocolate sauce.

Frozen Salad Mold Recipe in Urdu and English
At Masala TV you can check complete Frozen Salad Mold Recipe in Urdu and English. This is one of the best recipes by chef Zarnak Sidhwa at Masala TV show Food Diaries. Check out the other best recipes of chefs Zarnak Sidhwa.
Top relevant recipes of Frozen Salad Mold Recipe in Urdu