Frozen Chicken Nuggets Recipe | Dawat | Abida Baloch | Frozen Food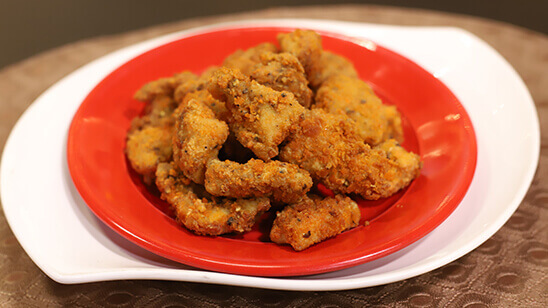 Sep 23, 2023 at 06:11 AM (GMT -04:00)

Check out the Frozen Chicken Nuggets Recipe in Urdu. Learn how to make best Frozen Chicken Nuggets Recipe , cooking at its finest by chef Abida Baloch at Masala TV show Dawat. Check all the Pakistan Cooking recipes in Urdu of Masala TV. Also Check Frozen Chicken Nuggets Recipe , ingredients and complete Method.
Frozen Chicken Nuggets are loved by almost everyone and there is no reason to not love it either. This Frozen Chicken Nuggets has the just the right amount of flavors and you need to try this in Ramzan !
Watch this Masala TV video to learn how to make Frozen Chicken Nuggets , Frozen Berry Yogurt and Khashkhaash Ka Sharbat Recipes. This show of Dawat with Chef Abida Baloch aired on 12 April 2021.
Ingredients:
Chicken breast 300 gm
Egg 1
Breadcrumbs 1 cup
Flour ½ cup
Paprika 1 tsp
Garlic powder 1tsp
Onion powder 1tsp
Salt to taste
Pepper 1 tsp
Oil 2 tbsp
Method:
Place chicken breast between the plastic wrap and using a meat hammer beat the chicken slightly until the entire piece is even in thickness all over.
Cut the chicken into equal sizes, in a shallow dish, crack 1 egg and add 1 tsp water, salt and pepper. Use a whisk to mix well. In another shallow dish, measure 1 cup of breadcrumbs, ½ cup flour and 1 tsp each salt, Marinate chicken with paprika, garlic powder, salt paper and onion powder. Mix well. Working in batches, move the marinated chicken pieces into the egg mixture and coat thoroughly. Then move the chicken to the breadcrumb mixture and coat thoroughly and then fry it.
Ingredients:
Yogurt 1 cup
Vanilla essence 1/2 tsp
Cream 1/2 cup
Ground sugar 3/4 cup
Berries (blueberry and strawberry) 2 cups
Method:
In a large bowl whisk together the yogurt, vanilla, cream and fine sugar for approximately 2 minutes, then stir in the berries.
Serve immediately. Or place in a container with a lid and freeze until firm like ice cream, 6 hours or overnight.
Remove from freezer and let sit 10-15 minutes before scooping and serving. Enjoy.
Ingredients:
Poppy seeds 1 tbsp
Almonds 4-5
Clarified butter 1 tbsp
Milk 2 cups
Cardamom powder 1 tsp
Sugar 2 tsp
Saffron a pinch of
Method:
Soak the poppy seeds and almonds in 1/4 cup of water overnight or 3 – 4 hours and make paste
Heat clarified butter in a saucepan. Add the poppy seeds paste and saute over low heat.
Keep cooking the paste till it turns light brown in color and starts leaving the sides of the pan.
Next, add the milk and cardamom powder. Stir and bring to a boil once over high heat. Reduce the heat to low and allow the milk to simmer uncovered for 10 more minutes to thicken a bit.
Now add sugar to taste and saffron to the khaskhaash milk. Stir to combine.
Serve cold.

Frozen Chicken Nuggets Recipe in Urdu and English
At Masala TV you can check complete Frozen Chicken Nuggets Recipe in Urdu and English. This is one of the best recipes by chef Abida Baloch at Masala TV show Dawat. Check out the other best recipes of chefs Abida Baloch.
Top relevant recipes of Frozen Chicken Nuggets Recipe in Urdu