Frozen Paratha Lasagna Recipe | Masala Mornings | Masala TV | Shireen Anwar | Desi Food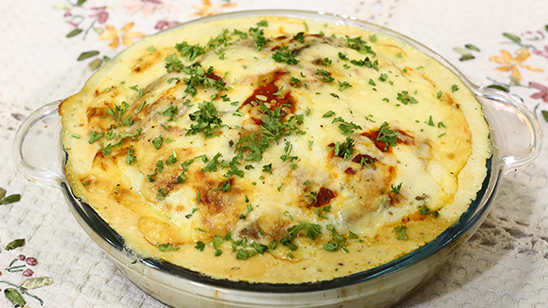 May 28, 2023 at 11:30 AM (GMT -04:00)

Check out the Frozen Paratha Lasagna Recipe in Urdu. Learn how to make best Frozen Paratha Lasagna Recipe , cooking at its finest by chef Shireen Anwar at Masala TV show Masala Mornings. Check all the Pakistan Cooking recipes in Urdu of Masala TV. Also Check Frozen Paratha Lasagna Recipe , ingredients and complete Method.
Frozen Paratha Lasagna is a mood-fixer. It has a delicious layer of white sauce, chicken, cheese and frozen paratha. This Frozen Paratha Lasagna is irresistibly good.
Watch this Masala TV video to learn how to make Frozen Paratha Lasagna, Instant Bread Kheer and Teriyaki Chicken Sandwich Recipes. This show of Masala Mornings with Chef Shireen Anwar aired on 6 August 2021.
Ingredients for filling:
Butter 3 tbsp
Flour 3 tbsp
Milk 2 cups
Black pepper ½ tsp
Salt ½ tsp
Mustard powder ½ tsp
Salt 1 tsp
Cheddar cheese 1 cup
Frozen paratha 3-4
Capsicum 1 julienne
Mixed herbs 1 ½ tsp
Pasta sauce ½ cup
Roasted mince ½ kg
Method:
Make white sauce by melting butter, add in flour, gradually add milk with seasonings and water, when slightly thick, remove, add cheddar cheese, mix well.
To assemble:
Cook parathas on a tawa and keep aside. Take a round pyrex dish, grease well, place the paratha, spread with pasta sauce with mince filling, capsicum, layer of white sauce, cover with another paratha and repeat the process. Lastly add the third paratha, garnish with some more cheese, sprinkle mixed herbs, bake on 180 d for 20 mins.
Ingredients:
Milk 1 liter
Rice soaked ¼ cup crushed
Green cardamom ½ tsp
Bread slices 4
Powder milk 1 cup
Sugar 1 cup
Screwpine essence 1 tbsp
Method:
Blend the soaked rice, boil milk, add rice, cook on low flame till rice is tender, chopperize bread slices to make fine crumbs, dry roast the bread crumbs on low flame for 10 mins until light brown, remove in a bowl, add powder milk to it, mix well, keep aside. Grease a frying pan and put sugar in a single layer and cook till sugar caramelize for about 7-8 mins, keep stirring continuously, quickly transfer this to the hot milk. Lastly add bread crumbs and milk, mix, keep stirring so that more lumps are formed. Cook on low flame till kheer thick, remove. Lastly add kewra water, garnish with almonds and pistachio and serve.
Ingredients for chicken marination:
Chicken cubes ½ kg
Salt ½ tsp
Crushed red pepper ½ tsp
Garlic powder ½ tsp
Black pepper powder ½ tsp
Chili sauce 2 tbsp
Paprika 1 tsp
Teriyaki sauce 3 tbsp
Ingredients for honey mustard sauce:
Mayonnaise ½ cup
Mustard 1 tbsp
Paprika ½ tsp
Honey 2 tbsp
Salt pinch
Black pepper pinch
Vinegar 1 tbsp
Ingredients for chipotle sauce:
Mayonnaise ½ cup
Ketchup ½ cup
Lemon juice 1 tbsp
Vinegar 1 tbsp
Paprika 1 tsp
Sriracha sauce 1 tbsp
Tabasco sauce 1 tbsp
Garlic powder ½ tsp
Fresh parsley chopped ½ tsp
Other ingredients:
Iceberg lettuce thickly sliced 2 cups
Cucumber with peel slices 2
Gherkins sliced 2
Capsicum sliced into rounds 1
1000 island dressing as required
Honey mustard sauce as required
Chipotle sauce as required
Mayonnaise as required
Tomato cut into round slices 1
Onion slices 1
Black olives as required
Jalapenos as required
Chili sauce as required
Ketchup as required
Subway bread 2
Cheese slices as required
Method:
Marinate chicken with salt, crushed red pepper, garlic, black pepper, chili sauce, paprika, teriyaki sauce, keep it aside for 30 mins. Cook chicken in 1 tbsp oil, and ¼ cup water till chicken tender, make all the sauces, keep aside.
To assemble:
Put cooked chicken cubes on the bread, top it with a slice of cheese, put it in the oven for 5 mins till cheese melts and bread becomes warm, assemble the veggies on top, drizzle with sauces, cover with bread, wrap in butter paper, serve with chips.

Frozen Paratha Lasagna Recipe in Urdu and English
At Masala TV you can check complete Frozen Paratha Lasagna Recipe in Urdu and English. This is one of the best recipes by chef Shireen Anwar at Masala TV show Masala Mornings. Check out the other best recipes of chefs Shireen Anwar.
Top relevant recipes of Frozen Paratha Lasagna Recipe in Urdu