Honey Garlic Wings Recipe | Dawat | Abida Baloch | Appetizer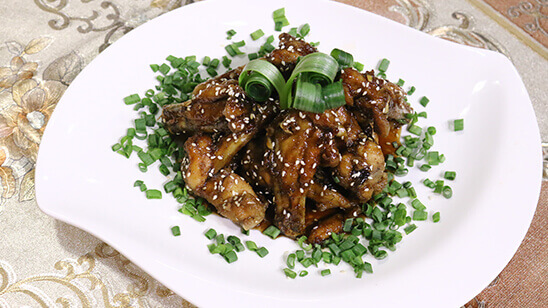 Jun 10, 2023 at 03:31 AM (GMT -04:00)

Check out the Honey Garlic Wings Recipe in Urdu. Learn how to make best Honey Garlic Wings Recipe , cooking at its finest by chef Abida Baloch at Masala TV show Dawat. Check all the Pakistan Cooking recipes in Urdu of Masala TV. Also Check Honey Garlic Wings Recipe , ingredients and complete Method.
Honey Garlic Wings are the easiest to make and these taste incredibly delicious. Try these today!
Watch this Masala TV video to Learn how to make Singaporean Rice and Honey Garlic Wings Recipes. This show of Dawat with Chef Abida Baloch aired on 6 October 2020.
Ingredients:
flour ½ cup
Garlic powder 1 tsp
Black pepper ½ tsp
Salt ½ tsp
Chicken wings (steamed) 500gm
Oil for frying
For Honey Garlic Sauce:
butter 1 tbsp
Garlic (minced) 1 tbsp
Soy sauce ½ cup
Honey 4 tbsp
Brown sugar 1 tbsp
Sesame seeds 1 tsp
Spring onions to finish
Method:
Mix flour, garlic powder, pepper, and salt in a small bowl. Coat each chicken wing with a generous layer of the flour mixture.
In small batches, fry the chicken wings for 4 minutes on each side. Remove from the oil and let rest on a paper towel. Over medium-high heat, melt the butter and add the garlic. Add soy sauce, honey, and brown sugar to pan and reduce for 5-7 minutes, stirring occasionally. Add the fried wings directly into the sauce pan and stir until the wings are covered in the sauce, then sprinkle with sesame seeds. Serve with scallions on top.
Ingredients For Chicken Curry:
Boneless chicken (cubed) 300 grams
Capsicum julienne 1
Spring onions (finely chopped) 2-3
Garlic 1 tsp
Green chilies 4-5
Soy sauce 2 tbsp
Lemon juice 1 tbsp
Black pepper 1 tsp
Red chili flakes 1 tsp
Tomato ketchup 1 tbsp
Salt 1 tsp
Carrot (cubed) 1
Oil as required
Other Ingredient:
Boiled Rice 2 cups
Sliced Garlic (fried) 2 tbsp
Green Chilies (sliced & Fried) 10
Spaghetti (boiled) 2 cups
Ingredients for Mayo Sauce:
Mayonnaises ½ cup
Chili garlic sauce 4 tbsp
Vinegar 4 tbsp
Red chili flakes 1tsp
Method:
For Mayo Sauce Mix all ingredients in a bowl and set aside.
For Chicken Curry:
Heat oil adds crushed garlic with chicken and all the seasonings with half cup water. Cover and cook till chickens is done and thick sauce left, stir fry all the vegetables in 2 tbsp oil for 2 minutes and mix in chicken sauce
To Assemble Put rice in a platter, topped with chicken mixture, spaghetti, topped with mayo sauce, fried garlic and green chilies, Serve hot.

Honey Garlic Wings Recipe in Urdu and English
At Masala TV you can check complete Honey Garlic Wings Recipe in Urdu and English. This is one of the best recipes by chef Abida Baloch at Masala TV show Dawat. Check out the other best recipes of chefs Abida Baloch.
Top relevant recipes of Honey Garlic Wings Recipe in Urdu