Hyderabadi Bhindi Recipe | Tarka | Masala TV | Rida Aftab | Desi Food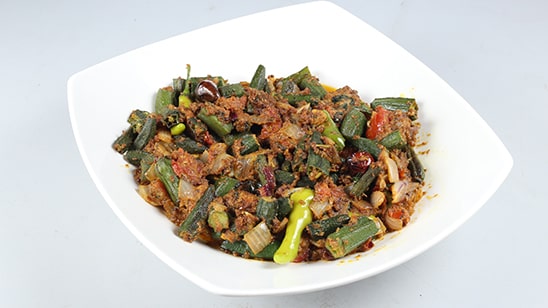 Sep 28, 2023 at 02:55 AM (GMT -04:00)

Check out the Hyderabadi Bhindi Recipe in Urdu. Learn how to make best Hyderabadi Bhindi Recipe , cooking at its finest by chef Rida Aftab at Masala TV show Tarka. Check all the Pakistan Cooking recipes in Urdu of Masala TV. Also Check Hyderabadi Bhindi Recipe , ingredients and complete Method.
Hyderabadi Bhindi is a must have. Tantalize your taste buds with this incredible tasting Bharli Bhindi today!
Watch this Masala TV video to learn how to make Hyderabadi Bhindi , Fish Curry and Mix Fruit Frozen Smoothie Recipes. This show of Tarka with Chef Rida Aftab aired on 17 September 2021.
Ingredients:
Ladyfingers ½ kg
Chopped onion 250gm
Tomatoes 250gm
Ginger garlic 2tsp
Sugar ½ tsp
Yogurt 1cup
Cashew nut 8-10
Coconut 1tbsp
Red chili powder 2tsp
Turmeric 1tsp
Coriander powder 1tsp
Mango powder 1tsp
Fenugreek 2 tsp
Salt 1tsp
Oil 1cup
Cumin 1tsp
Mustard seeds 1 tsp
Red chili dried 2-4
Asafoetida 1 pinch
Curry leaves 5-7
Oil 1tbsp
Method:
Heat oil salt and ladyfinger and fry till crispier and take it out.
Then add coconut, cashew nut, milk and grind them and make a paste.
Add cumin, mustard seeds, dry red chilies, Asafetida, curry leaves add
Onions and brown them. Then add ginger garlic.
When aroma comes out add turmeric, red chili powder, coriander powder, mango powder, and fenugreek cook on low flame. Add tomatoes and cook.
Add Cashew nut and coconut paste cook further.
Now add yogurt, sugar, and salt cook on low heat for 5 to10 minutes.
Add fried lady finger and serve.
Ingredient:
Fish 1kg
Dried Mango powder 100gm
Turmeric 2tsp
Coriander powder 2tsp
Salt 1tsp
Cumin crushed 1tsp
Curry leaves 6
Ginger garlic 2tsp
Onion ground 1cup
Oil ½ cup
Red chilies 2tsp
Method:
Heat the oil add onion and fry till it gets dried.
Add turmeric and coriander powder, salt, cumin, red pepper, curry leaves, and ginger garlic cook until oil oozing out. Add water and dried mango and cook for 10 to 15 minutes.
Add fish and for another 15 minutes. Add fish and cook for another 15 minutes.
Garnish with coriander leaves and serve.
Ingredients for freezer bag:
Mango chunks 1 cup
Peach chunks 1 cup
Banana chunks 1 cup
Cinnamon powder 1/4 tsp
Honey 1 tbsp
For smoothie:
Yogurt 1 cup
Almond milk 1/2 cup
Method:
Freeze the ingredients of freezer bag in the zip log bag.
Add the smoothie ingredients with the frozen fruits.
Get ready the smoothie and serve.

Hyderabadi Bhindi Recipe in Urdu and English
At Masala TV you can check complete Hyderabadi Bhindi Recipe in Urdu and English. This is one of the best recipes by chef Rida Aftab at Masala TV show Tarka. Check out the other best recipes of chefs Rida Aftab.
Top relevant recipes of Hyderabadi Bhindi Recipe in Urdu