Hyderabadi Qubooli Recipe | Tarka | Rida Aftab | Desi Food | Masala TV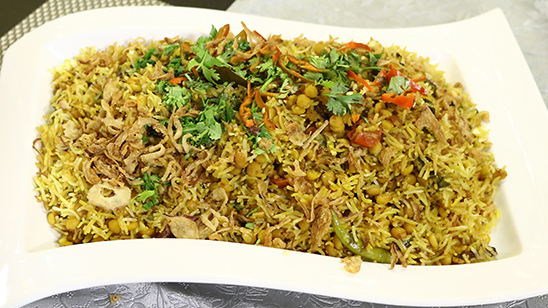 Sep 27, 2023 at 10:58 AM (GMT -04:00)

Check out the Hyderabadi Qubooli Recipe in Urdu. Learn how to make best Hyderabadi Qubooli Recipe , cooking at its finest by chef Abida Baloch at Masala TV show Dawat. Check all the Pakistan Cooking recipes in Urdu of Masala TV. Also Check Hyderabadi Qubooli Recipe , ingredients and complete Method.
Hyderabadi Qubooli is a forever favorite dish that is easy to prepare and everyone at the dinner table enjoys it together. Have it with some shami kababs and raita to make the most of it!
Watch this Masala TV video to learn how to make Hyderabadi Qubooli , Doodh ka Sharbat and Kofta Masala Recipes. This show of Tarka with Chef Rida Aftab aired on 19 August 2021.
Ingredients:
Rice 500 gm
Gram lentil 250 gm
Oil ½ cup
Onion sliced 1 cup
Ginger garlic paste 1 tbsp
Tomato sliced 1 cup
Yogurt ½ cup
Salt as required
Red chili powder 1 tbsp
Turmeric ½ tsp
All spice powder 1 tsp
Coriander powder 1 tbsp
Fennel powder 1 tsp
Green coriander chopped ½ bunches
Mint chopped ½ bunches
Green chilies julienned 3 – 4
Fried onion as required
Clarified butter 4 – 5 tbsp
Food color few drops
Saffron essence few drops
Whole all spice 1 tbsp
METHOD:
Pan men oil garamkerkaypiyazko golden fry kerlenphirlehsan or adrakka paste dal kertamammasalayshamil Karen phir tomato or dahi dal kerachitarhanbhaneekerlen or phirchanaykiublihueedaal dal kerpanishamil Karen or 5 se 7 minutes takdum per chor den.
Abekpatilay men chawalubalnay kayliyepani mennamak, oil or sabutgaram masala dal kerkhobubalentakaygarammasalayka aroma achi se pani men ajaephirchawal dal ker 85% cook kerlen.
Phirekpatilay men pehlay dal phir boil rice phirdhania, podina, harimirchen or fried onion dal kerdobara dal or chawalki layer lagaenphirakhir men zarda color, zafran essence or ghee dal kerdum per chor den.
Ingredients:
Milk 2 glasses
Sugar 2 tbsp
Red syrup 4 – 5 tbsp
Whole dried milk 3 – 4 tbsp
Pistachio sliced 1 tbsp
Almond sliced 1 tbsp
Coconut crushed 1 tbsp
Cooked jelly as required
Ice cubes 6 – 8
Chia seeds ½ tsp
METHOD:
In a bowl all ingredients mix and serve.
Ingredients:
Ingredients for spice:
Ground onion 2
Ginger garlic paste 1 tsp
Mustard 1 tsp
Red chilies 6
Coriander powder 1 tsp
Tomato grinded 2 cups
Salt 1 tsp
Oil as required
Turmeric 1 tsp
Yogurt ½ cup
All spices powder ½ tsp
Method:
Heat oil add chicken balls fry well. For spice heat oil add ground onion. When water dried out add ginger garlic paste, mustard, red chilies, ground coriander, turmeric, all spices powder, yogurt, ground tomatoes, salt and cook well. Add meat balls. add turn flame low, cook. Serve.

Hyderabadi Qubooli Recipe in Urdu and English
At Masala TV you can check complete Hyderabadi Qubooli Recipe in Urdu and English. This is one of the best recipes by chef Abida Baloch at Masala TV show Dawat. Check out the other best recipes of chefs Abida Baloch.
Top relevant recipes of Hyderabadi Qubooli Recipe in Urdu